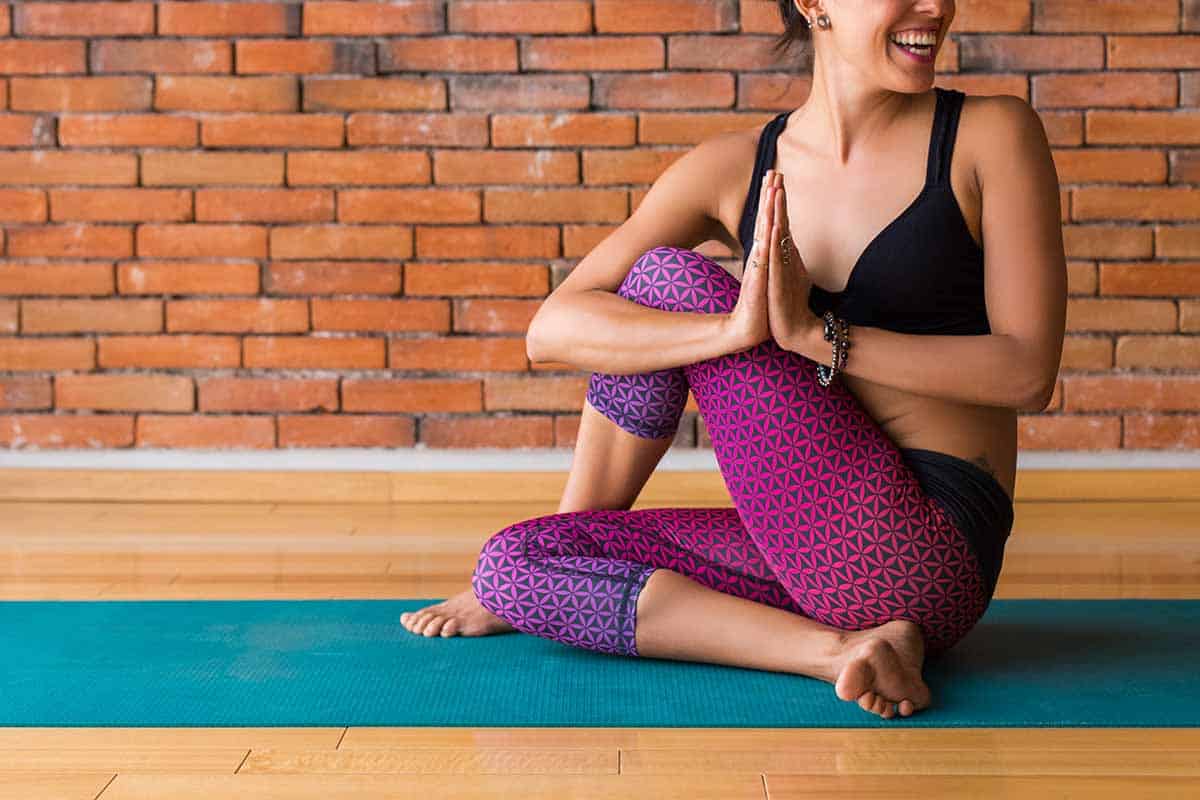 The 10 Best Yoga Tops with a Built in Bra
T
he quest for the best yoga top with a built in bra seems like an impossible one. There are thousands of options available in just about every shape and color combination possible. So without trying on every single yoga top with a built in bra, how on earth are you supposed to find the one that works for you?!
The best yoga tops with a built in bra are:
Sure, you can find a great yoga top, and you can wear it with your best bra. But, combining the two necessities in one style can help you elevate your yoga practice. And, fewer clothes means less laundry, so that's a major bonus. To find out the rest of our ten best yoga tops with a built in bra, and more info on the three we just listed, keep reading.
What are Tops with Built in Bras Called?
Some companies refer to a built-in bra as just that… a built-in bra. Other brands might use the term shelf bra or even bra liner. However, there are a few things to keep in mind when you read each of these terms.
A built-in bra typically refers to a more supportive bra. Most brands will include the support level in the description. But if there's a reference to an actual built-in bra, then it's closer to an actual bra. Closer is the keyword- there's no true replacement, support-wise, for an actual bra. Shelf bras are just another word for what we just described in the built-in bra.
While some companies might use bra liner as an interchangeable alternative to either of the above terms, it often indicates a built in bra with much less support. Although this isn't the case in all instances where bra liner is used in a description, it's something to note.
It could just be a poor choice of words by the company's copywriter, but it could also be that the built in bra doesn't have much support. And let's be honest here, is that a risk you really want to take when it comes to your comfort level during yoga? Having a built in bra with the right
Do Tank Tops Have Built in Bras?
Not all tank tops have built in bras. This is something you'll need to specify in any search. There are companies that are known for their underwear, especially tank tops with built in bras. Some are athleisure, or fitness wear companies, while others are clothing brands. Maternity and post-partum wear typically offer tank tops with built in bras, too.
Because fitness wear is often more form-fitting and ideally designed to move with you, some prefer to have fewer layers. This is where a built in bra comes in handy. And it's worth mentioning again… the whole less laundry situation.
So, if you want a tank top with a built in bra, be it for yoga or just as a regular tank top to wear, then those are out there for you. But, on the other hand, if you prefer to wear your own bra with the support level of your choosing, then those options are available too. It's your bra. You should be as comfy in it as you want.
Can a Tank Top Replace a Bra for Yoga?
This is a very, very personal preference with lots of factors to consider. Overall, it's not recommended to replace a bra with a tank top. The exception to this rule would be a tank top specifically designed for yoga, with added support, and for someone that doesn't need a lot of support up top, if you catch what we're saying here.
However, if you're in a pinch and don't have a tank top with a built in bra or a supportive bra/tank, and all you have is a regular tank, then you'll just have to make it work. We just suggest wearing another top over the tank top to prevent any wardrobe malfunctions. And, if you do have to go this route, it's probably not the best time to do any crazy inversions or extra strenuous poses. A tank top will provide a decent base layer, at best. But it won't give any additional support.
It's also worth noting that most of the tank tops with built in bras are made for yoga or exercise, so they feature fabric that's meant to handle a little sweat. A regular tank top doesn't have that.
The 10 Best Yoga Tops with a Built in Bra
And now the moment you've all been waiting for… drumroll, please! Up next, we have our ten best yoga tops with a built in bra. We carefully picked each of these for different reasons, so you can choose the one (or two) that works best for you.
1. Lululemon Ebb to Street Tank Top
Lululemon as a brand is known as being a little on the pricey side, although the style and wearability do make up for the hefty price tag. This high-end fitness and athleisure clothing company created the Ebb to Street Tank Top to go from the yoga studio to running errands or wherever else you might need to go (except maybe the office) without having to change clothes.
The seamless construction of this basic tank design makes the fitted tank more comfy to wear, especially if you sweat during your yoga practice. The built in bra offers light support, and the tank comes in a variety of colors.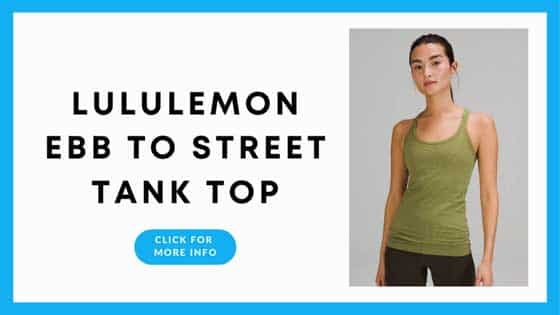 2. Fabletics Lydia Shine Built in Bra Tank
If you're looking for an inexpensive yet supportive yoga tank with a built in bra, this is the one for you. Fabletics was one of the original subscription-based clothing companies, but they've recently branched out into offering a la carte options. However, they still offer up hot deals on most of their gear, including the Lydia Shine Built In Bra Tank.
This form-fitting, cropped tank is has a square neckline, making it on-trend and functional. Fabletics is a style inclusive brand, so this tank comes in XXS to 4X. The only drawback is that this tank only comes in one color, although the iridescent powder blue is flattering on all skin tones.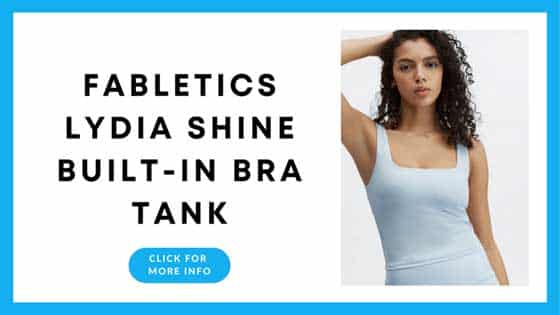 3. Nike Yoga Luxe Shelf Bra Tank
Nike's version of the yoga tank with a built in bra is made from one of their super soft, signature fabrics. It provides a subtle hint of compression- just enough to keep the blood flowing while giving you room to move and breathe throughout your practice without feeling restricted.
This style is offered in a range of sizes and colors. The built in shelf bra provides enough support to keep you comfy throughout the duration of your practice.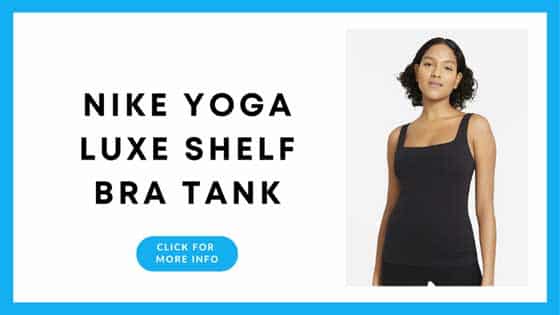 4. Everyday Yoga Radiant Solid Strappy Back Support Tank
Strappy sports bras are a must for any yogi, so Everyday Yoga made a tank to make it easy to be on-trend without having to add extra layers. While extra straps are fashion-forward at the moment, they do create a bit of challenge when it comes to getting dressed.
To make it easier to keep up with the yoga trends, Everyday Yoga created a strappy tank and bra combo, so you have one extra layer to put on. The bra inside this tank is extra supportive, and the neckline is higher than others, so it's an ideal fit for anyone that has a bigger chest.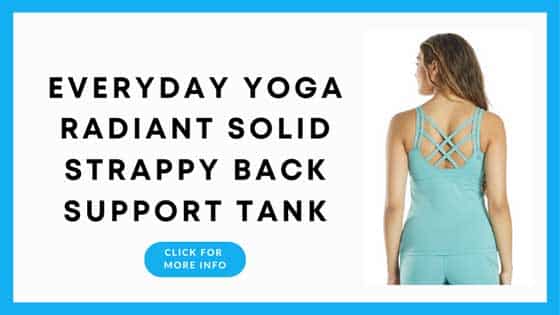 5. Halara Contrast Mesh Racerback Cut Out Ruched 2-in-1
The name here says it all. This racerback tank truly is a 2-in-1 design. The tank itself is a little more of a loose fit than others, so riding up isn't a concern. But the built in bra is designed more like a real sports bra, so it offers much more support.
This is another tank that comes in limited colors, only black and pink. But the price tag and fit of this yoga tank with a built in bra makes it worth every penny, despite the lack of color range.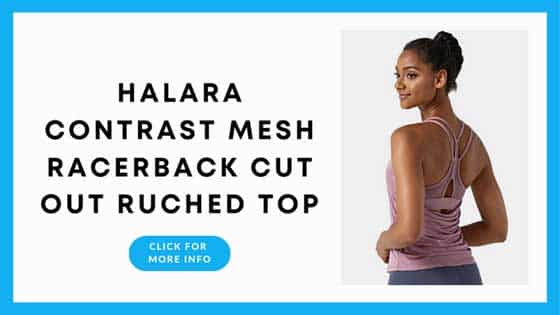 6. Gaiam Women's Strappy Racerback Yoga Tank Top
We love Gaiam's version of the yoga tank with a built in bra for many reasons, but the unique details are at the top of our list. The racerbacks are all different than the traditional designs. Some are solid, while others are strappy. And some of the solid ones even have textured detail for a little extra spice.
Another huge benefit to this yoga tank is the built in bra that's designed for medium impact activities. So if you do choose to add a little cardio to your yoga practice, you can feel supported all the way through your workout. No need to change clothes. The cut is also a little longer than other tanks, so riding up isn't an issue.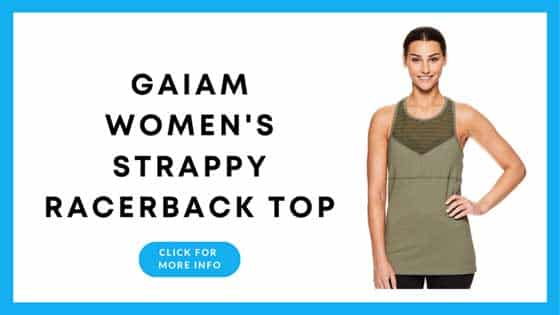 We love this tank for multiple reasons, but the one that caught our attention first is the fact that it's offered in multiple patterns, not just solids. So if florals or stripes are your thing, then this one is for you. Also, the fabric is made from recycled materials, another unique feature that led us to this one.
The crisscross design at the back of this tank provides more support than a traditional tank top with a bra. This built in bra also comes with removable cups, so you can keep them or not. It's always great to have choices.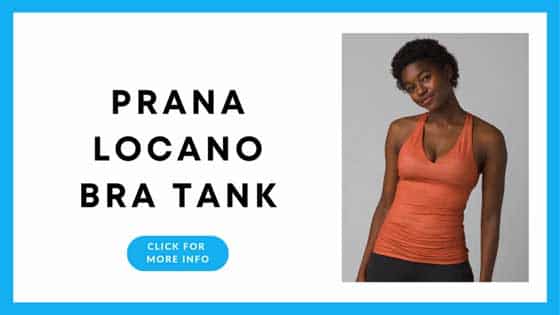 8. SheBird The Freedom Racerback Tank 2.0
You know what that 2.0 means… this one is new and improved. SheBird took an old favorite and made it better. The tank on this style is a loose, modest fit. It's flowy and doesn't hug the body as much as others, so it doesn't feel restricting. For those that don't like compression fits, this is a great option.
The built in bra here is comfortable yet still very supportive. Some customers even report wearing this tank and bra combo for sleeping! While providing support for your yoga practice, this bra also smooths, lifts, and shapes… everything you want in a bra.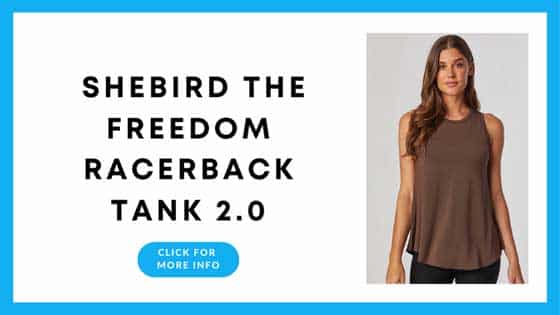 9. FREEYE Women's Long Sleeve Workout T-Shirts with Built-in Padded Bra
This yoga top is the only long-sleeved option we have on our list. Most yogis prefer to wear a tank because sleeves tend to be more restrictive. And yoga is an activity in that you need complete freedom of movement. But we thought you needed at least one yoga top with sleeves and a built in bra, just in case. 
We like this one because it's a longer-fitting top that's also less tight-fitting than others on the list. However, this style isn't too loose, so it won't get in the way while you're posing. This fantastic fabric is also breathable, with anti-odor technology, plus its moisture-wicking! It sounds like the perfect combo!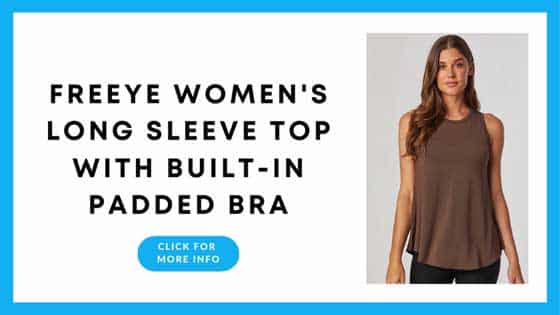 10. Athleta Conscious Support Top
Athleta offers a few yoga tanks with built in bras, but this is our favorite. This style is a simple design with a classic fit, so it's flattering for all. 
It's designed for lightweight support during low-impact workouts, i.e., your yoga practice. The Conscious Support Top has an actual shelf bra with removable pads. It also comes in inclusive sizing, so it's a comfy fit for everyone. 
The fabric on this yoga tank is flexible and soft but still tight enough to lend support where you need it most. It's also breathable and moisture-wicking, unlike other synthetic fabrics that just make you sweat more. This is key for anyone that practices Bikram yoga or just likes to sweat.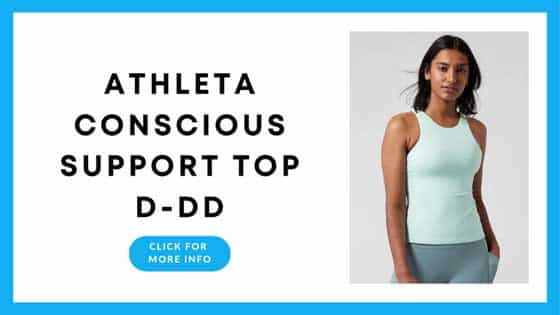 And there you have it! Our ten best yoga tops with built in bras. Out of all the options available, we put together this list so you can narrow your search and end your quest to find the perfect yoga top with a built in bra… without having to buy and try a million different ones all on your own. And you can combine them with some nice yoga pants to have your whole yoga outfit complete…
Check out the best yoga pants on amazon in that article!
Each of our options above features a link so you can get to shopping and back to yoga… with a yoga top that has a built in bra.