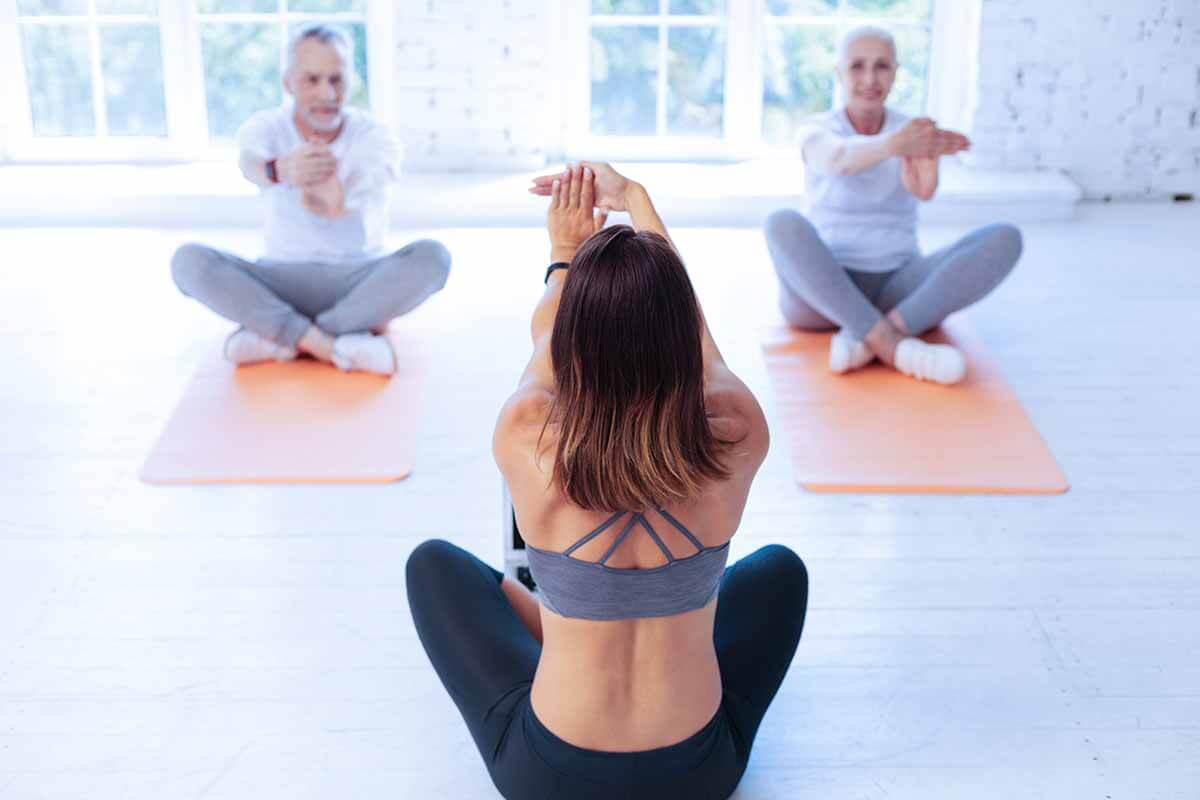 The 5 Best Yoga Therapy Training Certification Courses
W
e aim to share the latest information on yoga therapy training in 2023. We've researched accredited and non-accredited yoga therapy training and highlighted five leading options to help you find the best yoga therapy training.
Yoga therapy is an advanced modality of yoga instruction that holistically creates individualized care to help clients with their health challenges and goals. It addresses anything from injury, chronic pain, and disease to stress, trauma, or PTSD in a highly personalized manner. 
Yoga therapists use a full spectrum of yogic tools to help their clients, including the physical practice of asana (poses), meditation and breathwork, diet and nutrition, relaxation techniques, and more.
Yoga therapy offers a complete course of care to transform the client's life inside and out and requires specialized training and a high level of experience from its practitioners. 
Why become a yoga therapist?
If you are an experienced yoga teacher who is looking to expand their scope of practice, if you care deeply about personalized care for your clients and want to teach more than just studio classes, or if you want to work in a more healthcare-based setting, yoga therapy could be for you. 
What are the prerequisites to training in yoga therapy?
The standard prerequisite is at least a 200 hour RYT certification, and a minimum of one year of teaching practice. However, this can differ from program to program (see below). 
The gold standard for yoga yherapy accreditation is the IAYT (International Association for Yoga Therapists). There are currently 69 schools worldwide that have this accreditation, and once you have completed your course, you can become certified by this association through a testing process. 
Here is the complete list of accredited schools.
There are also non-accredited programs that have their benefits, such as becoming certified more quickly. You can become and work as a yoga therapist, having studied with a non-accredited school. Still, the benefits of studying with an IAYT-accredited yoga therapy program are oversight, recognition, and standardized learning. 
The Five Best Yoga Therapy Training Courses
The big question is which is the best course for you, and the answer can significantly depend on your location, your preferences for online or in-person training, and what aligns for you. 
We recommend contacting the yoga therapy schools that are of most interest to you and interviewing them to see if they will be the right fit for your needs.  
We have assembled the five best trainings in three categories: online, hybrid, and non-certified.
Online Only (IAYT Certified)
Advanced Yoga Therapy Program by Breathing Deeply
The Breathing Deeply Advanced Yoga Therapy Program comprises three parts: their one-year (minimum) Foundations of Yoga Therapy Program, eight live-online retreat weeks, and a supervised practicum, making up 875 hours total. 
The co-founders and directors of Breathing Deeply are husband and wife team Brandy and Anna Passalacqua, who have decades of experience between them, and both practice and teach as Yoga Therapists.
Key Facts:
Yoga Therapy 875 hours Diploma by The Yoga Therapy Institute
The Yoga Therapy Institute offers a 100% online program that is IAYT Accredited. Their program is a start-anytime, flexible, modular experience. It provides live lectures, group work assignments, real-life case studies, online evaluated tests, personalized mentorship, Q&A sessions for every module, and class recordings. 
Their website states that they have a "supportive international community," offering a
"Unique blend of yoga, biomedical, and ayurveda studies, along with trauma-informed yoga training and counseling skills." 
Key Facts:
Yoga Therapy and Lifestyle Medicine Program by The Optimal State
The Optimal State Yoga Therapist Program is run by Amy Wheeler, the Board President of the International Association of Yoga Therapists from 2018-2010. 
This program combines yoga from the Krishnamacharya tradition (Viniyoga) with ayurveda, anatomy, kinesiology, psychology, and neuroscience, spotlighting how lifestyle changes positively affect mental and physical health. 
Their website states, "This program is intended for people who want a smaller group and hands-on approach to learning," you will also become yoga nidra certified as a part of their yoga therapy program. 
Key Facts:
Hybrid (Online with In-Person requirements) (IAYT Certified)
Certified Yoga Therapist by Yogawell
Yogawell promises a program that is authentic, experiential, and transformational, focusing on professional growth and personal development. It consists of in-person modules with online real-time classes. 
The program director, Chase Bossart, studied under TKV Desikachar, the student and son of the eminent T Krishnamacharya. He has taught for over twenty years, his community comprises highly experienced teachers. 
Key Facts:
Certified Online Only (non-IAYT)
Phoenix Rising Yoga Therapy Method by Phoenix Rising
This is a 100% online study course from Phoenix Rising, which consists of live webinars as well as pre-recorded videos and supportive materials. This certificate is designed to blend yoga and talk therapy to bring the benefits of self-inquiry and yoga to existing professionals in their respective fields. 
With a focus on self-regulation, breath, and movement, this certificate program aims to teach how to help clients with mental and physical ailments. 
Key Facts:
Yoga Therapy 675 hours Diploma by The Yoga Therapy Institute
This course from The Yoga Therapy Institute is intended for European practitioners who do not need IAYT certification to practice or those who are not looking to become certified by an international organization. Still, it does equip you with the tools necessary to apply yoga techniques in a therapeutic setting.  
Key Facts:
My Vinyasa Practice Somatic Healing Certification (IAYT-certified)
My Vinyasa Practice offers various online modular courses, including the Somatic Healing Certification, which is IAYT-accredited for continuing education. 
This course teaches the foundations of somatic healing, including somatic techniques and practices such as breathwork, the Alexander technique, and yoga nidra, as well as trauma-informed somatic healing.
This course is 100% online and includes two-hour weekly live sessions, which are also recorded for participants who have a scheduling conflict. 
Practicing as a Yoga Therapist
Please check your country and state requirements for practicing yoga therapy. Some European countries do not require IAYT accreditations, but others have stricter requirements. 
Whether you have studied online or in person, once you have completed your program, you can start a robust yoga therapy practice and work with clients who wish to integrate all the benefits of yoga to assist them in their physical, mental, and spiritual health. 
If you are a (Certified) C-IAYT therapist, you can also find work in hospitals, clinics, and rehabilitation centers. 
Questions from our readers:
What is the difference between IAYT and Non-IAYT certifications?
IATY certification requires a yoga school to certify their course with the association and meet specific standards and criteria, such as a minimum of 850 hours of study and practicum. Once complete with an IAYT Certified course, you may obtain certification through IAYT and become a certified practitioner by taking a test, allowing you to use the title of C-IATY yoga therapist, which is required by some countries and US States.
Non-IAYT is any certification not certified by the IAYT and does not meet external criteria. The school would describe the specifics of the courses and will widely vary in content and standards.
What is the cost of becoming a Yoga Therapist?
Program costs vary from $3,500 to $14,500, so check with the individual schools. Most offer payment plans of some nature to help alleviate the costs.
How much can I earn as a Yoga Therapist?
Earnings vary significantly from country to country and depend on whether you seek a salaried position or work in private practice. According to Breathing Deeply:
"A yoga therapist's annual salary can range from $59,000 to $100,500, according to ZipRecruiter. The national average yoga therapist salary is $70,000, with most salaries ranging from $63,500 to $70,000."
Final Take-Aways on the Best Yoga Therapy Training Certifications
Studying to become a yoga therapist has innumerable benefits, both personal and professional. It broadens your field of specialization and your area of expertise. From pain management to nutrition and mental health, yoga therapists offer comprehensive care. Practicing as a C-IAYT yoga therapist is highly regarded and expands your professional potential, as well as increases your ability to help individual clients. As yoga becomes more recommended by medical professionals and integrated into trauma and rehabilitation, yoga therapists are in greater demand.