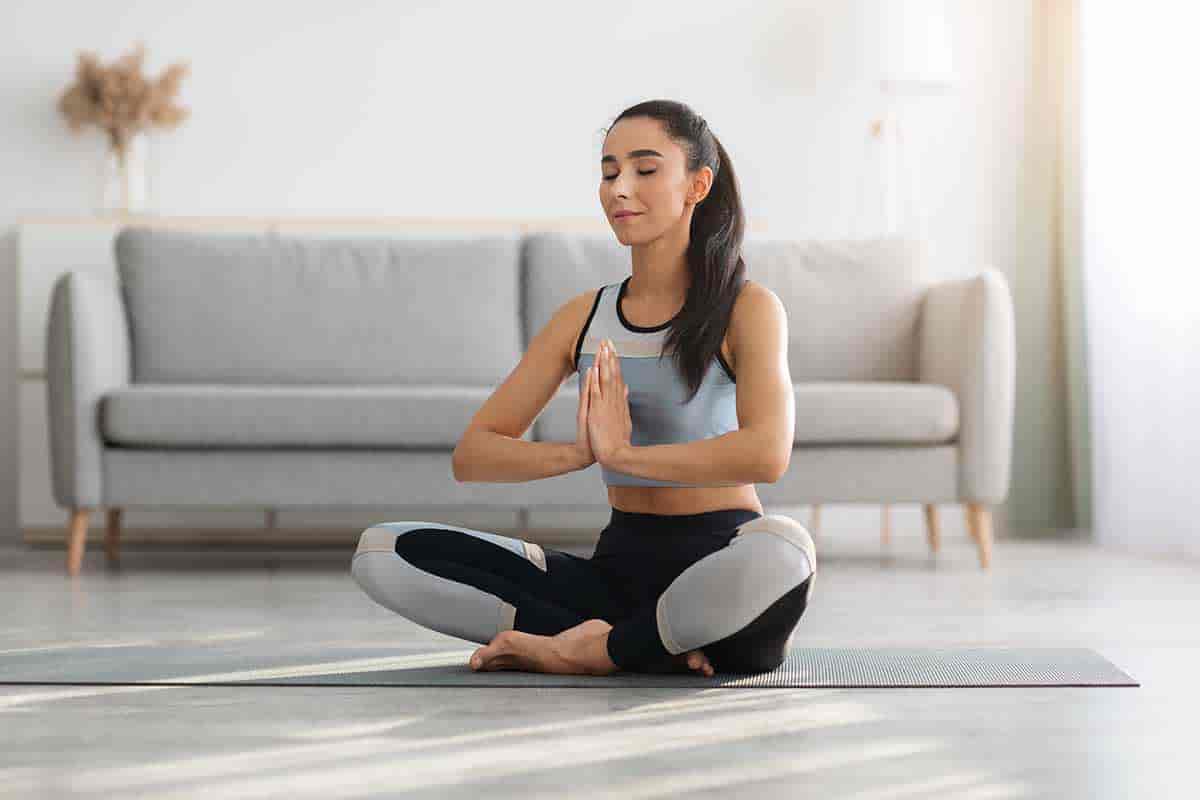 The 3 Best Adaptive Yoga Certifications Online
A
daptive yoga is a useful specialization for yoga instructors since many people want to pursue yoga but are afraid of hurting themselves. People with mobility issues or other disabilities may not be capable of advanced yoga postures without modifications to their technique.
Below you'll learn about how adaptive yoga is changed to be more inclusive for people with mobility issues and the three best adaptive yoga certifications you can find online. If your goal is to become certified for teaching yoga to those who need a modified program…
These are the 3 Best Adaptive Yoga Certifications Online worth checking out:
How Yoga Is Different For People With Disabilities
Yoga is a beneficial practice for almost everyone. However, this exercise form has to be practiced differently by people with disabilities or chronic medical conditions. Even though some aspects of yoga might be more difficult for people with mobility issues or other medical conditions, they can also get many health benefits from participating in this exercise too.
Here are a few of the ways that yoga can be slightly different for people with disabilities:
Yoga helps with the mental health aspects of dealing with disabilities as well as the physical health issues. Chronic health conditions can induce anxiety, depression, and a host of other mental health problems. Yoga helps restore mental balance to those with disabilities and provides them with mental resilience to combat their difficulties.
People with disabilities may only be able to do poses limited by their mobility. These types of yoga poses are known as adaptive or modified Howeer, with modifications to the poses, people with disabilities can reap many of the same physical benefits as those who participate in the full pose.
Yoga isn't about being perfect. Yoga is focused on tapping into a person's potential for physical and mental health, but that path to wellness looks different for every person. Yoga is a very flexible form of exercise that can be easily adapted for most people.
Yoga isn't about competition. Some yoga practitioners may become overly competitive with each other in a class and try to show out to see who can do the most advanced or difficult poses. However, this isn't in the spirit of yoga's intentions.
Yoga can help with many symptoms of chronic disabilities or medical conditions. For example, breathwork can be helpful with people who have limited lung strength due to conditions like cerebral palsy, paralysis, and cystic fibrosis. For those with spinal cord injuries or neurological damage, yoga may help increase sensation. (Source)
In general, people with disabilities, mobility issues, or other medical conditions can benefit from yoga with minimal risk as long as yoga poses are adapted to their capabilities.
What Are Some Conditions Positively Affected by Adaptive Yoga?
Adaptive Yoga can be useful for all people who cannot do full poses in yoga, whether it's simply from lack of flexibility or need full modifications due to mobility issues. For people with disabilities, yoga can be especially helpful as therapy for the following conditions:
Cystic fibrosis
Multiple sclerosis
Cerebral palsy
Arthritis
Osteoporosis
Stroke
Even though the above conditions may somewhat limit the poses that disabled practitioners can do, people with chronic conditions like this list can benefit greatly from regular yoga.
Does Yoga Help With Chronic Medical Conditions?
Yoga is helpful for most people whether they have chronic medical conditions or not. However, this form of exercise can be especially helpful for mobility issues or other disabilities. Here are some of the greatest benefits that people with chronic medical conditions can gain from adaptive yoga:
Stamina: Dealing with a chronic or progressive illness can make individuals self-conscious about their physical health and endurance for social activities. Yoga can increase physical stamina and make it easier for disabled people to participate in other activities without becoming exhausted.
Mental outlook: People with mobility issues or medical conditions can be especially vulnerable to mental health conditions such as anxiety and depression. Yoga helps improve overall mood and reduce the effect of negative environmental triggers on these mental health conditions.
Physical well-being: Yoga can have several measurable positive impacts on overall physical health regarding flexibility, circulation, immune response, lung capacity, and strength.
Dealing with a disability or chronic illness can be demoralizing for patients. Adaptive yoga provides a physical outlet to vent negative emotions while also learning how to control emotional regulation better through mental and physical exercises.
When you look up adaptive yoga certifications online, many adapted yoga courses focus on setting up yoga programs for yoga students with limited mobility. This includes yoga students that are limited to wheelchairs or deal with paralysis issues.
Adapted yoga is also geared towards geriatrics and older people with chronic medical conditions such as arthritis or balance issues that may make full yoga poses dangerous to perform. These adapted yoga poses usually feature chair-based poses since ground-based poses may be difficult for some people to get out of without help.
Why Is Adaptive Yoga Important?
If you're wondering why it's a good idea to pursue an adaptive yoga certification online in the first place, you should consider the importance of adaptive yoga in the overall scheme of your yoga practice. These are a few of the reasons why adaptive yoga is so important:
It is inclusive: Many disabled people express disappointment and hurt when they are left out of physical activities out of an assumption that they don't have the will or strength to participate. This is an ableist mindset. Adaptive yoga helps bring yoga to all would-be students regardless of their physical capabilities.
It is good therapy: For yoga students with medical conditions that might make more strenuous exercises uncomfortable or painful, yoga is easily modified to accommodate a wide range of different abilities. This can help improve a yoga student's general physical and mental health over time, especially after an accident limiting mobility.
It is a good idea to look into adding adaptive yoga strategies to the classroom wherever possible. It doesn't just allow disabled yoga students to participate, it also makes you more aware of other special needs among the students in your yoga group and what you can do to accommodate them better.
How Is An Adaptive Yoga Certification Different?
An adaptive yoga certification is as easy to find as a regular online yoga certification. The major difference is that adaptive yoga coursework focuses on understanding the special needs of the students who need adaptive yoga and how modify traditional yoga poses to meet those needs. (Source)
What Is Learned in an Adaptive Yoga Certification?
Adaptive yoga certification coursework focuses primarily on training teachers how to recognize the mobility-related needs of their yoga students and how to select yoga exercises that cater to their mobility. Here are the topics that are typically covered in an adaptive yoga certification:
Anatomy: To understand why some people need adaptive yoga, it's important for yoga teachers to have a strong understanding of the underlying anatomy affected by different yoga poses. This includes the muscles, joints, tendons, nerves, vascular system, and bones. This can help yoga teachers identify potential problems.
Modified poses: Adaptive yoga teachers are trained in a variety of seated or reclining poses that are well-suited to both non-disabled and disabled yoga students. This allows the teacher to also use adapted yoga for other students who may be inflexible or out of shape.
Universal yoga principles: Adaptive yoga coursework teaches the same general spiritual and mental health principles set out by other forms of yoga. However, the coursework may frame these principles through the lens of specifically helping those who are dealing with issues such as physical trauma or advanced age.
In short, an adaptive yoga certification should teach you everything you need to know to teach a class in adaptive yoga.
The Three Best Adaptive Yoga Certifications Online
Many different adaptive yoga certifications are available online, so it's a good idea to shop around if you're planning on getting certified. Some courses are better than others, and you'll want to look for one that is self-paced so you can pursue your coursework on your own time frame.
Here are three of the best adaptive yoga certifications you'll find online. These courses are the best way to take a crash course in the techniques necessary to teach your own adaptive yoga class.
1. Online Adaptive Yoga Certification by My Vinyasa Practice
The 40-Hour Adaptive Yoga Certification offered by My Vinyasa Practice is designed to certify participants in the art of teaching Adaptive Yoga and Chair Yoga.
This course is particularly valuable for medical professionals, therapists, and yoga instructors who aim to share their yoga expertise with individuals who have limited mobility.
Yoga teacher trainees can expect to gain the following:
Proficiency in utilizing chairs as supportive props.
Mastery of seated, standing, and supine postures with adaptive modifications.
Insight into the practice of Chair Yoga dancing.
The opportunity to earn 40 non-contact Continuing Education Units (CEUs) accredited by Yoga Alliance.
Membership in the MVP Community, fostering ongoing support and connection.
While trainees have the option to complete the program in as little as 4 weeks, My Vinyasa Practice encourages students to take their time to delve deeper into their understanding of adaptive yoga.
Upon program completion, teachers will possess the knowledge and skills to instruct yoga to individuals of all body types and varying abilities.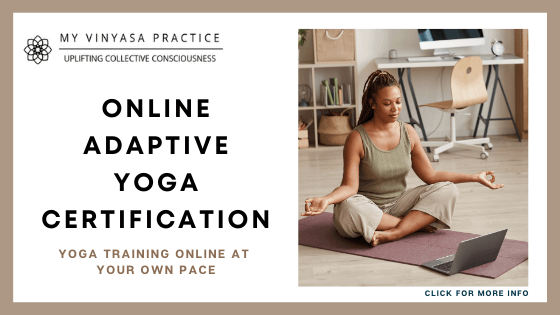 2. Accessible Yoga Training Online by Accessible Yoga School
The Accessible Yoga School's online training offers students an opportunity to delve into the foundational principles of equity and accessibility within the realm of yoga.
Throughout this course, yoga teacher trainees will gain expertise in the following areas:
Comprehending the advantages of an accessible yoga practice, including enhancing muscular strength, balance, flexibility, improving physiological functions, reducing stress, anxiety, chronic pain, and promoting overall health and well-being.
Identifying safe and suitable variations of common yoga postures suitable for individuals with diverse physical abilities, whether they are using a chair, mat/bed, or standing.
Learning specific yoga asanas designed to enhance flexibility, strength, and balance, thereby supporting health and independence.
Mastering the purpose and application of yoga props to ensure yoga is accessible to individuals of all abilities.
Acquiring knowledge about prevalent medical conditions, understanding the benefits, and addressing concerns related to the incorporation of yoga into therapeutic practice.
Developing the skills to create inclusive Accessible Yoga classes that cater to students of varying abilities, allowing them to practice together harmoniously.
Exploring versatile adaptations of yoga to accommodate individuals with disabilities, physical challenges, seniors, children with disabilities, individuals with larger bodies, and more.
Learning to foster welcoming and empowering class environments for all, while adopting a trauma-informed approach to student interaction.
Evaluating the physical and psychosocial benefits of pranayama and meditation, and mastering techniques to make these practices accessible to all students, regardless of their abilities.
Applying the teachings of yoga philosophy to daily life, reducing stress, creating balance, and cultivating authentic connections with oneself and others.
Exploring methods to build a strong and supportive community among students to facilitate the transformative power of yoga.
Students have the flexibility to complete this adaptive yoga teacher training from the comfort of their homes, working at their own pace.
The course package encompasses:
Live Training: 20 hours of live virtual classroom sessions with a team of accessible yoga experts.
Video Resources: An additional 10 hours of mandatory pre-recorded videos and homework assignments.
Digital Accessible Yoga Teaching Certification: Upon successful completion of the program.
Networking Opportunities: Connection with a global network of teachers and practitioners dedicated to sharing yoga with everyone.
Membership Benefits: A free six-month membership in Accessible Yoga's Ambassador program.
Continuing Education Credits: Earn 30 contact hour CEUs recognized by Yoga Alliance (for yoga teachers) or the International Association of Yoga Therapists (for yoga therapists).
Upon certification, yoga teachers can promote themselves as Certified Accessible Yoga Teachers, and they gain access to a supportive Facebook group for networking with other accessible yoga teachers.
Adaptive Yoga Makes You a Better Yoga Teacher
Adaptive yoga certification isn't just about being able to accommodate more types of people safely and successfully into your yoga classroom. It's also an important part of understanding the safety and medical concepts necessary to provide a comfortable and inclusive environment for all yoga students. As you've probably learned from your in-person or Online Yoga Teacher Training, Yoga is for everyone, no matter where they are.
Learning how to adapt yoga to all capability levels can make you more well-rounded as a yoga instructor and can ultimately deepen your yoga practice.