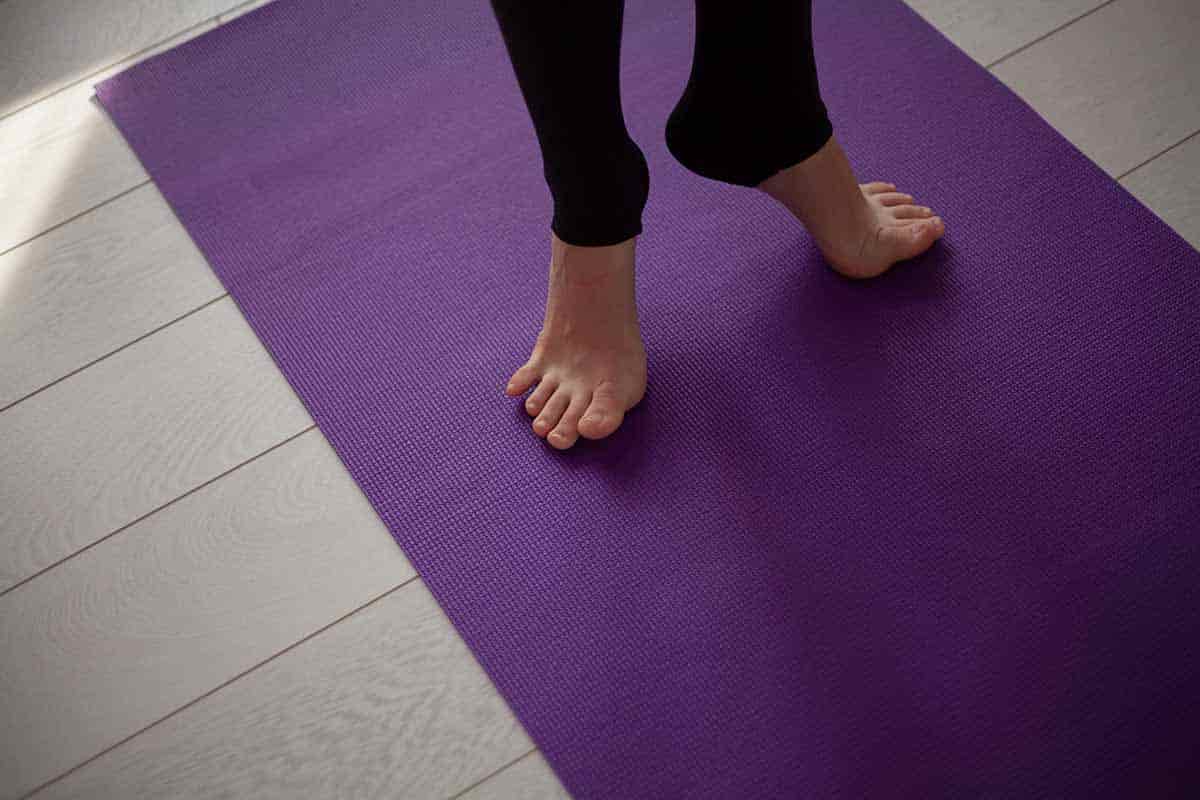 The 7 Best Alo Yoga Mats Online
W
ith a mission statement that states "spreading mindful movement, inspiring wellness and creating community," it is easy to understand why thousands of people from across the globe gravitate towards Alo Yoga products.
The Best Alo Yoga mats online include: 
Whether you're already an Alo Yoga mat lover or just getting your toes on a mat, keep reading to find out why these are the seven best Alo Yoga Mats online and how you can get your feet on one.
Alo Yoga Mats: All the Rage
With its origins beginning in 2007, Alo Yoga has steadily become a world-famous yoga brand with its amazing line of yoga pants worn by just about every celebrity from New York to California and then some.
Alo Yoga has gained popularity among its customers by providing sustainable, durable, and quality style products that people can feel not just good about purchasing but feel good about using.
The founders of Alo Yoga started the company with a mission "to spread good by bringing yoga to the world." This is evident in the passion that goes into each and every one of its products and what brings customers back time and time again to stores worldwide.
Is Alo Yoga Ethically Made?
According to their website, Alo Yoga claims they are certified ethical, eco-aware, and one hundred percent sweatshop-free.
Alo stands for air, land, and ocean and boasts that its company cares about how and who makes its products and ensures they are created in a safe environment for all involved.
Platinum-certified by WRAP, Worldwide Responsible Accredited Production, Alo Yoga ensures all its manufacturing sites consist of an Alo employee who ensures ethical practices are in place and being followed.
What Is Alo Yoga Mat Made Of?
An Alo Mat is made from ethically sourced premium all-natural rubber. They are one hundred percent free from toxins, PVC, biodegradable, and a polyurethane leather top that is bacteria resistant.
Alo Yoga is best known for manufacturing its products with ethically sourced materials that create long-lasting, functional, and stylish yoga mats. They are committed to reducing the impact on the environment and lessening the carbon footprint on the world with their factory's production process.
How Thick Are Alo Yoga Mats?
Alo Yoga mats are typically 4.3 mm thick, whereas a typical yoga mat on the market is 3.3 mm thick. With this extra millimeter of thickness, customers can rest easy on their necks, knees, elbows, and backs.
Those who have used an Alo Yoga mat rave about its cushion comfort yet ability to ensure proper form and balance in any pose without fear of toppling over or losing grip.
Along with added thickness, Alo Yoga Mats also come in two lengths for those needing not only a little more comfort but extra length as well. The Alo Yoga mat can be purchased either in standard 6.2ft x 2.2 ft x 4.2mm or long 7ft x 2.2ft  4.2mm.
The 7 Best Alo Yoga Mats Online
Listed below are the seven best Alo Yoga mats, with a brief description of each. Without further ado, let's get started on the seven best Alo Yoga mats online so you can begin that yoga practice you've been thinking of with a mat that is made just for you!
Mat 1: Alo Yoga Stow Backpack & Warrior Mat Set
We love this mat specifically for these features:
Water-resistant matte neoprene
Laptop sleeve
Three exterior pockets, one interior pocket
Removable interior pouch
Non-slip
Cushiony top
Non-toxic, PVC free, and 100% formaldehyde-free material
Black backpack only
The mat comes in pink, white, black, and jungle
The Alo Yoga Stow Backpack & Warrior Mat Set is the best of both worlds when it comes to travel and storage. Gone are the days of carrying a bag for your gym essentials on one arm and your yoga carrying case on the other. Here, you can easily store all your needs in this water-proof, lightweight backpack and easily slide your mat into the bungee cords on the bottom.
While the mat weighs about six pounds due to its 4.2 mm thickness, its weight is comfortably distributed within the bungee cords and does not dig into your shoulder and neck while carrying.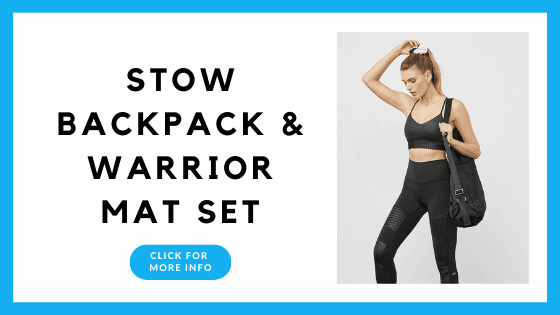 Here are just a few key features that made this Alo Yoga mat one of our favorites:
Ultralight–travel friendly
No-slip – wet or dry
Cushioned rubber backing
Dimensions: 6.2ft x 2.2ft x 2mm
Weight: Approximately 3.5 lbs
Natural rubber
Anti-odor
A dry-wicking surface draws moisture away
Natural rubber backing for cushioning
This best-selling Alo Yoga Air mat is best known for its ability to travel light and store away with ease. Customers who purchased this travel companion love the matte black top with its fantastic grip abilities, antimicrobial material, and dry-wicking ability that ensures you will stick that warrior pose even in hot yoga.
The Alo Air mat can be rolled up and fit easily in a suitcase without creasing or being damaged. Customers rave about taking this mat anywhere and storing it in small spaces.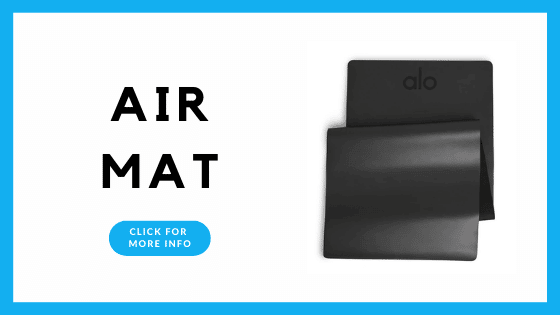 Mat 3: Alo Yoga Chakra Warrior Mat with Grid Alignment
There are lots of things that make this yoga mat a solid option for yogis everywhere, but here are the main ones:
Textured Grid
No-slip – wet or dry
Cushioned rubber backing
Dimensions: 6.2ft x 2.2ft x 5mm
Weight: Approximately 6 lbs
Textured grid guides your alignment
No-slip, wet or dry
Cushioned rubber backing
Anti-odor
Natural rubber backing for cushioning
The Alo Yoga Chakra Warrior Mat with Grid Alignment was created to guide any level yogi with proper alignment using the asana grid carved into the mat. The rubber backing provides extra cushioning for knees, elbows, necks, and backs without compromising balance. It is no-slip with its dry-wicking material to allow moisture to dry, allowing for a non-slip surface quickly.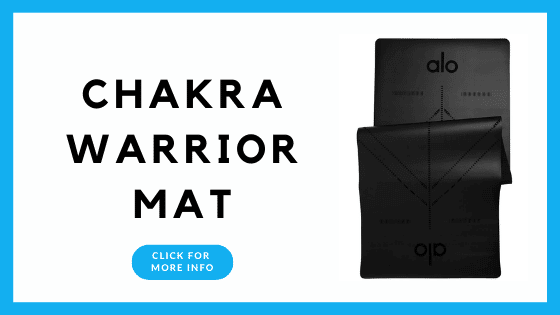 Mat 4: Alo Yoga Warrior Mat – Standard Size
The price point on this one is a little lower, making it a more budget friendly option. However, there are lots of other features that make this mat a great choice:
Luxe, matte finish
Oversized for extra width
Cushioned for joint support
100% formaldehyde-free, non-toxic and PVC-free
Ethically sourced, premium, all-natural rubber materials
Dimensions: 6.2ft x 2.2ft x 5mm
Ten assorted colors
Weight 6 lbs
Top layer 100% polyurethane leather
Bottom layer100% rubber
Moisture-wicking
Anti-odor
The most popular of the Alo Yoga may line, the Warrior mat comes in ten unique colors such as eclipse, smokey quartz, hot pink, honeydew, and six others. This yoga mat has been tested and comes top-rated for durability and comfort.
Customers love the support and grip of the matte top finish and its ability to stay odor-free even in the sweatiest of yoga sessions.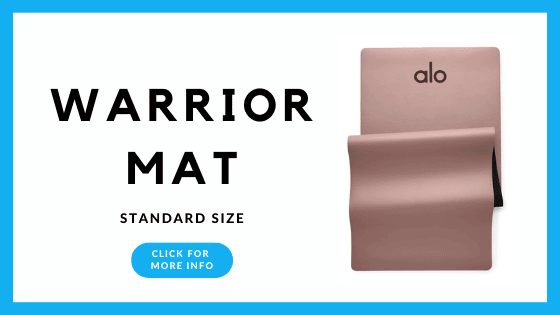 Mat 5: Alo Yoga Long Warrior Mat
The Long Warrior Mat is a great option for those that need a longer mat. Here are some of the other reasons we love this Alo Yoga mat:
Extra-long -10" Longer than the Warrior Mat
Moisture-wicking
Anti-odor
Luxe, matte finish
Dimensions: 7ft x 2.2ft x 5mm
Weight: Approximately 9 lbs
100% formaldehyde-free, non-toxic and PVC-free
Made with ethically sourced, premium, all-natural rubber
Designed for those who need a little extra space, the Alo Yoga Long Warrior Mat provides ten inches more length than the original Warrior Mat. Just like all the other yoga mats in the Alo Yoga line, this mat is also bacteria, odor, slip, and moisture resistant.
The website currently only offers this version in black with a luxe, matte top finish and rubber cushioning on the bottom layer for added joint protection.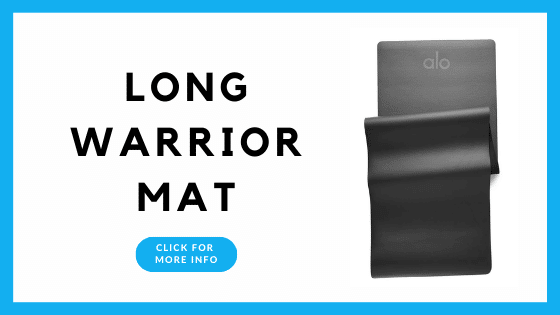 Mat 7: The Ultimate Home Studio Set
Looking for the Ultimate Home Studio? This set from Alo Yoga has everything you need to get started, including:
1 luxe Alo Moves Annual Subscription Gift Box
1 Tie-Dye Warrior Mat
2 Uplifting Blocks
1, 2-in-1 Yoga Strap
1 Ultra absorbent Grounded No-Slip Mat Towel
Limited-edition Alo Shopper Tote
Limited-edition colors – Grey, Pink, and BrightAqua Tie Dye
The real gift is the annual Alo Moves subscription that unlocks fitness, yoga, and meditation classes that include favorites such as Yoga, barre, HIIT, meditation, and sound bath classes.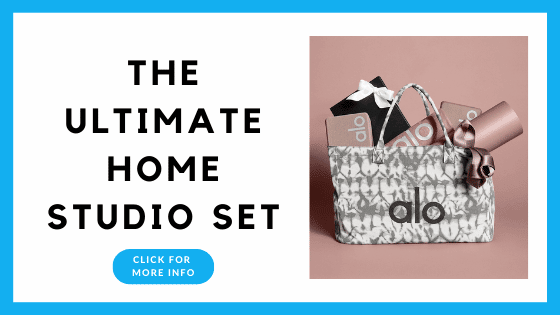 How Do I Clean My Alo Yoga Mat?
To clean an Alo Yoga mat, the website recommends using half part warm water and half part oil-free soap. It is also suggested to use warm water and vinegar to clean the mat in between use.
The solution can either be sprayed directly on the mat, then removed with a towel, or poured onto a towel and then gently wiped off in circular motions to ensure dirt is lifted.
You can lay it flat on any surface or hang it somewhere dimly lit by the sun to dry the mat. It is recommended that you do not leave your Alo Yoga mat in direct sunlight for prolonged periods of time as it can damage the rubber material on the mat.
To prevent permanent creases or dents in your mat, you should keep it stored in a rolled position or laid flat out.
Is The Alo Yoga Mat Worth It?
Alo Yoga mats are worth it! Although on the higher price point of yoga essentials, this environmentally conscious brand not only ensures all its materials are sustainable but that every step of the production assembly practices ethical and safe practices for everyone involved.
The durability and support of each Alo Yoga mat ensure that every pose you practice is done on a non-toxic, antimicrobial mat that is slip-resistant even in the hottest of hot yoga classes.
Alo Yoga's yoga mat collection provides so many options for every level of yoga practitioner with its grid-alignment mat, non-slip mat, long warrior mat, and travel mat.
The only true way to find out if an Alo Yoga mat is worth it is to make the investment and give one a try yourself!