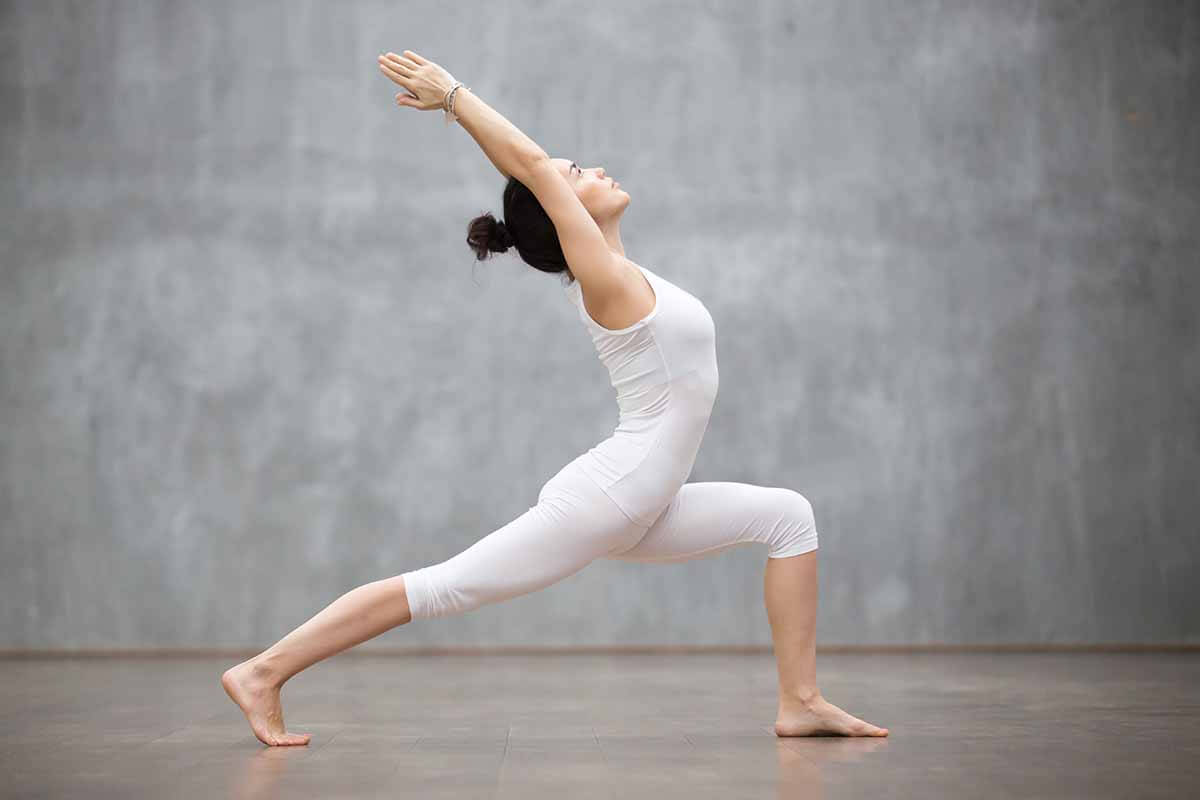 The 5 Best Yoga Tops That Don't Ride Up
T
here are few worse things for a woman when in the midst of a yoga workout out than her top falling in front of her face in downward dog. Having to pull it down or up consistently and the occasional readjust can ruin one's zen.
After much digging (pardon the pun), we have found the five best yoga tops that don't ride up, and they are:
Keep reading to find out just what makes these the top five yoga tops, plus some extra content on how brands are conquering the ride-up issue, some top brands to shop at, and how to care for your workout attire.
Common Issues With Yoga Tops
If you're a woman reading this, then you probably know first-hand the woes of wearing yoga tops that don't fit right. Typically it has nothing to do with sizing, but more so, the construction of the top isn't conducive to staying in place while you're not.
Some common issues with yoga tops are:
Riding up when you're upside down
Rising up above belly when you lift your arms
The shirt slides backward while working out
Rolling up when you're bending over
Stretching out and losing shape
These are just to name a few, but enough to make anyone lose their minds in a class specifically intended for them to find it. No matter how you try to pull, stretch, or even in desperate times, tie in a knot, a yoga top that moves as much as you do is not conducive to balancing any of the chakras.
How Brands Are Solving The "Riding Up" Issue
Brands have heard the call from yogis everywhere and have answered with just a few changes to how they construct their yoga tops in an attempt to solve the "riding" up the issue." While brands recommend that you take a look at their size guide charts and read reviews on sizing first, they have recognized that, despite having the right fit, yoga tops sometimes aren't.
Most companies use a combination of fibers such as lycra, nylon, polyester, and spandex that allow the top to move with the body and maintain shape, and most importantly, stay in place. Most customers state concerns that shirts often feel restrictive due to compression fabrics that, while do address the riding up issue, then cause the I can't breathe properly issue.
Moisture-wicking tops with a racerback feature are also simple ways brands are solving the riding up issue as this function creates more support for the shirt even in the sweatiest of conditions. Additional features such as grip-hem stitching, customizable chord strings on sides of shirts, and adjustable straps are also ways brands are solving the riding-up issue of yoga tops.
A Few Of The Top Brands In The Yoga World
Yoga attire is just as personal to some as the practice itself. Shoppers desire comfortability, stability, function, and that their clothing is esthetically pleasing when choosing their favorite yoga brands.
While some top yoga brands do tend to be on the pricey end of the sales rack, customers are encouraged to think of their yoga attire as investments rather than bargains. In the long run, buying that high ticket yoga top with rave reviews in all categories versus the one you found for ten dollars might be the better purchase.
Here are a few of the top brands in the yoga world that deliver all those must-haves and more:
Beyond Yoga: Comfortability was a common theme in customer reviews for this brand the second was affordability, With amazing high-waisted leggings, cute tops that combat sweat but also make you look super badass while doing so, it's easy to see why this brand made the list. Prices in this brand without sales range from $20-60 site-wide.
Lululemon: A name brand synonymous with yoga attire and popular amongst yogi everywhere, Lululemon is known for its breathable and comfortable, non-see-through leggings. This brand is the more expensive on the list, with tops ranging from $20-100, not on sale. It's a little on the pricey side, but many customers rave that its exceptional quality is worth the extra dollars.
Outdoor Voices: This newcomer on the yoga block became known through Instagram hashtags, encouraging their followers with the "doing things is better than not doing things" slogan. Customers love the relaxed and supportive fit of leggings and sports bras and the freedom to custom-create a top-bottom set on the website. Prices for this brand's yoga tops range between $20-62, not on sale.
Athleta: Famous for their diversity in all size women, this Milwaukie-based brand boasts about its sustainability and fair-trade business agenda while still creating yoga gear that women everywhere love. Prices for this brand's yoga tops range between $20-85, not on sale.
Alo Yoga: Customers can't stop raving about this yoga brand's leggings and tops' soft, flattering, and beautiful style. Alo Yoga focuses on mobility and comfortability while working out and looking good while doing so because everybody wants to feel fabulous inside and out. Another higher-end price tag brand, prices for this brand's yoga tops range between $20-$100, not on sale.
These are just a few of the brands out there that are going the extra mile to ensure their customers' workout attire can keep up with them. Bonus points for the brands designing for all bodies, keeping the planet in mind, and ensuring safe working environments for their employees.
The 5 Best Yoga Tops That Don't Ride Up
The moment you've been waiting for, the five best yoga tops that don't ride up, not in any particular order, are as follows.
1. Dragon Fit Crop Top for Yoga
Introducing the Dragon Fit Sleeveless Workout Crop Top, a stylish and versatile choice for women seeking comfort and performance in their activewear. This crop top is perfect for yoga, running, gym workouts, and other athletic activities. Made of a high-quality blend of polyester and spandex, it provides a soft, lightweight, and stretchable feel for ultimate comfort during your workout sessions. The moisture-wicking fabric ensures that you stay dry and comfortable, even during intense exercise.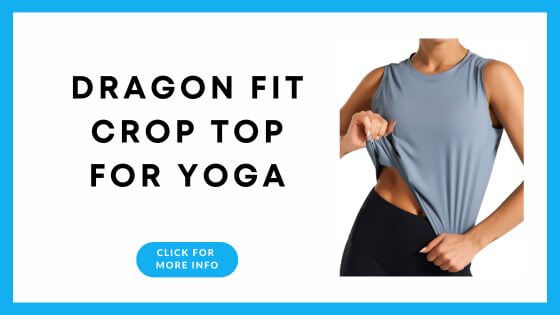 2. PrAna Women's Verana Top
This racerback top was rated high for support and comfort, a popular yoga top among the larger chested yogis. Its beautiful back strap detail is not only eye-pleasing but also does not twist or turn while your body does. 
This tank top comes in twelve assorted colors and is made up of a nylon and lycra blend that allows for flexibility, excellent support but doesn't restrict movement during a workout. Customers were excited that this tank top stayed true to size even after multiple uses and didn't gape or ride up even in the toughest of poses.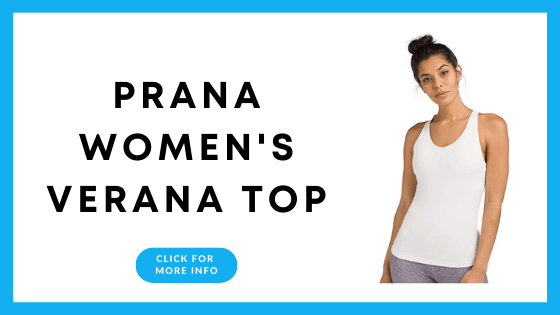 3. Lululemon Align Tank Top
This fitted tank top by Lululemon is one of the most popular in the Lululemon collection for yoga tank tops. The cloth and tight of the shirt can be is made not just comfort but peace of mind in any up or downward-facing pose.
Made from Pima cotton for a breathable but soft touch and added lycra to maintain shape, this tank top will be one of your favorites. The Align Tank top is a tank top offered in four colors and comes in sizes extra, extra small to large.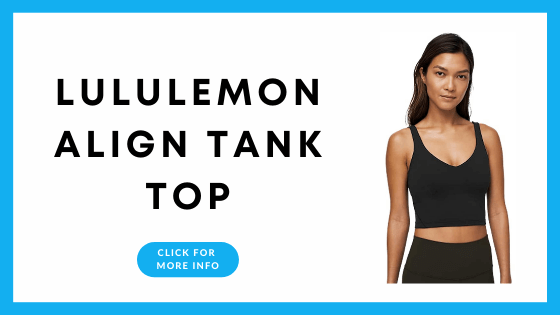 4. CRZ YOGA Women's Seamless Athletic Long Sleeves Workout Top
This yoga top is a fantastic addition to anyone workout wardrobe who is looking for more modest coverage while bending and stretching. This$28 long-sleeved top from CRZ Yoga is not only easy on the pockets but with over twenty color options easy on the eyes as well.
Made out of a hundred percent polyamide and quick-dri fabric, this top is a cool, relaxed fit that is seamless for minimizing chafing. Additional features include a long hem for added coverage of the hips, a crew neck, and thumbholes to keep sleeves in place.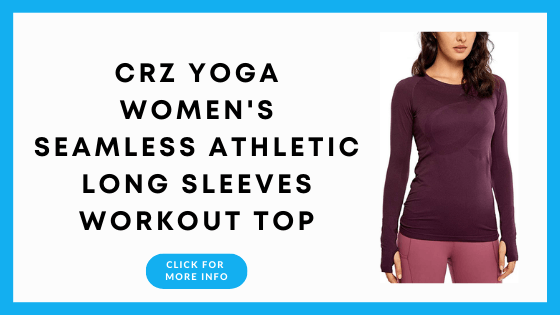 5. Speedlight Heather Tee
For the women who maybe want a little more arm coverage, this yoga top covers you in all the right places. Riding up is not an option with this Athleta top that uses hem-grippers and cinching on the sides to ensure this beauty stays in place. For $54, customers can choose between six different colors and sizes ranging from extra, extra small, to extra large. Additional features include a chafe-free fabric, medium to high impact workout support, odor-controlling yarn, and breathable material that allows sweat to evaporate on the surface.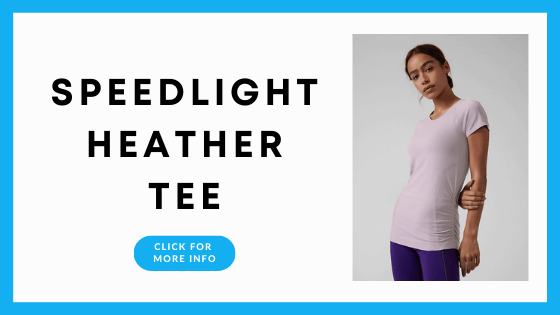 How Long Does A Yoga Top Last?
There really isn't a definitive time frame for how long does a yoga top last inquiry is it's more of a user-knowing type of answer. What do we mean by that?
A couple of telltale signs that your yoga top is seeing its final days are when it no longer supports you, are you constantly having to readjust, yank down, tie in a knot, or what was once a tank top now a belly shirt? If you answered yes to any of these questions, then it's time to replace that yoga top.
It can feel like a waste of money, especially if you only purchased the top within the last couple of months or it's already showing deterioration after three washes. Buying tops that may be saved you money versus weren't the best quality might be the culprit in this scenario.
While durability depends on the length of wear and proper care, you can get more out of your yoga top by investing in high-quality brands, although a little pricey can save you money in the long haul.
The goal is to be able to complete a yoga class with better focus than you started with, and that begins with a yoga top that doesn't ride up to your chin every time you salute the sun. However, not all yoga tops are created equal some are made to last a class, and others can outlive your favorite pair of matching leggings.
Whatever your case may be, it's always a good idea to buy clothing that in the moment may seem expensive but potentially have a longer shelf life than the one you bought in the supermarket across from the bananas.