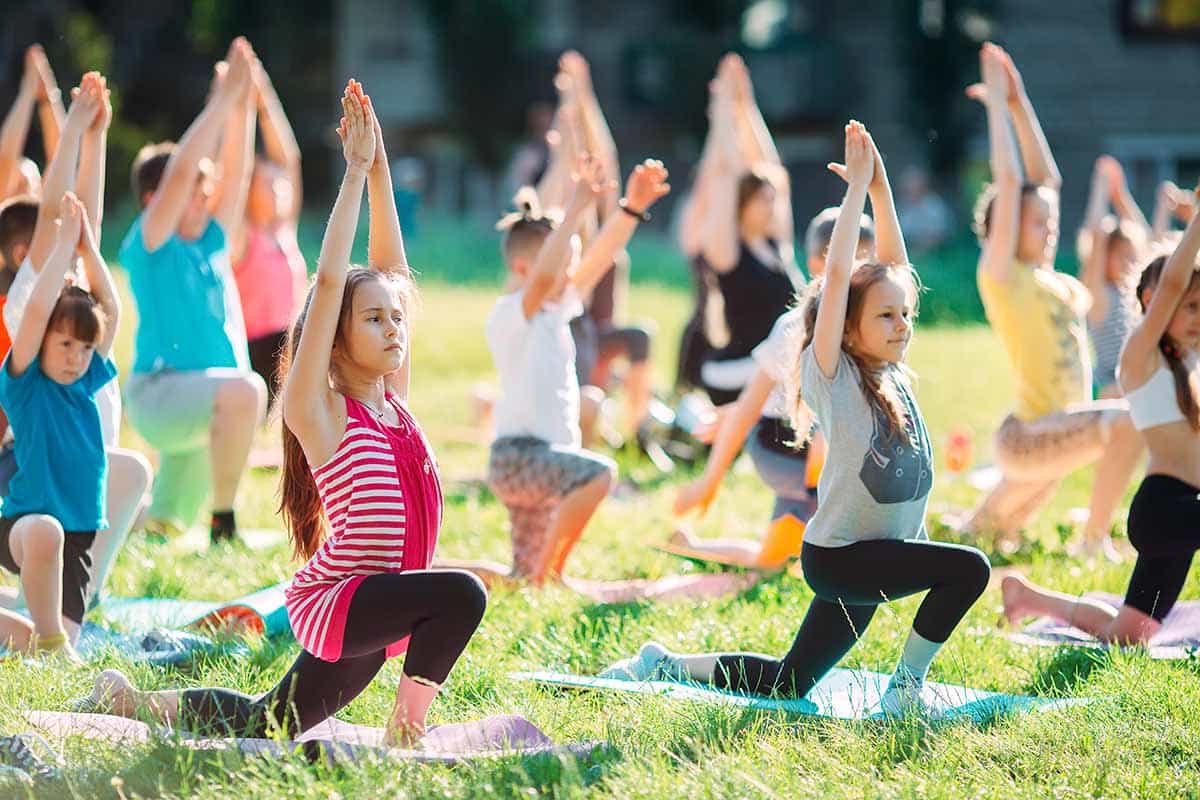 The 10 Best Children's Yoga Teacher Training Online
A
s a teacher trained in children's yoga and who has delivered many kids' yoga classes over the years, I highly recommend this enriching and joyful path! Giving the gift of yoga to the next generation is rewarding and meaningful, but it is also significantly different from teaching adults. It's imperative to take a teacher training program specific to teaching children. An online program is an excellent format for this, as you will receive access to everything you need to hold an engaging, fun, and empowering kid's yoga class.
Kids love doing yoga! I've taught them in-person and online; they are always adventurous, eager, and fun to teach. There are many benefits for kids to practice yoga, such as grounding, feeling more in control of their bodies, releasing energy, learning to breathe and connect to themselves, and developing good habits early on. The benefits of yoga are immeasurable, and reducing stress and increasing strength and flexibility safely and healthily can give kids confidence in themselves and their bodies. 
Taking high-quality training is an essential step in preparing to teach children yoga. Standing in front of a room full of kids can be pretty daunting! They demand attention. Knowing how to entertain them while providing a class structure and ensuring their safety and well-being are all critical learning points. Taking an online children's teacher training course has never been easier. There are so many to choose from, and we are here to take the guesswork out of your selection process and give you a detailed breakdown of the best online children's yoga certifications.
Here are our top ten online children's yoga teacher training programs:
Online yoga teacher training has pros and cons, and it's up to you to discern whether taking a program online will serve you best. Often, online programs can be affordable and easy to fit into your schedule, increasing your likelihood of being able to advance your learning. Online learning also enables you to connect to incredible teachers and schools in locations you wouldn't otherwise be able to access. The negative side is that unless there is a live component to your online training, you do have to hold yourself accountable to completing the program.
Here are some things to know about whether you study online or in person before taking yoga teacher training.
How do I Become a Children's Yoga Instructor?
There are several paths to becoming a children's yoga instructor. First, and it may seem obvious, but you should love children and want to work with them; if you connect with children easily or desire to learn how to, then teaching them yoga could be a path. Children are high-energy, have many questions, and want to be seen and validated. If you feel tense around children or have no desire to work with them, this may not be the right path for you.  
Second, you should be interested in yoga and its physical, mental, and spiritual benefits. If you have your yoga practice, that will be a big help. You have an advantage if you are already a yoga teacher and have completed at least 200 hours of yoga teacher training. However, depending on which course you take and how you might want to share the gift of yoga with children, you do not necessarily need to be a yoga teacher. 
Many online programs have Yoga Alliance accreditation for those who are already teachers. Read on to learn more about what that means and why that matters. 
What are Yoga Alliance's Requirements
Yoga Alliance is an international independent body that offers standards of teaching and education, and schools and teachers can register with them with the appropriate credentials. If you want accreditation from Yoga Alliance to teach children's yoga, you must apply for an RCYT (or Registered Children's Yoga Teacher) credential. This requires a strict process of completing an RYT 200 yoga teacher training and a 95-hour children's yoga teacher training (in either order) from schools registered with Yoga Alliance. You must also demonstrate 30 hours of teaching children yoga after completing the children's teacher training with an RCYS (registered children's yoga school). 
Programs fewer than 95 hours are not eligible for the Yoga Alliance RCYT credential. If Yoga Alliance credits a school's program, and you are an RYT 200, you can log your hours as Continuing Education (CE). If you wish to meet the required CEs for accreditation, you would want to look for a school that offers children's yoga teacher training as a YACEP (Yoga Alliance Continuing Education Provider).
What do you need to teach children yoga?
Many of the courses here have no prerequisites. It is an advantage, but not necessary, to have already taken a 200-hour yoga teacher training. It is also advantageous to have a personal yoga practice to understand the poses and experience the benefits yourself. 
Note that you do not have to be registered with Yoga Alliance to teach any form of yoga, including children's yoga, and you do not need to register as an RCYT to teach children's yoga. Completing credible teacher training in children's yoga is typically preferred if you seek to be hired to teach yoga to kids. Some studios and institutions require certification to teach minors, depending on where you live and what you wish to do once you graduate. 
You will need to be covered by professional liability insurance after you graduate. The courses we outline here are credible, and you can be insured as a children's yoga teacher once you take them (whether or not they meet YA RCYT standards).
Many studios globally do not require their teachers to be registered members of the Yoga Alliance, and there are also multiple situations where teaching yoga to children does not require you to have taken a 200-hour yoga teacher training. Some teaching jobs require a First Aid and CPR (cardiopulmonary resuscitation) certification, and working with children may also need a background check. These are often standard procedures to ensure the safety of children in professional environments, and your employer would inform you of those requirements before being hired. 
There are multiple situations where you could be interested in taking a children's yoga teacher training and not already be a yoga teacher. For example, you may be a school teacher looking to broaden your capacity for bringing movement to your children. Alternatively, you may work with children as a therapist or a health and wellness provider, where movement and mindfulness would be beneficial. Maybe you are a parent who wants to give the gift of yoga to your children. If that is the case, you have much more freedom of choice. The most important thing for parents and educators to learn is simple information to keep a child's body safe while doing the poses.
What to look for in a Children's Yoga Teacher Training Online
We've narrowed your search for online children's yoga teacher training and listed ten of the best programs. There are, of course, hundreds, if not thousands, of online programs you could choose from. We've selected these for their curriculum, credentialed teachers, and Yoga Alliance affiliations.  
So, what should you look for in training? 
Children differ in age and ability, so receiving training specific to the age of the children you will be delivering a class to is something to consider. Children can also be neurodivergent or have a disability, so it can be a great benefit to take a course that addresses how to be inclusive.
A great program will also inspire and teach you how to bring creativity, enthusiasm, and entertainment to a class. Children's yoga classes aren't the quiet, zen-like experiences that adult classes can be. Children are energetic, boisterous, and can be noisy! They may need assistance following instructions, bathroom breaks, or even fall over in fits of giggles. Learning how to manage all of that is an immense skill. Your teacher training should offer solutions and ideas to assist you with what might sometimes feel chaotic. 
Teacher training for children's yoga should allow you to have fun and bring that energy to a class. Children are wonderful to work with, and they benefit from learning yoga at a young age and developing a relationship with a new teacher! Your influence on them can be pivotal. If you can make a difference in even one child's life by bringing yoga to them, you have created something invaluable in this world.
The 10 Best Children's Yoga Teacher Training Online
1. My Vinyasa Practice's 95-Hour Children's Yoga Certification
My Vinyasa Practice offers students a high-quality and specialized 95-Hour Children's Yoga Certification that Yoga Alliance fully accredits so that you can register as an RCYT upon completion. This entirely online, self-paced program provides one-on-one support, coaching, and mentoring throughout your learning journey. You will have access to My Vinyasa Practice's live support team via email, phone, or chat seven days a week.
The program covers best practices for children of all age groups, including age-specific techniques for ages 2-4, 5-7, 8-10, and 11-13 years, ensuring that you can tailor your instruction to each developmental stage with creativity and compassion. This approach guarantees that your classes are inclusive and supportive for every child.
This course will equip you with the necessary knowledge and skills to work with children. By gaining insights into childhood development, brain development, subtle anatomy, ayurvedic stages of life, and the children's wellness wheel, you will learn how to cultivate empathy, connection, and overall well-being among young yoga enthusiasts. This course also provides self-care practices for yogis to help them maintain a grounded and balanced approach.
What you'll receive: 
Pre-recorded lectures and written content
Recorded yoga practices led by your instructor
A comprehensive children's yoga training manual
Guided relaxation and scripts for yoga sessions
Access to pre-designed class plans and sequences
Worksheets to aid in your learning process
Practicum observation videos to refine your teaching skills
Practice teaching prompts for hands-on experience
Journal prompts and skill-building exercises
Pros and Cons: 
One of the most significant advantages is that YA fully accredits this course for professional certification as an RCYT. It is led by Certified Yoga Therapist, E-RYT 500, and RYCT, Kaytee Hernandez. Her background in therapeutic yoga and children's yoga allows students to learn from a highly specialized and informed teacher. There is a lovely focus on trauma-sensitive practices, which ensures our young yoga students' physical and emotional safety. 
The limitation of this program could be the cost, although if you check on My Vinyasa Practice's website, you will usually find a hefty discount option. If your goal is to teach older teens, this program does not offer schooling for ages older than 13. Yet, with some creativity, most teachers can expand their instruction to include older teens in their classes. While you do receive live support, this is a self-paced program, so it requires self-motivation to complete. 
Prerequisites: None
Hours of study: 95 hours
Access: Lifetime
Cost: $840 (check for discounts)
Course Style: Self-paced 
Yoga Alliance Certified for CEUs: Yes
Yoga Alliance Registered Children's Yoga Teacher certified: Yes
2. Soma Yoga Institute's Therapeutic Kids Yoga Teacher Training
Soma Yoga Institute's 95-hour Therapeutic Kids Yoga Teacher Training is a unique offering, as their school specializes in therapeutic yoga and provides both in-person and online training on multiple levels and styles of yoga. Their teaching staff includes leading certified Yoga Therapists (C-IAYT) and senior teachers with decades of combined experience instructing and facilitating teacher training. 
This program is for ten weeks and will enable you to register with Yoga Alliance as an RCYT after you have graduated and completed 30 hours of teaching. The cohort-based training includes pre-recorded content and live video calls (check the website for the next availability). 
What you'll receive: 
The Om Shree Om method: A therapeutic method of teaching yoga to children and teens
Trauma-informed: Learn how to incorporate therapeutic methods that address trauma and PTSD in children and adolescents in crisis
Developmental Approach: Specific training to understand the biological, neurological, physiological, and spiritual needs of children in specific age brackets from 4-24 years of age. 
Creative play, boundaries, and emotional intelligence: Learn how to create limits and fun classes while respecting the emotions of children of all ages
Breathwork & meditation: The latest science of breathwork, age-appropriate meditation, and guided visualizations to your yoga classes, as well as energetic systems like the chakras and reiki 
Postures: Asanas and their benefits for all ages
Business: How to bring yoga into your community, schools, and your home
Pros and Cons: 
This program will suit students looking for the highest level of certification and instruction, enabling them to register as an RCYT after completing their program and teaching requirements. It is also best for those interested in a therapeutic approach and prefers a cohort teaching style and live classes. The video classes are offered to suit international time zones but are pre-recorded, so you can watch them even if you can't make it live. 
A limitation of this program is that it runs on specific dates, so you cannot start whenever you feel like it. It is also set at a higher price point, reflecting the quality you will receive in this case. 
Prerequisites: None
Hours of study: 95 hours
Access: Lifetime
Cost: $1067 (or three payments of $365)
Course Style: Cohort (check websites for dates)
Yoga Alliance Certified for CEUs: Yes
Yoga Alliance Registered Children's Yoga Teacher certified: Yes
3. Little Flower Yoga's Children's Yoga & Mindfulness Teacher Training
Little Flower Yoga is an organization dedicated to the well-being of children and teens and is one of the longest-running youth yoga training programs. They have trained over 1200 students since their inception in 2006, and their trainers are all actively teaching in schools. Little Flower Yoga (LFY) is registered with Yoga Alliance, and its certification program meets RCYT standards. Certification with LFY also uniquely allows you to apply for six graduate-level credits with the University of the Pacific. 
Their certification program is a rigorous, cohort-based, three-level curriculum, which includes three additional courses (8 hours each in trauma-informed teaching, chair yoga for children, and neurodiversity), practicum teaching, and one-on-one mentorship. Students can take each portion separately and begin teaching after level 1, their foundation program, although that is not certified in and of itself. A student must complete all components to graduate from the LFY certification program. Completing certification in approximately one year is recommended, with a time investment of 2-3 hours per week. 
What you'll receive:
Level 1 Teaching Yoga & Mindfulness to Children and Teens: Principles and Practices to Strengthen Connection, Build Resilience and Cultivate Joy, is a fully supported 8-week online course where you will learn to share developmentally appropriate, trauma-informed yoga and mindfulness with children aged 3-18. This program equips you with tools you can immediately implement with children, and you learn their core foundational five-element method of 'connect, breathe, move, focus and relax.' ($845)
Level 2 Social and Emotional Learning Through Yoga and Mindfulness: Connection, Compassion and Creativity. Building on the foundations of Level 1 and deepening your understanding of your student's social and emotional needs, this 6-week online course strongly focuses on compassionate classroom and behavior management. Students will learn to manage challenging behavior from a mindful perspective and help students of all ages with emotional regulation. Level 2 is also eligible for 18 Yoga Alliance CE hours. ($795)
Level 3 Advanced Teaching Practices and Implementation Strategies is a 6-week online program designed to take your teaching skills to the level of authentic presence. This section of the certification is interactive and experiential, with much time spent on practicing teaching in a supported way and interacting with fellow students. There is additional learning on considerations of parents and caregivers and resistant students. Level 3 entitles you to register 18 hours of CE with YA. ($795)
There are several self-paced programs, a practicum, and a mentorship to complete to certify with LFY:
Teaching Trauma-Informed Yoga (8hrs $199)
Chair Yoga for Children and Adolescents (8hrs $199)
Supporting Neurodiverse Children (8hrs $199)
Practicum (6hrs live stream $285)
Mentorship (6-12 weeks $450)
It is worth noting that if you register for one of their cohort certification training programs (offered twice a year, which includes all the requirements for certification), the registration fee is heavily discounted. 
Certification Registration Fee ($285 per annum)
Continuing Education Hours for Certification Renewal (8hrs $285 per annum)
Pros and Cons: 
This advanced level certification training allows you to gain a yoga teaching certification from Little Flower Yoga irrespective of registering as an RCYT with Yoga Alliance (which also requires a 200-hour RYT). Classroom teachers, school counselors, occupational and physical therapists, social workers, and psychotherapists can all add to their qualifications through a highly respected program. 
Another considerable benefit is taking each component separately, allowing you to dip into the most relevant workshops. LFY also offers its students a Private Online Learning Community, a group of over 1000 LFY graduates and teachers supporting one another. 
One of the main cons of this program is the cost, the length of the program, and its cohort-based nature. This is among the least affordable programs, even though payment plans are available. The suggested pace to complete the program requires one year of study, a significant time investment. The registration, ongoing annual requirements, and registration fee could be cost-prohibitive for some. 
Prerequisites: None
Hours of study: (see above, 95+ hours)
Access: Lifetime
Cost: $4042 (if you register for each component individually) and $3200 if you register in advance for the entire certification program. Payment plans are available.
Course Style: Cohort-based
Yoga Alliance Certified for CEUs: Yes
Yoga Alliance Registered Children's Yoga Teacher certified: Yes
7. Yoga Education Institute's Online Kids Yoga Teacher Training
The Yoga Education Institute's Online Kids Yoga Teacher Training Program is a 20-hour digital course that is Yoga Alliance certified for CEs. Their school, based in Southern California, offers all levels of yoga teacher training in person and online. The Yoga Education Institute offers flexible style programs to suit every schedule. 
Their online program promises to teach you all the tools necessary to conduct a fun, safe, and enriching kid's yoga class. You must complete an open-book written exam and submit a kid's yoga lesson plan. You must also complete a personal statement about why you want to teach kids yoga and sign a Yoga Teacher Ethics statement before graduation from their self-paced online program. 
What you'll receive:
Overview and Teaching Foundations
Child Development and Anatomy 
Breathing Physiology and Breathing Exercises
Postures and movement 
Yoga Games and partner poses
Relaxation and Meditation for Kids
Sample lesson plans
A copy of their Kids Yoga DVD
Pros and Cons: 
One of the benefits of this 20-hour online training is that it can be utilized individually by yoga teachers and non-yoga professionals alike and does not require any prior yoga prerequisites. However, once you have completed the 20 hours online, if you wish to become RCYT certified, Yoga Education Institute offers the opportunity to upgrade to the 95-hour intensive certification program in-person or virtually, with a discount for those who have completed the 20-hour program.
Another advantage is that it is highly affordable. For those on a budget, you can't beat this price. 
A disadvantage of this program is that it is only 20 hours long, and there are limitations to upgrading to the RCYT program. They only run at specified times and do not allow much flexibility in scheduling – you have to attend in California or live virtual classes for four hours Pacific Standard Time every day during the immersion. 
Prerequisites: None
Hours of study: 20 hours
Access: Lifetime
Cost: $97
Course Style: Self-paced
Yoga Alliance Certified for CEUs: Yes
Yoga Alliance Registered Children's Yoga Teacher certified: No
8. Kidding Around Yoga's Online Path - Kids Yoga Teacher Training
Kidding Around Yoga is a school dedicated to kids, mothers, and families. It was founded in 2009 and has trained over 10,000 people worldwide. Their 26-hour kid's yoga teacher training program offers self-paced learning and virtual live sessions.
Students must complete online videos, readings, and quizzes, attend a 4-hour virtual session, and attend workshops. This virtual certification provides students with the skills, tools, and confidence to teach children's yoga. It also requires students to schedule a one-on-one session to demonstrate teaching skills and receive feedback.
What you'll receive: 
Learn to plan a kid's yoga class and teach in multiple environments
Behavior management techniques
Mindfulness games and activities, such as arts and crafts
Yoga philosophy and breath techniques
The business of kid's yoga
Promoting healthy habits
50+ original KAY songs 
80+ postures, including Partner Yoga
Pros and Cons: 
One of the benefits of this program is that it is a hybrid program that allows you to engage in the material partially self-paced and partially online, where you will have accountability. Many students love this style of learning. 
The school focuses solely on yoga and mindfulness for children and families, meaning you can be confident of their expertise and focus. They also offer in-person and virtual programs, such as Mindful Parenting and Trauma-Informed Yoga for Kids or Families.
A disadvantage of this program is that it does not cover the 95 hours required by YA for an RCYT certification, but as we have discussed earlier in this article, it is optional to teach children's yoga. 
Prerequisites: None
Hours of study: 26 hours
Access: 5 months access
Cost: $395 (or three payments of $135)
Course Style: Hybrid (online + live Zoom)
Yoga Alliance Certified for CEUs: Yes
Yoga Alliance Registered Children's Yoga Teacher certified: No
9. Certified Kids & Teen Yoga Teacher by Arhanta Yoga
Arhanta Yoga has centers in India and the Netherlands. Since its inception in 2009, an impressive 12,000 students have graduated from their programs. Initiated in 2017, their online training school offers 12 different teacher training courses and certification programs to enhance and improve yoga knowledge. 
This online certified Kids & Teen Yoga Teacher course was created by Marzia Bendotti, an expert Kids yoga teacher from Italy; RYT-200, RPYT-500, YACEP with 6000+ hours of teaching experience, and a mother to four children. 
The design of this course is for yoga teachers, fitness instructors, or movement therapists who want to understand fundamental principles in teaching teens and kids.
What you'll receive: 
Prepared Classes: 24 ready-to-use yoga classes; opening and closing activities, games, fairy tales, postures, breathing exercises, short meditations, and guided relaxations
Stress Management: Tools for children and teens to control what's going on in their lives and manage their inner responses
Scientific Research: Learn about "Warm Cognition" and how emotions affect attention, memory, and understanding
Self-Awareness: Promotes the recognition of one's personality, allowing children to answer the question: Who am I?
Curriculum: Receive "KIDS YOGA by Marzia" and "YOGA FOR TEENS," two separate teaching methodologies for all age groups
Physiology: The effects of the changing body
Pros and Cons: 
This training gives you access to three months' worth of kids yoga classes ready to teach, pre-written courses for teens, and complete teacher support! Arhanta offers a continuing relationship with its staff for support.
The disadvantages of this course are that its price point is a little higher for just one month of access, and this is a 50-hour course; therefore, it does not qualify for the RCYT certification. However, you get lifetime access when you pay just a bit extra. 
Prerequisites: None
Hours of study: 50 hours
Access: One Month OR Lifetime
Cost: €400 for one month access (approx $USD 437) or €500 for lifetime access (approx $USD 546) 
Course Style: Self-paced
Yoga Alliance Certified for CEUs: Yes
Yoga Alliance Registered Children's Yoga Teacher certified: No
10. Getting Started in Kids Yoga Professional Certification by Cosmic Kids
If you've ever searched YouTube for kid's yoga, you've undoubtedly encountered Cosmic Kids! With over 1.5 million subscribers and hundreds of videos posted online since 2012, Cosmic Kids is an incredible online resource for kid's yoga. The creator and teacher, Jaime Amor, is the engaging and imaginative genius behind Cosmic Kids.
Not only has Jaime made yoga accessible to every mother searching YouTube for a yoga class for her children, but her classes have been used in over 150,000 schools, and almost 5000 adults have taken her Professional Certification Getting Started in Kids Yoga! If that isn't enough, Cosmic Kids also offers a free Kids Yoga Crash Course that has been taken by over 30,000 people so far! 
Those who want to gain a professional certification through the online foundational program can take this 25-hour course, submit a video for personal feedback from Jaime, and start teaching under your brand as Cosmic Kids-certified teachers. This certificate is all you'll need for insurance companies, schools, and parents.
What you'll receive:
257 Lessons/4 hours of video content
Learn how to perform a story incorporating yoga postures 
Child development and anatomy, teaching a safe class
A proven class structure 
Video instruction of 115 kids' yoga postures – including anatomy and teaching tips for each pose
A downloadable printable posture A-Z, showing teaching tips and anatomical guidance for each pose
The script for a kid's yoga adventure (Squish the Fish!)
Video Feedback from Jaime 
Focus on Special Needs: Dyslexia, Dyspraxia, ADHD, Autism, Cerebral Palsy, Down's Syndrome, Asthma, and hearing loss.
Teaching all ages, from Tweens to Toddlers 
Professional tools
Pros and Cons: 
Cosmic Kids is one of the most recognizable kid's yoga resources online, and its style is replicable through Jaime's professionally recognized training program. There are supplementary classes that you can bundle in for a discount, including Making a Living as a Kids Yoga Teacher ($149/2hours video content/64 lessons) and Conquering Class Management ($99/1.5hours video content/34 lessons) which take your training to the next level. If you are looking for quality with less quantity, this program might be for you.
The disadvantage of this course is that it only has four hours of video lessons, and you can only register for six hours of contact CEs for Yoga Alliance. This is not an RCYT-certified program. The total time you'll need to spend on this program is between 20-25 hours, the remainder of which can be tracked and registered with YA as non-contact hours. Much of the content is in written format; this isn't engaging enough for some. Even though it has a lot of content in the curriculum, the price point may be too high for such a short program. The bundle makes it a better deal, but again, there are many lessons but very few video hours. 
Prerequisites: None
Hours of study: 6-25 hours
Access: Lifetime
Cost: $297 (or $395 for a bundle of all three programs)
Course Style: Self-paced
Yoga Alliance Certified for CEUs: Yes
Yoga Alliance Registered Children's Yoga Teacher certified: No
Common Mistakes to Avoid When Looking for a Children's Teacher Training Online Course
If it's your first time in the children's teacher training Yoga world, many red flags could go unnoticed, and you might find yourself wasting your cash on a course that isn't all that helpful. 
Below are some common mistakes you should look out for to avoid falling into that trap:
Don't just sign up for the cheapest option on your Google search. I know this can be very tempting as we are all trying to save money, but ensure you're confident that the course will offer what you need regarding curriculum. Check whether the ratings, reviews, and coursework material includes a manual for future reference. These should be why you choose a course, not its low price point. 
If you choose cohort-based training, ask about the number of people attending the course. A smaller crowd will help you have a more personal experience with your trainer, and they can concentrate on your needs. If it's a large group, ask how they offer community connection! Ask questions to help discern if this is the training for you.
Ask about drop-out rates. Knowing this can help determine whether students are satisfied with the course enough to complete it, if the material is too difficult to grasp, or if the teaching style isn't up to par.
Attending one of their classes prior will give you a better idea if their style matches the energy you want to bring to a children's yoga class. 
It is easy to overlook these suggestions when searching for a course online. Our job is to help you figure things out as you prepare to make that big decision. You want to spend a reasonable amount of time researching the right course to ensure that your children's yoga teacher training brings you success. 
How do I know whether to take a shorter or longer training?
Just because a course offers more hours of learning doesn't mean their coursework is high quality. Check out the course carefully to ensure you'll get what you need from the training without wasting your time. If Yoga Alliance accredits it, that increases your chances of receiving quality content in your program. You have to decide what kind of kids yoga teacher you want to be and how much time you can dedicate to training. If you have limited time and don't intend to teach many classes, maybe a shorter program is for you. To make a professional career by teaching kids yoga, complete more thorough training.
Why do some programs cost so much and others so little?
Some programs are on the lower end of the scale because they offer fewer hours, curriculum variety, and support. However, others cost less because they offer a promotional price or are based in another country. A comprehensive program has accreditation, and live one-on-one mentorship has a lot more overhead, and you can expect to pay more – and get what you pay for. 
The price point is a crucial part of your decision. Consider the amount of money you are willing to invest, and then find a program that falls in that range, or check to see if payment plans are an option. Be sure you can cover the costs, and ideally, you want the course to pay for itself by giving you a credential you can use to boost your income long-term. 
How can I make money as a kid's yoga teacher?
Don't forget about the business side of yoga. Without children to teach, you won't be able to practice your passion. Ensure the course you pursue has a few business lessons to help you set up your company and start working. Without this knowledge, a certification may not be of much help. Some programs offer post-graduation mentorship or a listing on their resource page, so ensure the ways you need to find work as a kids' yoga teacher. 
Where can I teach kids yoga?
Many yoga studios offer kids classes. For example, I worked at a studio that ran a kids' class concurrently with an adult class, meaning that moms could do yoga while their kids were doing theirs. That was an ideal scenario; plenty of classes were taught just like this every week, allowing teachers to work.
Schools are another great place to teach kids yoga. You could offer classes as a part of the physical education curriculum or as an after-school option. Therapeutic settings and gyms are other options to consider. Remember that kids typically go to school during the day, so afternoon and weekend classes are the most likely time you'll be teaching. 
Teens also need specific classes, so approaching local community centers, gyms, and leisure centers could be a great partnership to teach regular classes to teenagers. There are many options; you must get creative and be entrepreneurial about teaching. Business of yoga classes will give you more ideas on where to utilize your new skills.
Will I enjoy working with kids?
That is a question only you will know the answer to. Do you typically love being around children? Do you enjoy their energy and zest for life? Have you ever worked with kids before? Observing a kid's yoga class somewhere could be a good idea to understand what it is like in real-time! Kids can be loud, distracted, chatty, demonstrative, quickly bored, and demanding! Those are indisputable facts. However, teaching children yoga is amazingly rewarding and a delightful change from teaching adults. Their energy is contagious, and you will have plenty of laughs and opportunities to play and have fun! It's like being a kid again, and while you are the adult in charge, you can get into a zone you maybe haven't experienced in a long time. And that can be good for the soul! 
Similar to adults, children benefit from having yoga in their lives. Many parents have noticed yoga's effectiveness for their children and themselves. Yoga is the next big thing for kids, as it teaches them how to calm down and manage their emotions. Plenty of parents have begun signing up their children for yoga classes. This is where you fit in as an aspiring children's yoga teacher!
Check out these courses and see which suits your needs and demands best. Finding one course among thousands of online classes can take time and effort. If you're still skeptical about online teacher training, here are things you should know before yoga teacher training. Hopefully, this will clarify and help you understand all you need about online teacher training courses.