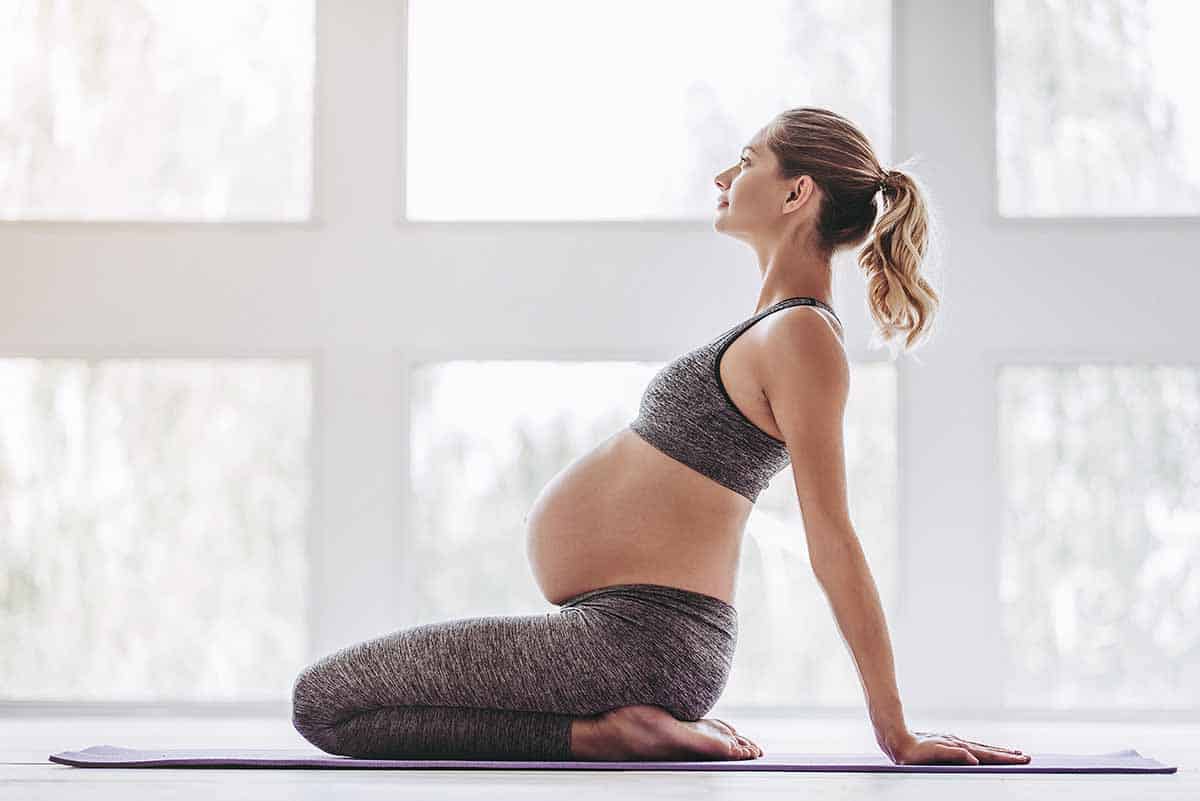 The 8 Best Prenatal Yoga Instructor Certifications Online
B
eing a prenatal yoga instructor can be a very rewarding experience. You would be able to go home from work knowing that you made a difference in people's lives. There's no doubt that yoga comes with a host of medical benefits, particularly for pregnant women. The best prenatal instructors harness those benefits and pass them along to their students.
There are many certification options, but rising above the rest are:
All offer varied focuses in their courses and are all approved by the Yoga Alliance and offer comprehensive classes for the aspiring instructor.
If you are interested in becoming a prenatal yoga instructor, keep reading to learn how to realize your dream, as well as where to go to obtain your certification online!
How Do I Become a Prenatal Yoga Instructor?
To become a Registered Prenatal Yoga Teacher (RPYT), there are many requirements that must be satisfied. While there is no legal criteria to become a yoga instructor, the industry itself tends to set their own guidelines in the form of hiring preferences and nonprofit memberships.
The first step is to become certified as a standard yoga instructor. This means that you need to find a good certification course. Not everyone can physically go to a studio to take their classes. Luckily, there are many online yoga certification options out there that you can take advantage of.
A good prenatal certification course should cover the following:
Safe and unsafe poses for pregnant women
A selection of relevant mental health exercises and practices
Class planning and management
Safety education
Beyond this, other topics covered are at the discretion of the course developer(s). Many certifications tend to have specialty areas that are covered, with some focusing on mental health and others focusing on physical health and preparedness.
What Are the Requirements for a Prenatal Yoga Instructor Certification?
The Yoga Alliance is a nonprofit organization, which has received international recognition for their services to the yoga community. Among other resources, they also offer a comprehensive network of approved classes.
While the Yoga Alliance is not a legally binding organization such as a college accreditation board, they are an industry standard. Most yoga studios will only hire instructors whose certifications are approved by the Yoga Alliance. Additionally, completing one of their approved courses means that you become registered in their instructor directory.
According to the Yoga Alliance, there are specific requirements for anyone who wants to be a prenatal yoga instructor. This is done to ensure that instructors are knowledgeable and do not adversely affect their students.
The requirements for a prenatal yoga instructor are as follows:
Successful completion of a 200-hour yoga instructor course, certified by the Yoga Alliance
Successful completion of an 85-hour prenatal yoga instructor course, which must also be certified by the Yoga Alliance
The applicant must have completed 30 hours of prenatal yoga instruction as a teacher
While the above are the bare minimum requirements for a prenatal yoga instructor certification, many yoga studios have additional requirements that you must meet in order to be considered for employment. These could include any of the following:
CPR and/or first aid certification may be requested. Particularly with prenatal instruction, the studio wants to be sure that their students are in safe hands, should anything happen.
The studio may require that you yourself lead a healthy, active, and fit lifestyle. Since pretty much anyone seeking a yoga class wants to be healthy, the idea is that the teacher should embody the lifestyle they are selling.
Some require proof of strong leadership or business management skills may be required, particularly in smaller studios where teachers share some of the management burden.
When looking into which courses and skills to obtain in order to become a prenatal yoga instructor, you should first look at the type of studio you want to work at. Check into their instructor requirements of several studios whose principles align with yours. Then, focus on ticking off those requirements so that finding a job at a studio you love is more likely.
What Is the Best Prenatal Yoga Instructor Certification?
Ideally, the "best" certification is the one that most closely aligns with your own beliefs and practices while still challenging you to explore new ideas. Some instructors prefer to focus on physical health and relieving the ailments of pregnancy, while others more heavily prefer emotional wellbeing as a method to improve physical health.
Currently, Brett Larkin is considered an industry leader in prenatal yoga, as her mental health approach to pregnancy has proven largely successful. For anyone with a passion for healing the mind to heal the body, her courses are a perfect fit.
She has achieved international recognition for her courses and graduating from her class will earn you significant respect in the industry.
The 8 Best Prenatal Yoga Instructor Certifications Online
With the online world offering a host of options for all manner of certifications, courses, and colleges, it is no small wonder that choosing the best certification course for anything can quickly become overwhelming. Add in having to weed out scammers and useless content, and it gets even more harrowing.
Since it is so easy for anyone on the internet to offer a course, you need to be sure that the course you are taking is legitimate and will be recognized by potential employers. The easiest way to do this is to choose a course that has been approved by the Yoga Alliance. All of the below options are certified by the YA and come with their full support.
2. 85-Hour Prenatal Yoga Teacher Certification by My Vinyasa Practice
My Vinyasa Practice presents an extensive 85-hour Prenatal Yoga Teacher Certification program, meticulously crafted to provide specialized expertise in prenatal and postnatal yoga instruction. Successful graduates of this training have the opportunity to seek accreditation and proudly bear the esteemed RPYT credential awarded by Yoga Alliance.
This comprehensive program is thoughtfully designed to furnish you with both in-depth knowledge and practical skills, allowing you to confidently and compassionately teach expectant mothers. As you progress through the course materials, you'll uncover the profound impact of yoga on the journey of motherhood. To ensure a well-rounded understanding, a practicum requirement is incorporated, enabling you to apply your newfound wisdom in real-life teaching scenarios.
Here's a detailed overview of the course:
Upon full payment, the course is available for just $420. Graduates will emerge fully equipped to teach prenatal and postnatal yoga with confidence, compassion, and a profound understanding of the unique needs of expectant mothers. They will also gain access to a supportive community and ongoing resources to enrich their teaching and personal practice in the field of prenatal yoga. Enroll now!
3. 100 Hour Prenatal Kundalini Yoga Teacher Training by Yoga Farm Ithaca
The Prenatal Kundalini Yoga Teacher Training by Yoga Farm Ithaca is unique in that it focuses on the spiritual and soul experience of pregnancy and birth. Teachers who undergo this certification help future students  in their pregnancy to feel as healthy and connected to their baby as possible, while nurturing their inner power and light to lift and guide them through birth. 
This online certification combines meditation to calm the mind and breath training to build the connection within while adding ayurvedic knowledge to truly step into the wonderful process of birth and postpartum. 
The Prenatal Kundalini Yoga Teacher Training includes:
Kundalini Yoga, Ayurveda, and Hatha Yoga are the foundations of this PYTT, you are welcome to join the program even if you are new to Kundalini Yoga.
Kundalini, pregnancy, and birth are all emotional, bodily, and spiritual events. They transport expecting mothers to inner self understanding. Through this course you'll find a way  to shift from the mainstream thoughts of pregnancy, labor, recuperation, and parenthood to instead focus on the "feels like" and preparation of the body!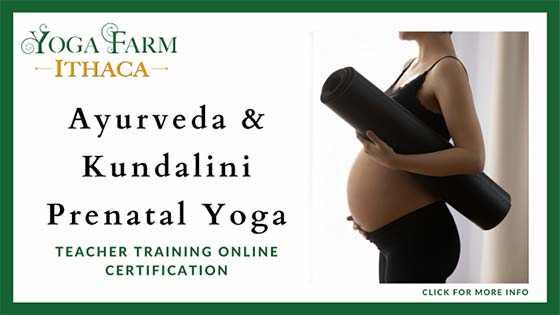 5. Online Pre + Post Natal Yoga Teacher Training by Santosha Yoga Institute
This course by Santosha Yoga Institute will not only advance your own yoga practice, but you will also make a huge difference in the lives of many people. In this course you will learn to empower women through the art of yoga with the help of experienced teachers. Plus, you can do it all from the comfort of your home and around your busy schedule. 
The highlights of this course include:
Enrolling in this course will teach you all this and more. Plus, you will still have access to the course for any refreshers or questions that you may have after finishing the course. This course is a win for everyone.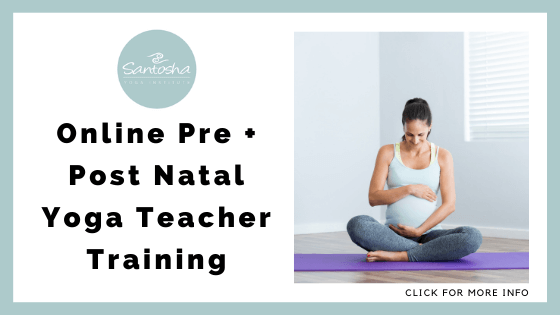 6. Prenatal Yoga Teacher Training by YogaRenew
YogaRenew's Prenatal Yoga Teacher Training offers a comprehensive online certification program that encompasses all facets of yoga tailored to pregnancy. This self-paced training empowers you with the knowledge and expertise to make a meaningful impact throughout the stages of pregnancy, labor, and the postpartum period.
As you progress through the course, you will delve deeply into the intricacies of prenatal yoga, with a special focus on the significance of community, anatomy, and support. Upon completing this certification, you will possess the confidence to lead transformative prenatal yoga classes and contribute to community development for years to come.
Here are the standout features of this training:
Explore the Pregnancy Yoga Journey: Develop a thorough understanding of how prenatal yoga supports individuals during this special phase of life.
Gain insights into the physiological changes that occur in the pregnant body, including hormonal shifts, the role of breath, the pelvis and pelvic floor muscles, and common discomforts experienced.
Uncover unique considerations for each stage of the pregnancy journey, encompassing pregnancy, labor, and the postpartum period. This knowledge ensures that you can provide suitable support and guidance.
You'll master prenatal yoga poses, including adjustments and safety precautions for both the pregnant individual and their child.
The training also thoroughly covers various components of a prenatal yoga class and equips you with the essential tools to craft your own classes from scratch, empowering you to create impactful and nurturing experiences for your students.
Fees:
A one-time payment of $249.99
Or, choose the option of 3 payments of $99.99 monthly
7. Prenatal & Postnatal Yoga Teacher Training by Yoga Bliss
Enhance your practice or expand your teaching expertise through Yoga Bliss's Prenatal and Postnatal Yoga Teacher Training. This self-paced course is thoughtfully designed to provide you with the resources and support needed to skillfully guide expecting and new mothers in their yoga journey.
Throughout this training, you will acquire the knowledge and skills necessary to work with various body types during pregnancy and the postpartum period. From mastering the intricacies of the anatomy and physiology related to these transformative phases to crafting specialized sequences tailored to each trimester and the postpartum phase, you will be empowered to create safe and effective yoga practices.
This comprehensive training encompasses:
Yoga has consistently demonstrated its worth as an invaluable tool in nurturing expecting mothers on their path to motherhood. From enhancing flexibility and reducing stress to improving circulation and sleep quality, yoga presents a multitude of benefits during this significant life phase.
This course, priced at $257, not only imparts essential safety guidelines to ensure the health of both mother and baby but also equips you with the skills to assess individual needs and create personalized sequences. The Yoga Bliss Lembongan 25-hour Prenatal and Postnatal Yoga Teacher Training can serve as your gateway to becoming a confident and compassionate guide for expectant and new mothers.
8. Prenatal Yoga by mindbodygreen
Are you in need of a thorough and personalized prenatal yoga program that can accompany you through each phase of your pregnancy? Look no further than the Prenatal Yoga class offered by mindbodygreen. This program comprises three distinct modules and a total of thirteen video lessons, all meticulously curated by Tara Stiles, the visionary behind Strala Yoga. These lessons are thoughtfully designed to ensure both safety and effectiveness as you navigate your pregnancy journey.
These carefully crafted sessions provide you with invaluable insights and techniques aimed at elevating your overall well-being:
If you're in the planning stages of starting a family, this program aids in preparing your body for the upcoming adventure. For those who have recently given birth, it serves as a supportive tool for a swifter physical recovery. Expecting mothers can benefit from the gentle exercises provided as a safe and effective means to stay active and balanced during pregnancy. Even if you're a dedicated yoga practitioner, this class allows you to maintain your practice during this unique phase.
No matter where you find yourself in your pregnancy journey, this program is thoughtfully structured to help you feel your absolute best—whether it's before, during, or after pregnancy.
This program offers a diverse selection of 30-minute practices to accommodate your various moods:
Daily Go-To Practice: A versatile routine for your daily well-being.
Strength Building Class: Focused on enhancing your physical strength.
De-Stress Class: A rejuvenating practice to find tranquility during stressful times.
Gentle Class: A soothing routine for those days when gentle movement is essential.
With the mindbodygreen Prenatal Yoga class, you'll have an extensive prenatal yoga resource readily available, providing you with support, relaxation, and overall wellness throughout your pregnancy journey.
Pregnancy yoga has many distinct areas from the yoga poses themselves to medical considerations to emotional needs of expectant moms. While all of these classes are vastly different in their offerings, they are no less valuable for it.
You should strongly consider what type of approach you want to take when you begin offering pregnancy yoga classes, then choose your certification course accordingly. It is highly likely that one of these four courses could be exactly what you are looking for.