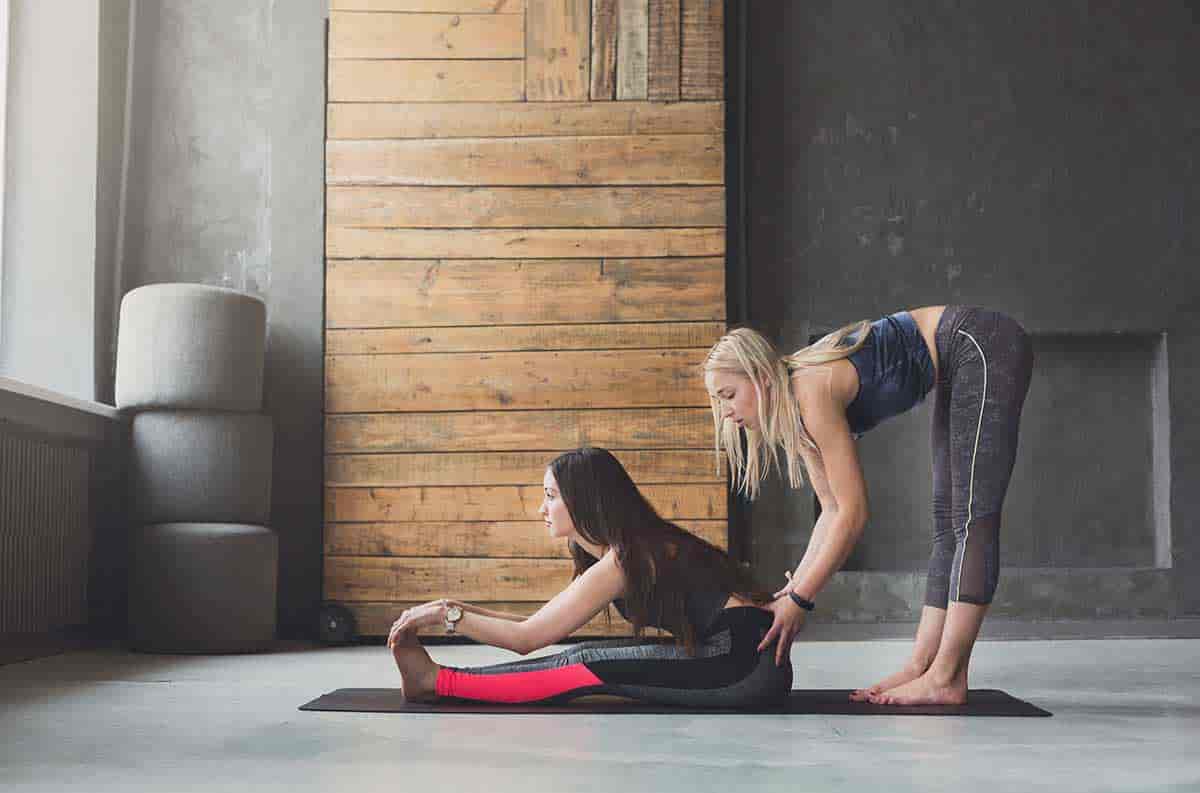 The Best Trauma-Informed Yoga Certifications Online
T
rauma-informed yoga is a quickly growing trend in the yoga community. And for good reason! Everyone is affected by trauma differently. Whether the lasting effects stem from childhood or adulthood, if not treated, can last a lifetime. Studies have shown that the movement of yoga combined with meditation and mindful breathing has significantly improved sufferer's overall health and well-being.
Before we get into the best online certifications for trauma-informed yoga, let's talk about what it is exactly. Per The International Journal of Complementary & Alternative Medicine, "trauma-informed yoga refers to the approach to teaching yoga in which the teachers know about trauma and the symptoms of trauma, as well as know how to provide a safe and supportive yoga class for individuals who are experiencing stress and have been traumatized."
These classes typically include inclusive and open language, a slower pace than your usual vinyasa class, and modifications for freedom of movement.
The best trauma-informed yoga certifications online are:
If you want to learn more about helping those needing this specialized yoga therapy and become certified as a trauma-informed yoga practitioner, read on for further information about the best certifications we have researched.
What is a Trauma-Informed Certification?
A trauma-informed certification consists of practical educational techniques and methods to incorporate into their client's recovery. The teacher's goal is to help empower students to determine what is best for their recovery by providing a path.
Examples of trauma can include but are not limited to:
Physical, mental, verbal, or sexual abuse
Early childhood or domestic violence
Being displaced due to disasters, terrorism, refugee or job loss
Trauma-informed yoga is a specialized niche in the yoga industry where the instructor serves as a guide to assist a patient in:
Reclaiming their bodies
Recalibrating their nervous system
Engage in the present using meditation
Taking back their power
Regulation of processing sensations and emotions
Releasing of trauma stored in the muscles
Adults and children suffering from trauma may not be ready to discuss their feelings or be physically touched. In a trauma-informed yoga class, attendees receive time and space to re-learn these emotional regulation skills through breathing and movement in a safe environment.
SAMHSA, The Substance Abuse and Mental Health Services Administration Studies, has recently accepted this type of therapy as an evidence-based treatment. Studies have shown trauma-informed yoga has helped individuals cope with stress, self-regulation of their bodies, emotions, and overall well-being.
Many Trauma-Informed Yoga Certifications are also recognized as counting towards CEUs, continuing education unit requirements by the Yoga Alliance. Yoga Alliance is a U.S.-based organization that creates yoga standards for all yoga-based training and professionals worldwide.
The 4 Best Trauma-Informed Yoga Certifications Online
Before choosing a certification program, you must have all the facts to find the best option. Here is an in-depth look at the best trauma-informed yoga certifications online and what they offer anyone wanting to become a certified practitioner.
This 40-hour training from My Vinyasa Practice teaches you how to hold a compassionate and effective environment for your students. You will learn skills to support your students' healing journey by promoting resilience, emotional regulation, and self-compassion, achieved through mindful movement and breathwork.
The Yoga Alliance has approved all online training programs, and credits count towards continuing education course unit requirements. This course counts for 40 non-contact hours.
Course Educational Content:
Learning about the central nervous system, the brain, and trauma
Storing trauma and poses to avoid
Discussion of the healing cycle and stress responses
Included in the package:
All written education and recorded lectures
All pre-recorded yoga practices and scripts
Instructions for all of the practices and lectures
How to apply learning and open reflection
Lifetime access to the community boards
Peer support team unlimited access
30-day refund policy
For more information on this excellent school, check out this My Vinyasa Practice review!
Key Facts:
Format (Online/Hybrid/In-person): Online
Hours of study: 40 hours
Duration: At your own pace.
Price/Payment option: a one-time fee of $179 or six monthly payments of $90
Certification/Accreditation: Registered Yoga School with Yoga Alliance
Reviews:
"It was great that I could work through the course at my own pace, as I work a full time job as a school teacher. I found the material, videos, assignments all enhanced my knowledge and understanding. I feel confident to intelligently design and teach yoga classes in a safe, effective and trauma informed way. I have also greatly improved my own personal practice. I feel that the program allowed me to learn the material in multiple ways and I always knew that there were a whole team of instructors available to support me. I look forward to completing further courses through MVP and to continue my journey both personally and as a teacher of Yoga."
"I love every one at My Vinyasa Practice. Staff are so knowledge and empathetic to your needs. They create a caring and supportive environment. As a yogi you get lifetime access to their trainings. This so inspiring and invaluable!"
Yoga Alliance Reviews: 5 stars, 3,761 reviews
Google Reviews: 4.9 stars, 278 reviews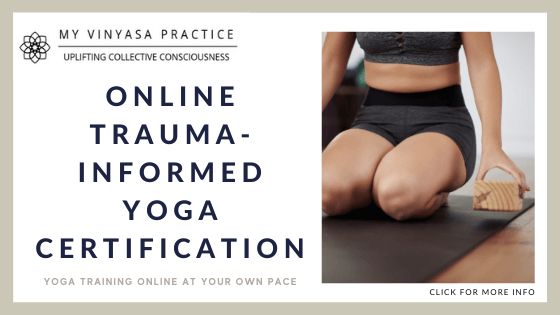 2. The Whole Health Project: Trauma Aware Yin Yoga Teacher Training
The Whole Health Project's 60-hour Trauma Aware Yin Yoga Teacher Training offers an immersive and all-encompassing experience designed to equip you with the knowledge and confidence to embody and teach Trauma-Informed yin yoga. This course explores the 5 Element Theory from Traditional Chinese Medicine, merging ancient wisdom with contemporary scientific insights. Your coursework includes the 13 meridians, the Five-element theory, the physical and subtle energy bodies, and much more!
Additionally, it includes their 10-hour Trauma Aware Facilitation Training, which will allow you to effectively support a diverse range of students, regardless of age, body type, or ability.
This online, self-paced training is an ideal choice to immerse yourself in yin yoga fully and teach from a place of compassion and inclusivity. The Whole Health Project offers continuous support with its teacher training, which includes a monthly live Q&A session and an online forum to address questions or concerns.
Key Facts:
Format (Online/Hybrid/In-person): Online
Hours of study: 60 hours
Duration: At your own pace.
Price/Payment option: $529, payment plans available
Certification/Accreditation: N/A
Reviews:
"The yin teacher training was thoughtful, comprehensive, well organized and such an incredibly valuable practice to add to my toolbox. I'm so grateful to both Lucy and Rachel for their wisdom and gentle ability to guide their students through the classes. I feel this training has enriched both my personal and professional lives."
"Apart from all the knowledge and learning about the amazing benefits of Yin Yoga and how to teach it, what was gained from this course was more confidence and belief in myself as a yoga teacher, more calm, clarity, and intention to move through life, and a deep, deep gratitude for having invested in this opportunity to learn from Rachel and Lucy."
Yoga Alliance Reviews: N/A
Google Reviews: 5 stars, seven reviews
Other Whole Health Project Bundles:
3. Happy Jack Yoga: Trauma-Informed Yoga
Happy Jack Yoga University is an online yoga school for yogis who want to get certified on their schedule from the comfort of their own homes. In this course, you will understand yourself and others better, become more aware of the impact of trauma, and apply the approach to your teaching.
This course is for those who want to:
Understand trauma and its impact
Learn how to cater to students who have experienced trauma
Teach trauma-sensitive yoga classes
You can complete this program in one week if you'd like. A typical day would look like a one-hour morning self-practice, a one-hour live sharing circle Q+A, a one-hour curriculum lecture, 1.5 hours of self-study, and ending with a half hour of evening meditation. But to reiterate, you can take your time with this course.
This course is also part of the Happy Jack University 300-hour curriculum. To obtain your 300-hour certification at this school, you can take any twelve 25-hour courses, including this one!
Key Facts
Format (Online/Hybrid/In-person): Online
Hours of study: 25 hours
Duration: At your own pace.
Price/Payment option: $225.00
Certification/Accreditation: Registered Yoga School with Yoga Alliance
Reviews:
"HJYU training has helped me so much on my journey of healing from trauma, and grief. I am truly my best self… physically, mentally, and emotionally… my own Hero's Journey…"
"HJY has helped me create so many positive shifts in my life. When I started this training I never imagined that I'd learn so much about myself and what I am capable of, in addition to this whole new yogic lifestyle."
Yoga Alliance Reviews: 5 stars, 105 reviews
Google Reviews: N/A
Which is the Best Trauma-Informed Certification Online for you?
That's entirely up to you and your goals! If you're looking for one of the cheapest yoga teacher training programs available, My Vinyasa Practice could be for you. The Whole Health Project could be your answer if you would like to explore yin yoga and ancient wisdom. Lastly, if you're looking for teacher training that focuses more on mental health and for healthcare professionals, The Trauma-Conscious Yoga Method is your best bet. Regardless, all three trainings are online, at your own pace, focus on compassion and healing, and are a great addition to your current offerings
Concluding Thoughts: Why Trauma-Informed Yoga?
Trauma-informed yoga has proven to be effective for the treatment of trauma in adults and youth. By taking any of these teacher trainings, you prioritize your students' mental health by giving them the space to explore themselves and their healing.
The International Journal article mentioned earlier titled "Trauma-Informed Yoga: An Embodied, Cognitive-Relational Framework" breaks down trauma-informed care into four principles. The first is inner resources, which focus on your empowerment and worth. The second is the physical basics, which focus on your safety, breath, presence, and feelings.
The third is self-regulation. This part encompasses grounding, choice, ownership, and sustainability. The last part is mindful grit, which focuses on compassion and self-determination. When compiled into a yoga class, all parts can change lives and create an open space for your students.