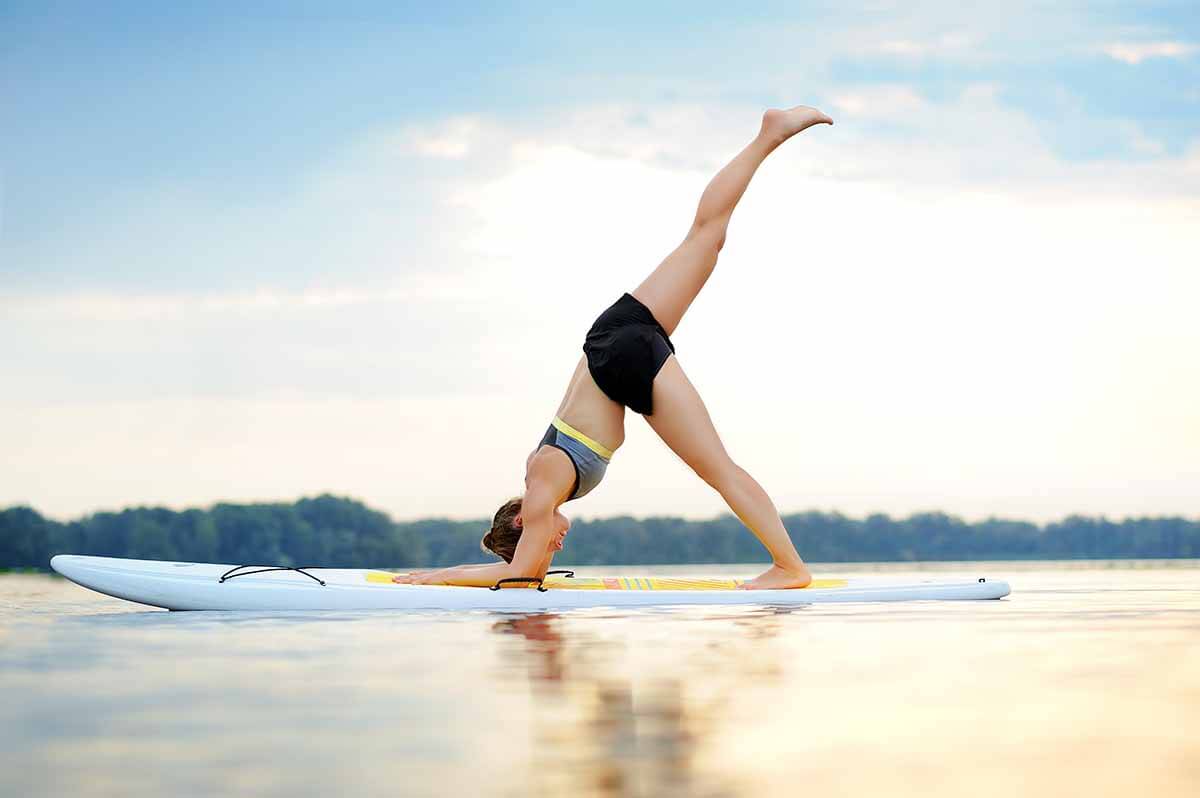 Y
oga and surfing are two of the most popular activities in Costa Rica. So, it's no surprise that there are several yoga and surfing retreats in the country. These retreats are the perfect way to experience the best of Costa Rica, offering both yoga and surfing lessons and plenty of time to relax on the beach.
If you're looking for an unforgettable yoga or surfing retreat, look no further than these seven excellent options:
Yoga and Surfing is Like Peas and Carrots!
You might be wondering why yoga and surfing? Yoga and surfing go together like peas and carrots, so what better way to experience Costa Rica than with a yoga and surfing retreat? The facilities are some of the best around, with everything from luxurious accommodations to expert instructors, including one-on-one time with caring teachers who aim to help students develop their passion for the sport.
Costa Rican yoga getaways are perfect for nature lovers who prefer more of a cultural experience during their getaway. There are some resorts that even offer adventure tours that combine yoga training with cultural experiences in stunning settings.
A Typical Schedule for a Yoga and Surfing Retreat
Typical schedules for Yoga and Surfing retreats are typically designed to offer guests the best of both worlds. Morning yoga sessions give way to time for surfing in the afternoon, followed by more yoga and meditation in the evening. This allows guests plenty of time to enjoy Costa Rica's world-famous waves and the country's natural beauty and incredible sunsets.
Schedules typically include:
A variety of yoga classes
Meditation
Pranayama (breathing exercises), and
Surfing lessons for beginner and intermediate surfers.
The sounds of waves crashing against the shore can often be heard from the yoga studio, providing a natural backdrop for practice. And for those who want to take a break from surfing or yoga, there are usually plenty of other activities to enjoy, such as hiking, swimming, and bird watching.
The 7 Best Yoga & Surfing Retreats in Costa Rica
1. Samasati Retreat Center
Samasati is a beautiful retreat center located on the Pacific Coast of Costa Rica. It offers both yoga and surfing retreats and nature walks, bird watching, and more. Samasati offers both Vinyasa and Hatha yoga classes and Surfing Immersions.
Samasati Retreat Center is a sustainable luxury resort that preserves local traditions through its commitment to organic farming and environmental education programs for local youth. As part of its ongoing efforts towards sustainable practices, they run an Eco-Tourism project with proceeds going toward community development projects such as scholarships for children in rural areas. All food served at Samasati is
The center is open to all levels of yoga students, and the surfing lessons are geared towards beginners. You can choose between a one-, two-, or three-week retreat, and there is also an option to stay for just a weekend.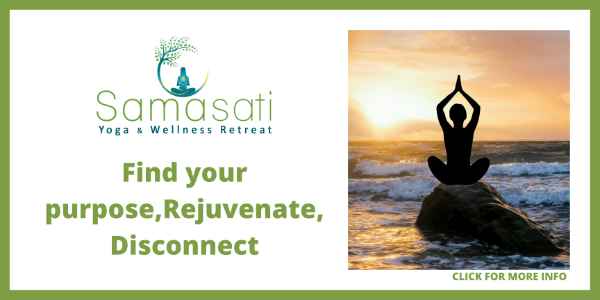 2. The Bodhi Tree Yoga Resort
The Bodhi Tree is a yoga resort located in the heart of Manuel Antonio National Park. It offers both yoga and meditation classes and hiking and swimming excursions. The lovely gardens and incredible wildlife make this an unforgettable location for your yoga retreat.
The Bodhi Tree Yoga resort offers one-, two- and three-week retreats and a weekend retreat. One of their most popular packages is the yoga and reiki combination retreat, where you learn how to use this special segment of traditional Chinese medicine to enhance your yoga practice.
3. Blue Osa Yoga Retreat Center
Blue Osa is a luxury yoga retreat center in Uvita, Costa Rica. It offers a variety of yoga courses and tours around the Osa Peninsula. A spa resort makes this an unforgettable location for your yoga holiday.
Blue Osa is a haven of peace and tranquility, perfect for anyone looking to deepen their yoga practice. This resort offers all-inclusive packages and a la carte options so that you can choose the ideal retreat for your needs.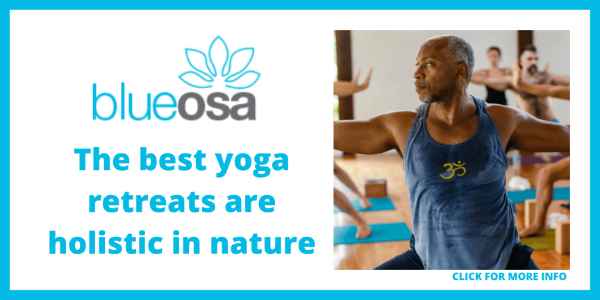 Danyasa Yoga Retreat is located in the heart of the serene Provincia de Puntarenas Dominical. Danyasa is perfect for those looking to deepen their yoga practice, as it offers courses at all three levels of instruction (beginner, intermediate, and advanced). Danyasa Yoga Retreat provides all-inclusive packages and a la carte options to choose the perfect retreat for your needs.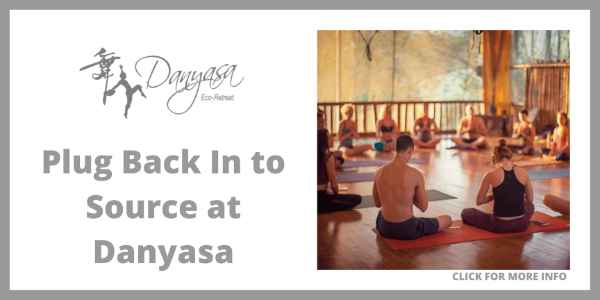 5. Blue River Resort & Hot Springs
Blue River Resort & Hot Springs, Costa Rica, is a fantastic location for experiencing Costa Rica's natural beauty and wildlife. This retreat center offers training in Hatha Yoga & Vinyasa Flow yoga at all levels, as well as therapeutic workshops.  Blue River has a laid-back, eco-friendly vibe and private hot springs and jungle trails for some solo reflection.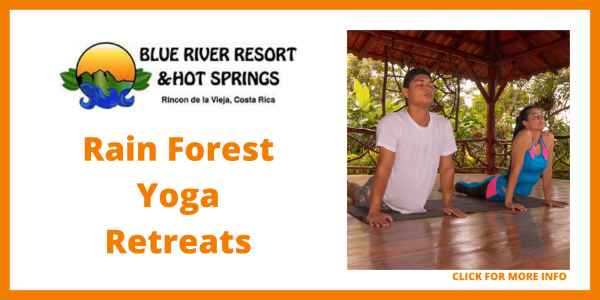 6. Casa Zen Yoga & Meditation Retreat
Offering some of the best yoga classes in all of Costa Rica, Casa Zen is located on a tropical organic farm where you can be immersed in a nature lover's paradise. Here, yoga classes are taught by world-class instructors who will help you deepen or start your yoga practice. You'll also enjoy delicious meals made from locally grown produce right on the property!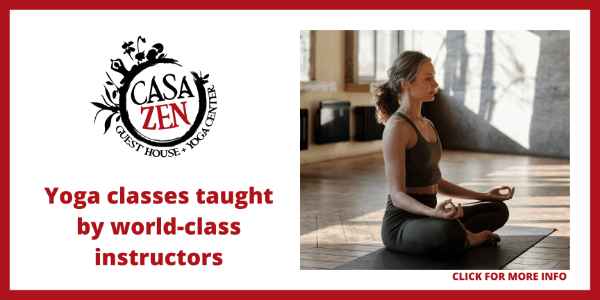 The Anamaya Resort in Costa Rica is a luxury boutique hotel offering a variety of yoga and spiritual workshops.  Anamaya will help you release stress and increase your connection with nature with an emphasis on wellness. They offer guided meditation and various other types of classes, such as horseback riding and surfing (some of the best waves in Costa Rica can be found nearby).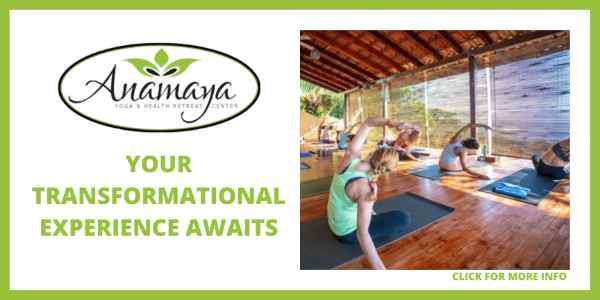 Yoga and surfing are two activities that are complementary to one another. If you're looking for a retreat where you can improve your practice while enjoying some of the best waves in the world, consider heading to Costa Rica for one of the seven yoga and surfing retreats listed above.
Whether you're a beginner or an experienced yogi, there's a yoga and surfing retreat out there for you. Costa Rica is home to some of the best waves in the world, making it the perfect destination for those who want to combine these two activities.