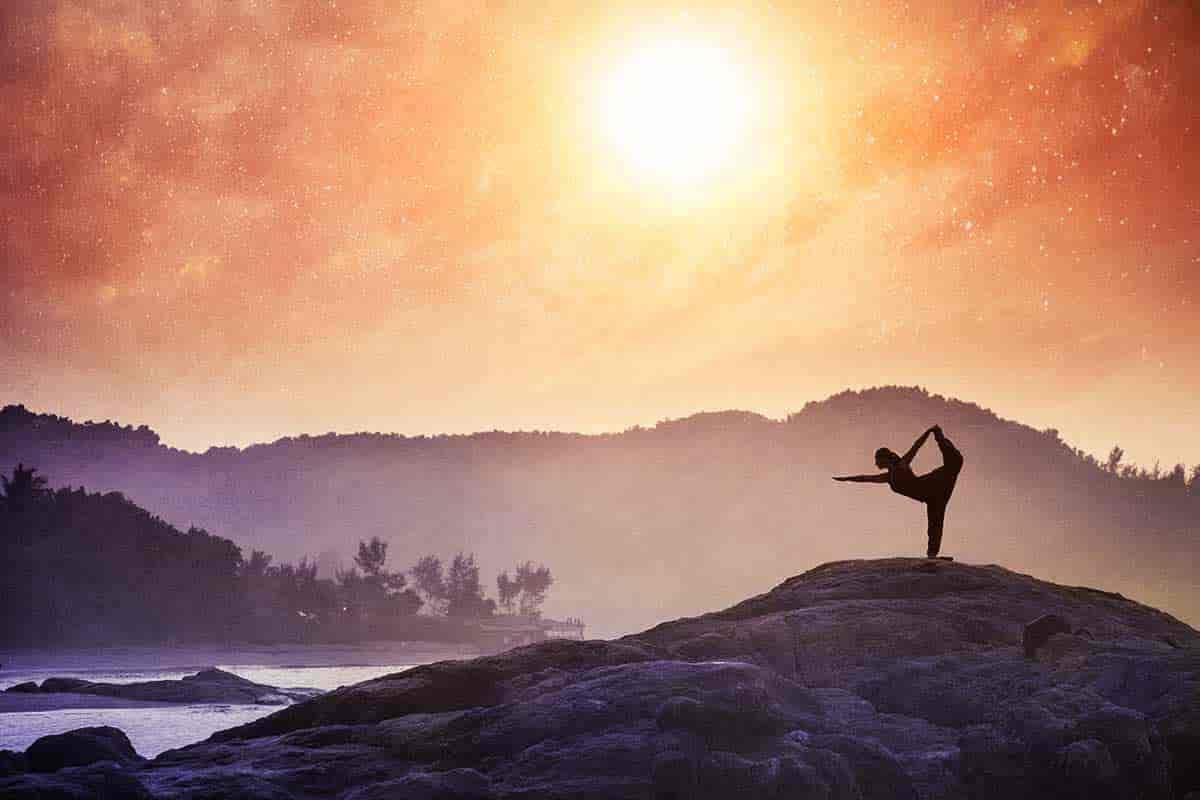 H
ave you been dreaming of a trip to India to deepen your yoga practice? India is the heart and motherland of yoga, originating over 5,000 years ago, the practice of yoga is one of the most ancient practices passed on from generation to generation.
It might be easy to feel overwhelmed with the wide range of reputable yoga retreats offered in India, that's why we've gathered some of the best yoga retreats offered in this culture rich country.
The 10 Best Yoga Retreats in India are:
We'll help you navigate the best yoga retreats in India with details, for you to find the perfect retreat based on the style, community, and focus you are looking for. Continue reading to learn more about the retreat that's right for you!
Where Can I Do A Yoga Retreat In India?
There's no place like India to take an all-embracing yoga retreat. It naturally offers the best wellness retreat spaces to grow, understand and practice the yogic way of life. And since it is the birthplace of yoga, it's not uncommon to find a yoga retreat in many cities, towns and villages all across India.
But, there are a few main areas that host yoga retreats due to the perfect landscape, environment, space and community. The main areas in India that host yoga retreats are:
Rishikesh: Known as the 'Yoga Capital of the World' surrounded by Himalayan ranges with Ganga River flowing through the city.
Bangalore: Recognized for its ancient architecture, beautiful gardens, and religious sites in the southern part of India.
Goa:  A beach area known for its breathtaking views and birth to ancient science of Ayurveda .
Kerala: Located in South India this area is known for its incredible landscapes, green land, beaches and hill terrain.
These are the main 4 areas that host yogic retreats but you can also find them in many other locations around India. This list can inspire and give you a better idea of where you want your yoga retreat experience to be but, your yoga retreat in India will be bewildering no matter the destination you choose.
How Much Does A Yoga Retreat In India Cost?
India is generally not an expensive place to travel to. The cost of yoga retreats hosted in India vary depending on the yoga experience you are looking for. For example if you are looking for a more spiritual, minimalistic, humble retreat there are numerous retreats around India that are very budget-friendly.
On the other hand, if you are looking for an all-inclusive retreat where you can have spa treatments, private accomodations, and other activities. Those could range from $1,000+ depending on length of stay and treatment selections.
Both budget-friendly and a bit more expensive retreats provide an incredible yogic experience. In both types of retreats you can gain a new perspective, explore, and know more about the world of yoga and yourself.
Is A Yoga Retreat In India Worth It?
Yoga retreats in India are 100% worth it, in our opinion. Not only because it is where it all began, but because of the culture, historical perspectives and life-changing experiences it offers. Unlike any other place in the world, India views yoga as the union of the soul with the universe, unlocking infinite possibilities for the body, mind and soul.
In India you can get a broader perspective of yoga by exploring spirituality and immersing yourself in a mental, spiritual and physical practice of yoga. Plus, you get to learn from great yoga gurus that have the knowledge of ancient Yoga traditions being passed down from generation to generation.
If you are looking for a yoga-friendly environment, spiritual knowledge, culture rich practices and natural beauty surroundings, then a yoga retreat in India is totally worth it.
The 10 Best Yoga Retreats In India
The 10 yoga retreats in India we will discuss in this list offer the opportunity to grow in your yoga journey, deepen your practice, or start your yoga experience. Each of them offer different types of yoga, treatments, and experiences. So, depending on what you are looking for, you will find the one that best suits your style and needs.
Without further ado, here are the 10 best yoga retreats in the culture rich, yoga motherland, spiritual India…
1. Shivoham Yoga - Yoga Retreat
Located in Goa, India, this yoga retreat by Shivoham Yoga is a one-of-a-kind experience by the beach. In this retreat you are able to recover and reclaim the spark that has been lost due to the fast-paced lifestyle.
In this retreat directly on the beach, you can enjoy breath-taking views and soul-satisfying yoga. You will immerse yourself in a setting where you can focus and make a commitment to your health by strengthening your yoga practice and connecting with nature.
What's Included: Accommodation for 2, 6 or 13 nights. Two yoga sessions daily, one pranayama & meditation class, and three meals a day.
Community: In Shivoham Yoga you will feel supported in the most amazing ways with like-minded individuals in a very caring and safe environment.
Cost: This retreat has the option of 3, 7, or 14 day retreats. Each with a different price starting from $113 for 3 days all the way up to $905 for 14 day retreats.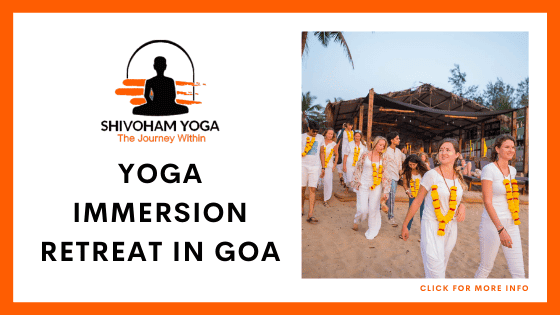 This yoga retreat offered by Vana located in Dehradun, India is an ecology conscious space that offers wellness treatments such as therapies, yoga, meditation and ayurvedic cuisine.
On the Vana path, everyone can find peace, sustenance, and happiness, and the ultimate truth is to see all beings, people, plants, and animals as equals. Vana is an equalizer, according to this ideology: material disparities are left outside and people can interact with each other and the environment without interference.
What's Included: With your stay Vana includes daily group activities, private treatments and sessions, yoga, at least one form of meditation, raag therapy, cuisine lessons, interactions with our team, fitness sessions and more.
Community: Guests/Attendees are encouraged to step out of their social personas as they retreat into Vana.
Cost: Depending on your choice of room or suite accommodation and stay, the cost of the retreat at Vana will vary.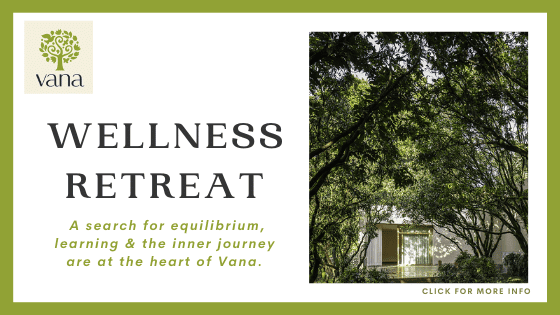 3. Sampoorna Yoga - Yoga Holiday
This yoga retreat by Sampoorna Yoga in Goa, India is the ideal location for a relaxing yoga experience. Since it is in one of India's most beautiful and non-touristy beaches, it is the ideal place to relax, practice yoga and meditate.
Students will have lots of opportunity, space, and freedom to either practice beginner or advanced classes of yoga. While also being able to relax and rejuvenate at Sampoorna Yoga Village's serene gardens, explore the surrounding area, or spend time on the beach.
What's Included: Stay, meditation and pranayama classes, yoga classes and meals.
Community: Teachers and fellow students will serve as a supporting group throughout your journey.
Cost: Depending on accommodations and stay rates per night start from $60 dollars to $100.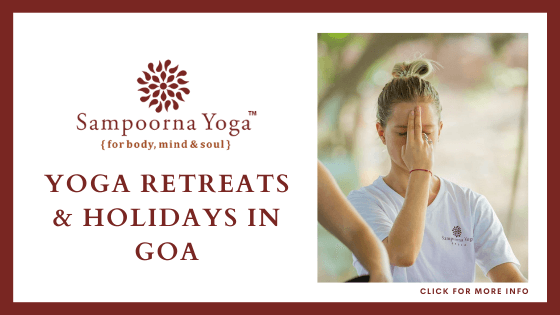 4. Shreyas Retreat - Yoga Retreat
The Yoga Retreat at Shreyas Retreat in Bangalore India is based on both classical Hatha Yoga and Ashtanga Vinyasa Yoga. Their unique teachers are steeped in ancient yogic knowledge and trained in modern teaching methods. All of the yoga classes are adapted for beginner, intermediate and advanced levels.
Yoga retreats and Shreyas Retreat are structured carefully to allow individuals experience not just the physical aspects of yoga but also selfless work, various yogic kriyas, yoga nidra, candle and healing meditations and rejuvenating massages.
What's Included: Accommodation, Wellness consultation, breakfast, lunch and dinner, twice daily group yoga sessions, daily meditation session, use of all recreational facilities.
Community: You will find people who are going through the same journey as you and are able to share that experience with others.
Cost: Prices vary depending on accommodation choice and length of stay.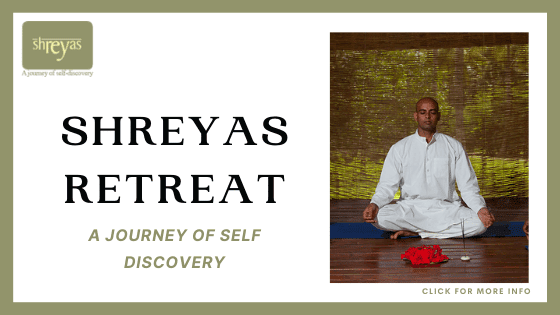 5. Purple Valley Yoga - Yoga Retreat Goa
Purple Valley Yoga Retreat in Goa, India specialises in Ashtanga Vinyasa Yoga. Offering 1 and 2-week yoga retreats led by dedicated and inspiring senior Ashtanga yoga teachers who provide exceptional learning experiences for students of all levels.
This yoga retreat center is all about renewing one's relationship to yoga. Not as a performative ritual, but as a mode of contemplating the inner rhythms of life, through a balance of practice and reflection, returning to the loving support of yoga & breath.
What's Included: Accommodation, daily yoga, meditation and meals.
Community: At Purple Valley Yoga you are able to connect and support people who are going through the same yoga journey as you.
Cost: Cost is based on the length and accommodation of your stay.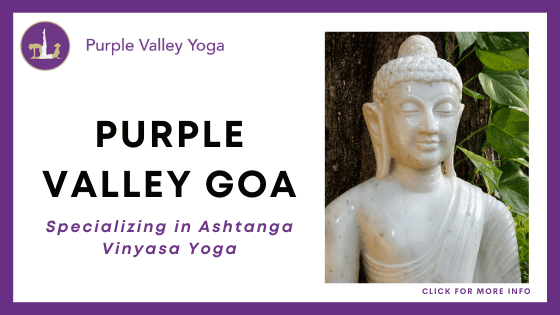 6. Beyond - Life Changing Retreat
This Life Changing Retreat by Beyond located in Goa, India encourages you to release, free yourself and reach deep within yourself through yoga, meditation and sessions to connect with your inner-power and center.
Guided by both Tanya and Michael is unlike anything you have experienced before. Their methods are deeply complementary and their respective feminine and masculine energies augment each other.
What's Included: Accommodation, meals, meditation, yoga and personalized sessions by Tanya and Michael.
Community: In Beyond you will find a family like community where you will feel supported throughout your journey.
Cost: There are 3 and 5 night packages available and prices vary. .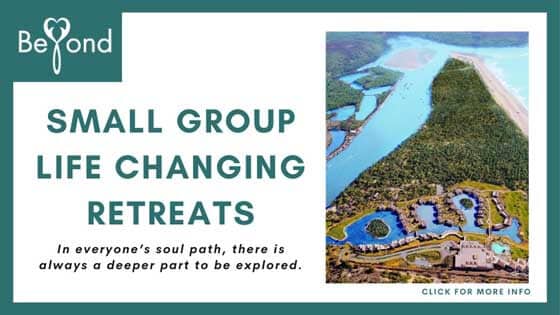 7. Hinterland Village - One Reality Ayurveda & Yoga Retreat
This retreat in Kerala, India is an opportunity to reconnect and re-energize your body and mind whilst experiencing the magical tropics of Kerala. Experiencing supreme relaxation while discovering the benefits of meditative yoga asana and pranayama.
Learn more about asanas, anatomy, and perfect certain postures during the afternoon workshops. Relax deeply and restore both your body and mind with yoga Nidra for deep relaxation.
What's Included: Daily yoga classes and asana workshops, Pranayama and meditation sessions, Delicious vegetarian food and meal, 5 nights' accommodation, and guided nature walks and more.
Community: With a limited number of people per retreat you get to meet and connect with your fellow retreaters.
Cost: Rates for this retreat depend on your room choice.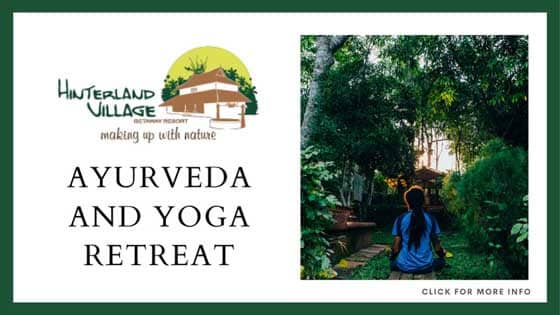 8. Little Cove Yoga Retreat - Yoga Holiday
This Yoga Holiday by Little Cove in Goa India, is designed for those who want a more laid-back and flexible schedule. They offer two yoga courses per day on their beach-front yoga shala, which are totally optional.
They seek to provide an intimate, restorative, and unforgettable vacation experience for their guests by providing a clean, peaceful, gorgeous beach, a small staff, and a limited number of guests.
What's Included: Accommodations, pranayama & meditation class, yoga class and meals.
Community: Little Cove is a small community where you are free to interact or go solo.
Cost: Prices go from $60-$95 dollars per night depending on season.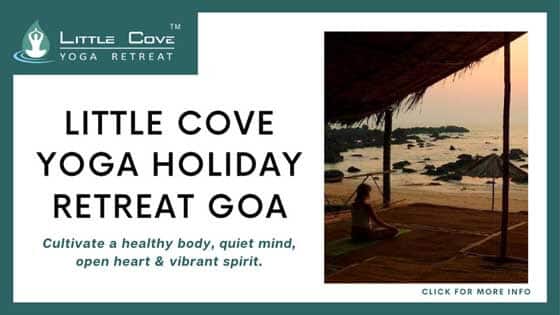 9. Carnoustie Ayurveda & Wellness Resort - Yoga
This retreat by Carnoustie Ayurveda & Wellness Resort located in Kerala India is one of a kind resort. The resort has a fairly large qualified team of experts to ensure that each guest is given personalized attention according to their specific needs.
You are encouraged to heal from within with the help of Ayurveda doctors, yoga practice, herbal supplements, individualised diet for detoxification and enhancement of immunity and any other specific treatment you are looking for.
What's Included: Accommodation, 2 daily yoga sessions, daily 45 min group session of healing, yoga nidra, manipura chakra meditation, meals and more.
Community: In Carnoustie you are invited to share your journey with others and heal as a community.
Cost: This resort offers 7 or 14 day retreats. Price depends on room accommodation, extra therapies and length of stay.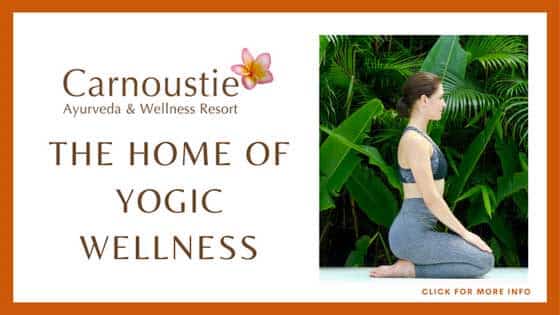 10. AyurYoga EcoAshram - Beginners Yoga Retreat
This retreat by AyurYoga located in Kannur India lays the practical framework for learning yoga. Covering daily practices of meditation, two yoga sessions, and one theory class. With free time in the afternoon allowing you to relax, go for a walk in mother nature, read inspiring books for self reflection, or take some Ayurveda treatments in their ashram.
This yoga retreat welcomes all students and customize classes to their abilities and needs, creating a perfect opportunity to explore ones' body, breath, and mind in a safe environment.
What's Included: Accommodations, daily meditation and yoga, yoga philosophy class, private one to one coaching, new yoga mat, books & neti pot, and meals and drinks.
Community: You will share this amazing experience with a limited group of like-minded people in the same yoga journey as you.
Cost: It is a 14-day retreat starting with only 2 price options: $800 for a shared bedroom or $1000 for a private room.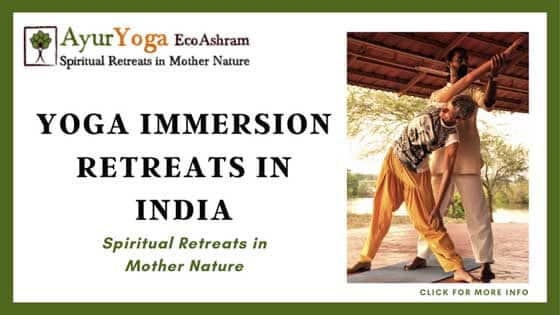 Booking a yoga retreat ensures that you have a unique experience, and each retreat will be different as you continue to grow, evolve and develop as a person.
If you're debating whether or not to schedule a yoga retreat in India for your next trip, consider this: what other vacation offers so many benefits?