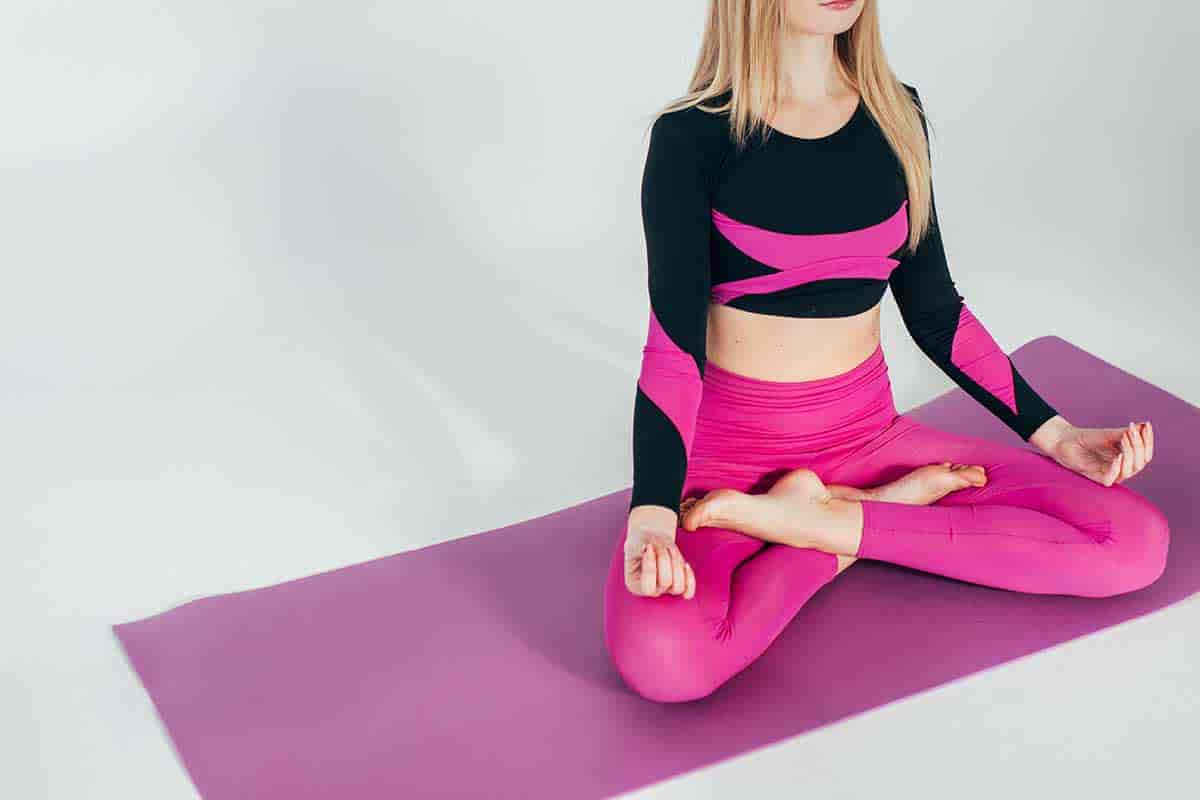 The 10 Best Yoga Tops with Sleeves
B
ecause you can't go naked!  .. at least not to most Yoga classes.  If you could and if the weather cooperated maybe the top wouldn't be necessary at all.  But, for the sake of not being arrested for public indecency and because having the right top completes the outfit anyway we've narrowed down to the top 10 Yoga Tops with Sleeves:
Quite simply not all Yoga sessions are heated at 95 degrees where you intend to walk out drenched in sweat and darting for the water refill station once class ends.  Some of the best yoga classes are done outdoors where the temperature varies even throughout the class.  It may not be temperature at all but a bit of modesty or a personal preference.  Either way and no matter the occasion you'll want a great looking, feeling and fitted Yoga Tops with Sleeves and you can pair them with your favorite yoga pants with pockets (which are very useful!) 
The 10 Best Yoga Tops with Sleeves
The below list isn't all inclusive of course but we narrowed it down to what we believe are the top Yoga Tops with Sleeves and then split the group into those with long sleeves and those with short sleeves.  There's a mixture of brands on here because we wanted to consider, cost, quality and reviews and make sure more than one source was represented.
Yoga Tops with Short Sleeves
With just a bit more material covering the shoulders but still not restricting movement these Yoga Tops with Short Sleeves are great for the studio.
1. Under Armour Short Sleeve
Don't be thrown off by the brand name on this one.  This Under Armour T is super popular as a yoga top alternative.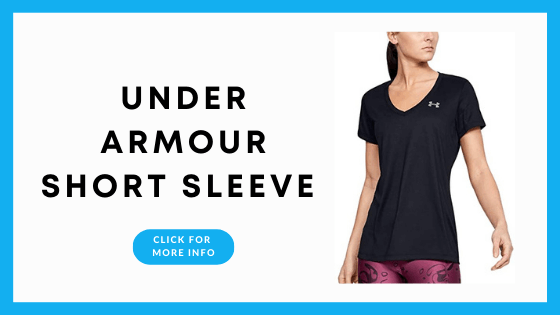 2. Blissful Henley Bra Top
It's no surprise why Alo styles are some of the best, the Blissful Henley acts as much as a casual top for a fun outing as it does a functional top for a good flow session.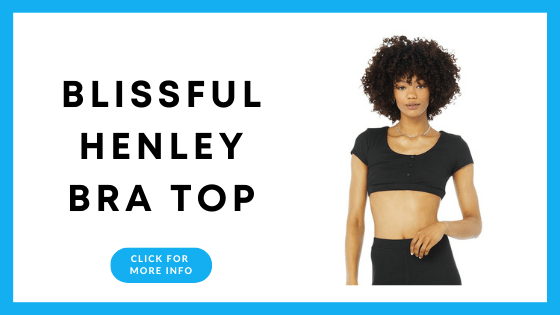 3. CRZ Short Sleeve Yoga and Workout Shirt
A lower cost alternative and not typically a brand you know associated with Yoga but the CRZ short sleeve yoga top is a very popular pick.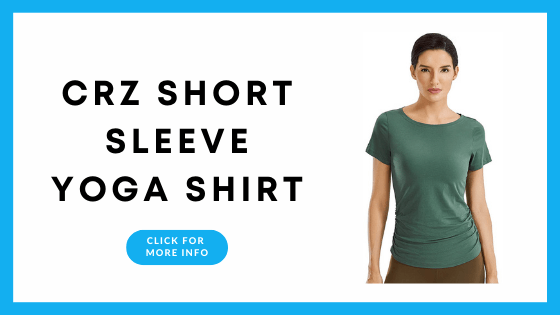 One of their more popular short sleeve tops the Align by Lululemon is exactly why Lulu stays at the top of so many lists!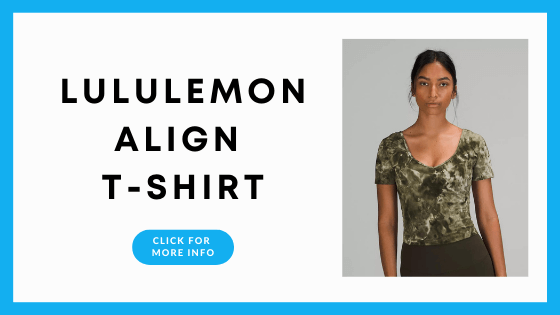 5. Foundation V-Neck Shirt
By one of the most ethically responsible yoga brands out there, this Prana top with its casual style is a must for your yoga wardrobe.  
Adding a bit more fabric and warmth to the sleeved category of Yoga Tops the below is is our recommendations for the best of the long-sleeved yoga tops available online.
1. Alo Full Length Finesse
Look no further than Alo and their Finesse for a stylish and comfortable Full Length Long Sleeve Yoga Top.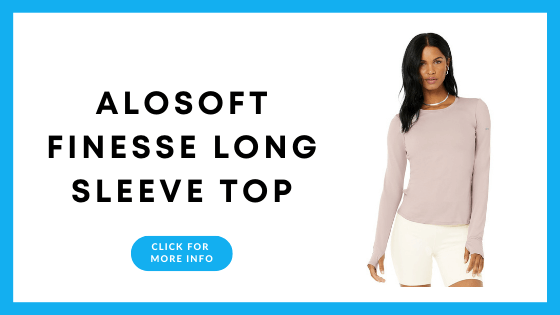 One of the most highly rated tops out there in the long sleeve category the Athleta Momentum is a great top to have available for those outdoor flow sessions.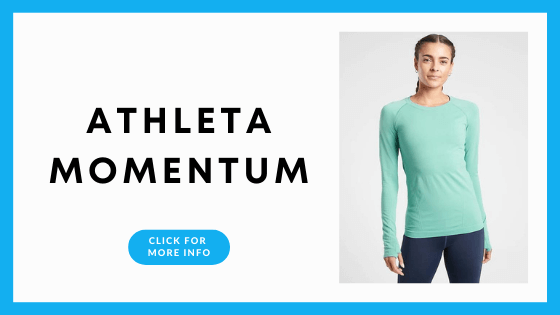 If you've got it flaunt it a bit and this Crop by Alo lets you show off that tight tummy or baby 6 pack!
4. Alo Gather Long Sleeve
Bringing a classy look to the studio this long sleeve yoga top works great for out on the town as well as in studio.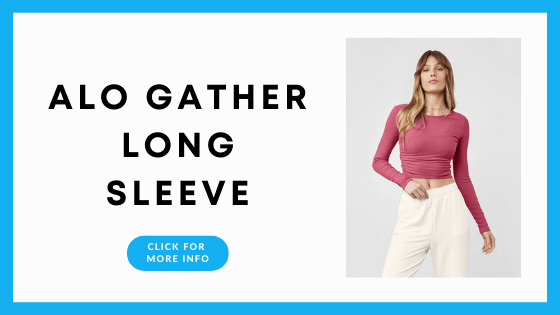 5. Lululemon Long Sleeve Open Back Top
From Lululemon check out this long sleeve yoga top that is both comfortable and stylish.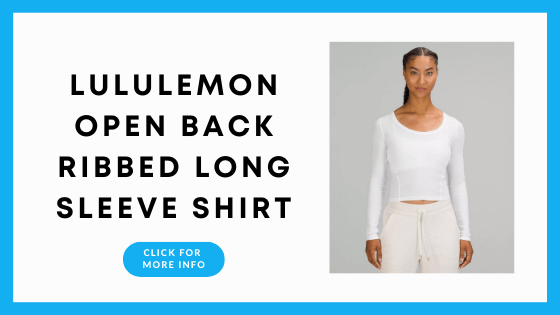 Having a yoga top with a built in bra could be very useful for comfort and for when you're taking a class in a heated room and want to wear less layers as possible. Apart from being really comfortable and supporting, they are really fashionable and awesome to wear with some nice yoga pants. 
Check out the best yoga pants on amazon here!