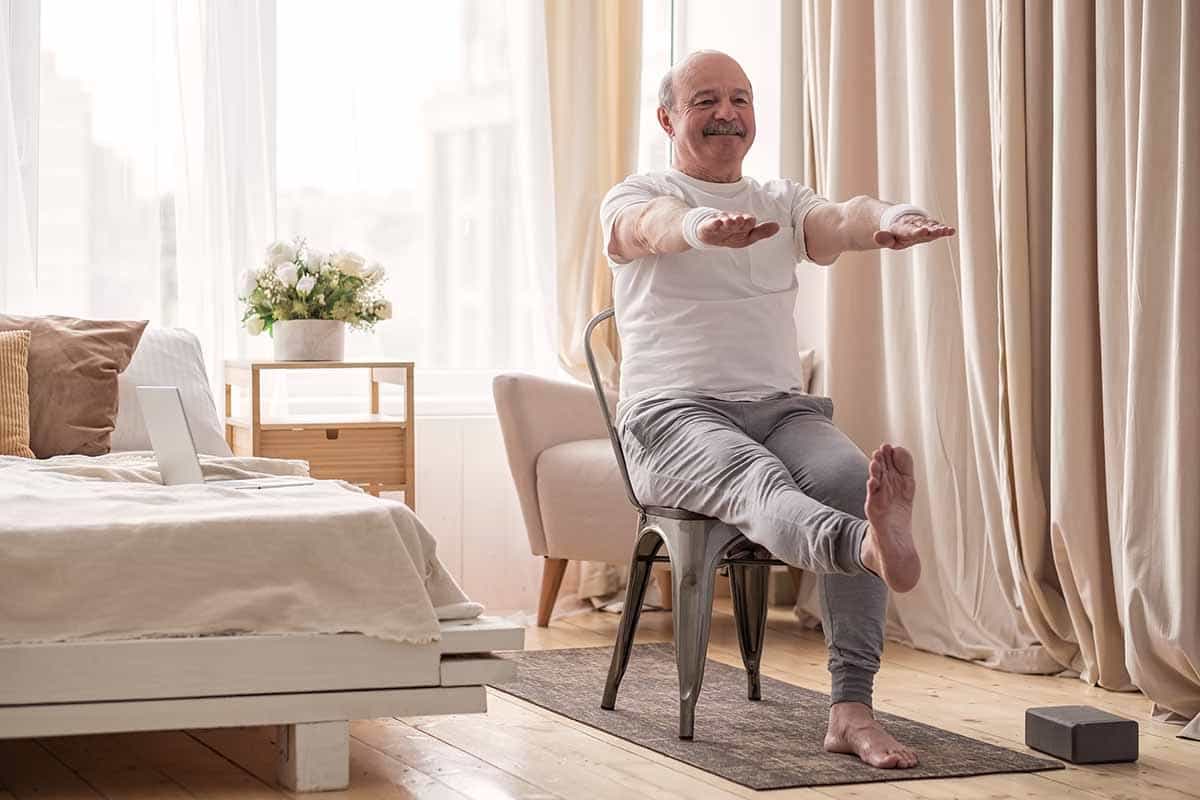 3 Great Chair Yoga for Seniors YouTube Videos
I
f you're a senior, you know how critical it is that you stay active as you age. However, it can be tricky to find a way to exercise. Luckily, YouTube is available to provide workout instructions with the click of a button. One of the best forms of exercise for seniors to do is chair yoga. What are the best videos on YouTube for chair yoga?
Three great chair yoga videos on YouTube for seniors include:
These will help you get the hang of chair yoga in no time at all.
We're here to help! Read on to learn more about three of the best chair yoga videos you can watch and follow yourself, right from wherever you may be. It shouldn't be hard to find easy exercises as a senior. These videos will let you move without hurting yourself in the process. Let's get started!
Does Chair Yoga Really Work?
For some, it can seem ridiculous to try chair yoga. You might wonder if chair yoga works or if it's just a scammy exercise made for people who still want to feel like they're doing something. Contrary to what many believe, chair yoga does work. It's an exercise that can do everything from toning muscles to improving balance.
Chair yoga works because:
It has breathing benefits
It's proven to tone and strengthen muscles
It increases confidence and improves mental health
Chair yoga is just as impactful as any other form of yoga, and it can be done in almost any location with a chair.
Chair yoga is a form of yoga that works for both the young and old alike. As a senior, it's a gentle exercise that can help your body move even when it doesn't want to. If you want to get started, give chair yoga a try. You don't have to stand to get your body moving!
Why Chair Yoga is So Great for Seniors?
Chair yoga is a technique often associated with seniors. But, why is it so good for seniors? There are a few reasons why chair yoga is a quality choice for anyone over the age of fifty-five who wants to try a new form of working out.
Chair yoga is ideal for seniors because:
It removes gravity: Because chair yoga is in a chair, you don't have to deal with gravity weighing down on your body.
It's gentler on the muscles: sitting and moving is gentler on the muscles than standing up is and will benefit senior bodies.
It helps with pain: Chair yoga is known to help with chronic pain, such as arthritis.
There are so many reasons why seniors will love chair yoga.
This form of movement is ideal for seniors. We've covered that. But, how often should seniors perform chair yoga? Once a week? Every day? We'll talk about this next.
How Often Should You Do Chair Yoga?
Unlike many exercises, chair yoga is easy on the body. This fact impacts the number of times you can complete chair yoga in a week.
To see improvement, you should do chair yoga at least two to three times a week. It's so easy that if you wanted to, you could do it every single day. It's up to you and how your body feels after a session. Listen to your body.
There's also great yin yoga youtube videos for seniors and yoga for back pain videos that can help you depending on your needs. Check out the best in those articles!
3 Great Chair Yoga for Seniors YouTube Videos
Now, it's time to dive into the best YouTube videos for seniors that teach chair yoga. There are many choices out there, but we think these three are the best.
Each video takes a different strategy to teaching yoga to beginners and seniors. Let's dive into each of them.
Gentle Chair Yoga for Beginners and Seniors by Yoga with Kassandra
First up on our list is Gentle Chair Yoga for Beginners and Seniors on YouTube by Yoga with Kassandra. This video makes the process nice and easy, going through many chair yoga techniques at a pace that anyone can follow.
Some of the things you'll learn in this video include:
Strength and flexibility techniques
Gentle movements
Breathing strategies
These are all techniques you can carry on later in your yoga journey.
This video is a gentle option for seniors. Let's dive into the next option for chair yoga for seniors.
Chair Yoga - Yoga for Seniors by Yoga with Adrienne
Next up, we have Chair Yoga – Yoga for Seniors by Yoga with Adrienne on YouTube. She's a well-known yogi, so you can be sure you're getting quality exercise with this one. She makes mobility in a chair gentle and easy.
Some of the things you'll learn here include:
Gentle mobility movements
Awareness integration strategies for your body
Muscle activation movements
These will help you on your journey to keep moving.
This video is excellent, but it's just one of three choices. Let's dive into the next two choices for chair yoga videos for seniors.
Gentle Chair Yoga for Seniors and Beginners by Center Space Yoga
Last but not least is Gentle Chair Yoga for Seniors and Beginners by Center Space Yoga on YouTube. This video is the shortest of all, so it's excellent if you don't want to spend tons of time performing chair yoga during your day.
Some of the things you'll learn in this video include:
Various twists and folds
Proper posture for chair yoga
Mindful breathing
These will assist you with the daily exercise you need to stay healthy.
No matter which video you pick, it will help you get your heart rate up and keep moving. As a senior, you must move as much as possible, even if it's just doing yoga seated in a chair.
Now that we've gone over the ins and outs of chair yoga, you should have enough information to get started all by yourself. And you can also look at the best yoga books for seniors in that article!
We hope this information has been helpful! Exercise is critical, no matter how old you get. You've got this in the bag.