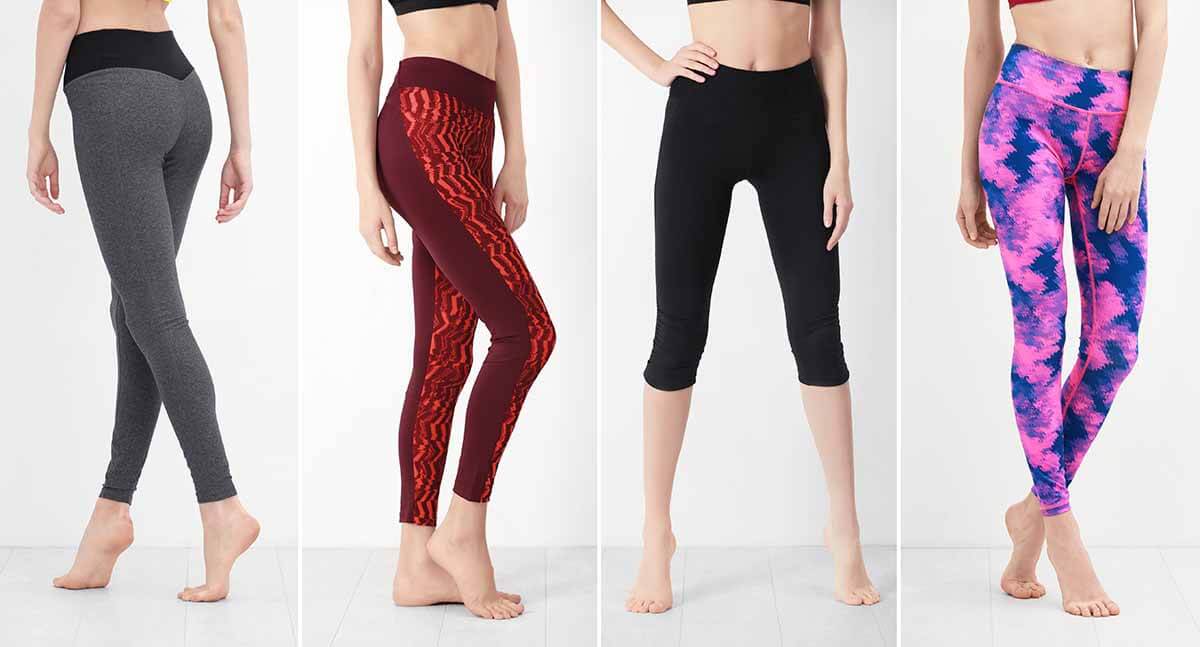 The 7 Best Yoga Pants on Amazon
Y
oga is a fun sport that is healthy for both the body and the mind. But with all the stretching and complicated poses, it can be difficult to practice yoga without the right clothing. This is especially true when it comes to workout pants.
The best yoga pants are a pair that will stretch and move as you do. They should also be comfy, however, and breathable to keep you cool as you practice. Some of our favorites include IUGA High Waisted Yoga Pants with Pockets and Colofulkoala Women's 7/8 High Waisted Yoga Pants
Ready to get on top of your yoga game and find the best pants possible? Then keep reading because below are the best 7 pairs of yoga pants you can get on Amazon!
The following are The Best Yoga Pants on Amazon:
What to Look for in a Good Pair of Yoga Pants
There are many different pairs of yoga pants on the market, and it can be overwhelming when you head to the store to shop for a pair. There are a few things you need to look for in yoga pants that indicate they are a good pair.
First, you'll want to look at what the yoga pants are made out of. The best pairs will be made out of stretchy materials that are also breathable, as you will likely sweat a bit as you practice yoga. Generally, nylon, polyester, and spandex are the best choices of material.
Next, you'll want to take comfort into account. This is because nothing is worse than practicing yoga in clothes you aren't comfortable in! Feel the material, it should feel soft to the touch, and you should be able to see yourself wearing the yoga pants for an extended period of time.
Then you'll want to consider the length of the yoga pants or if you want yoga pants with pockets to keep your keys or phone. If you live in a warmer climate, capris may be enough for you. However, if you live somewhere colder, you may need 7/8ths yoga pants or full-length pants to keep you warm as you get into your poses. Yoga pants can also come in high rise, which covers your stomach, or low rise, which sits on your hips.
What Makes a Yoga Pant Good and What Makes it Excellent!
If you follow all of the above instructions when it comes to picking out yoga pants, you will end up with a good pair. But since when is good, good enough? Exactly. When you want an excellent pair of yoga pants, you need to look for some additional aspects.
You need to consider how the pants fit you. There are both loose and tight fighting pants. While loose-fitting pants may be easier to get in and out of, tight-fitting pants might highlight your assets and give you a confidence boost!
Many people don't realize this, but when you feel confident going into your yoga class, you are much more likely to step out of your comfort zone because you will know you look great! That's why if you try on a pair of yoga pants, and they don't make you feel great, you should probably consider returning them.
Additionally, yoga pants have to be prepared for lots of abuse, as you will be stretching and sweating in them and washing them frequently. For this reason, what makes a pair of yoga pants excellent is when they don't fade even after washing them. This will keep the print or solid color you choose looking great for months to come!
Pairing them with a nice and comfortable yoga top is also a great way to rock your yoga pants! Check out the best yoga tops with a built in bra in that article!
The final feature that makes yoga pants excellent is none other than pockets! While pockets aren't necessary for practicing yoga, if you are headed to a studio, it makes a great place to slip your phone and keys for the walk or ride there. Plus, it can be handy after class as you leave, so you don't have to change pants before you go about your day!
The 7 Best Yoga Pants on Amazon
You are now informed on what makes a pair of yoga pants good, as well as the extra features needed to make them excellent. Next up, time to do a little shopping for the best yoga pants!
IUGA High Waisted Yoga Pants with Pockets
First on the list is the IUGA High Waisted Yoga Pants with Pockets. These leggings have it all, they are made of soft and stretch spandex that you will never tire of wearing, they are breathable, and best of all, they have 4 pockets!
The seams of the pocket and the waistband of the pants are flat, so you don't have to worry about them digging into your skin. These leggings are unique as they have special seams that lift your butt to make it appear bigger (hello, confidence boost!) Not to mention they come in almost every color imaginable.
Highly rated and loved by all on Amazon, you won't regret getting these yoga pants!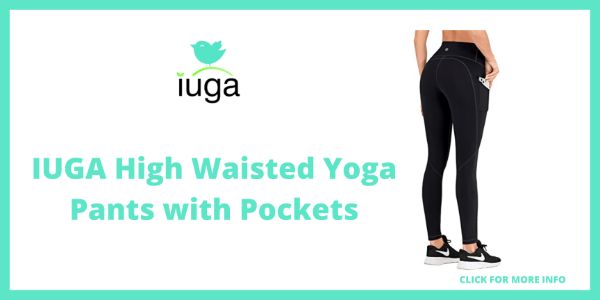 Heathyoga Bootcut Pants with Pockets
Not all women like how tightly fitted yoga pants can be. This is especially true for those who have circulation issues. If this sounds like you, then you need the Heathyoga Bootcut Pants with Pockets.
These pants are made up of 80% polyester and 20% spandex to give you the stretch you need for yoga practice. But they are only tightly fitted through the butt and thighs, flaring at the knee for a loser to fit the rest of the way down. They still offer a nice high waist to make your stomach look slim, as well as offer two pockets for all your important devices.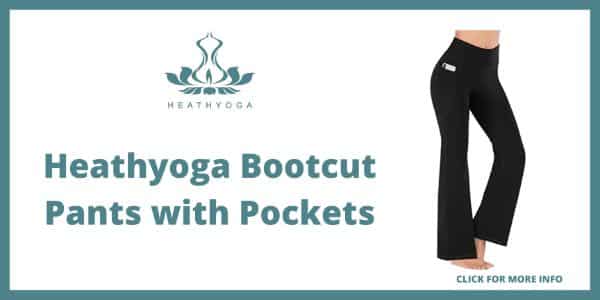 Colofulkoala Women's 7/8 High Waisted Yoga Pants
Next on the list is a yoga pant in that unique 7/8ths length, the Colorfulkoala Women's 7/8 High Waisted Yoga Pants. These pants are made out of 75% polyester and 25% spandex, offering plenty of stretch throughout your legs and hips while coming to an end just above the ankle.
While being high-waisted, these pants are also seamless in the waistband to avoid unsightly lines on your stomach after taking these pants off. They come in every color, and fortunately, have pockets that can fit a smartphone. Be sure to grab a few pairs because you will love these yoga pants!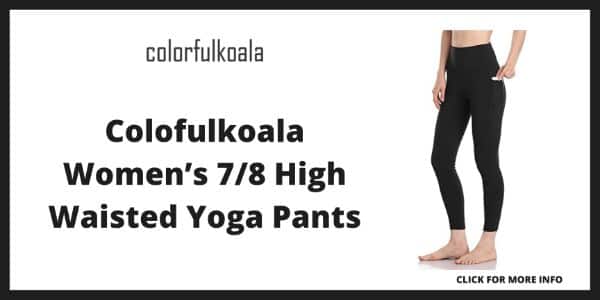 Just as some people may not like yoga pants that are fitted through the calf and ankle, some people find that they can't handle the form-fitting pants at all. When this is the case, you should grab a pair of these BALEAF Women's Jogger Yoga Pants.
These particular pants are unique as they are 88% cotton and 12% spandex. This means they will still have the stretch you need for yoga practice, but they will be much warmer and not as breathable.
For those who engage in outside yoga when it may be chilly, this certainly isn't a bad thing. These just probably aren't the yoga pants for a hot yoga session.
As a bonus, these pants also contain pockets and a drawstring waist that can be adjusted to fit your figure. They come in several colors and are perfect to wear for other sports besides just yoga.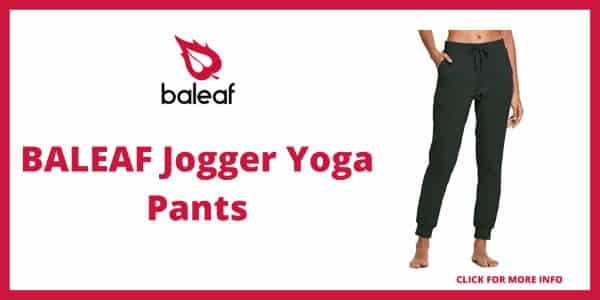 The Gym People Thick High Waist Yoga Pants
The Gym People Thich High Waist Yoga Pants are excellent yoga pants. They are made out of 88% polyester and 12% spandex, so they will be able to handle any yoga pose you may want to try.
The pants have pockets, come in multiple colors, and have that high-waisted fit that makes you look great. The only downside to these pants is that they are hand wash only. This means that you could spend significant time washing these pants if you practice yoga frequently. But for once-a-week yoga people, they may be perfect!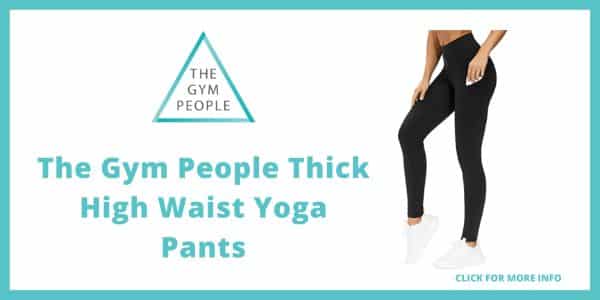 ODODOS Women's High Waisted Yoga Capris
For those who are regulars in hot yoga classes, it can be difficult to be in such a hot room in long yoga pants. Therefore, you should look into ODODOS Women's High Waisted Yoga Capris, which provide all the comfort and support of full-length yoga leggings but end just below the knee.
These pants are made out of 76% polyester and 24% spandex, meaning they will have plenty of stretches while also absorbing all the sweat! They have pockets and come in several different colors, so you don't have to limit your use to them to just yoga. They are high-waisted to give you all the coverage you need during those squat stretches!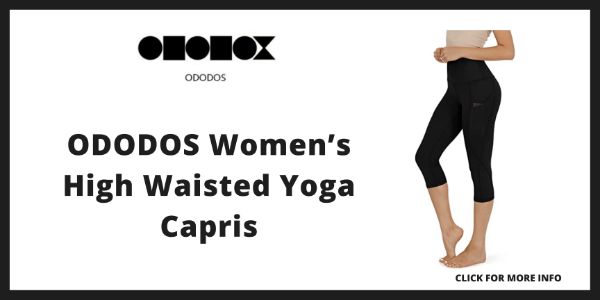 Aoxjox Women Seamless Leggings
Some people are particularly sensitive when it comes to seams in clothing, and it can be difficult for them to find yoga pants that are comfortable enough to work in. If this sounds like you, grab a pair of Aoxjox Women's Seamless Leggings, which have all the benefits of good yoga leggings but without any seams!
Since there aren't any seams, these yoga pants, unfortunately, don't have pockets. But what they do have is an amazing stretch that can handle any yoga pose or inversion you may have in mind. They come in multiple colors, are full length, and are made of a mix of nylon, polyester, and elastane.
This is another pair of yoga pants that are hand wash only, but if you're sensitive to seams, they are the best seamless pair out there!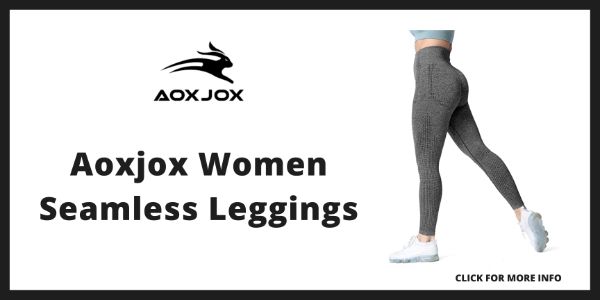 How Long Does a Yoga Pant Typically Last?
Yoga pants are specifically designed to help keep everything in place while stretching and bending. Therefore, unlike some pieces of clothing, they have a specific useful life that will come to an end.
In general, nice yoga clothes can last anywhere from 1-5 years, depending on how frequently they are washed and worn. The way you know your yoga clothes are officially done is when they become too stretchy or no longer fit as they once did. And if for any reason you feel your yoga clothes are no longer comfortable, it's time to toss them.
Of course, your yoga pants may also be experiencing fading color along the way. If this doesn't bother you, fading of color is a cosmetic issue only, and you can continue to wear the pants until they are no longer fitted to your body.
Overall, finding the perfect pair of yoga pants is the key to success on your yoga journey. But the pair that may be perfect for someone else may not be the right fit for you, so it's important to try a few different pairs to find the one that has you looking and feeling, ready for amazing yoga practice!
Looking for yoga dress pants, then check out this article on the best yoga dress pants.