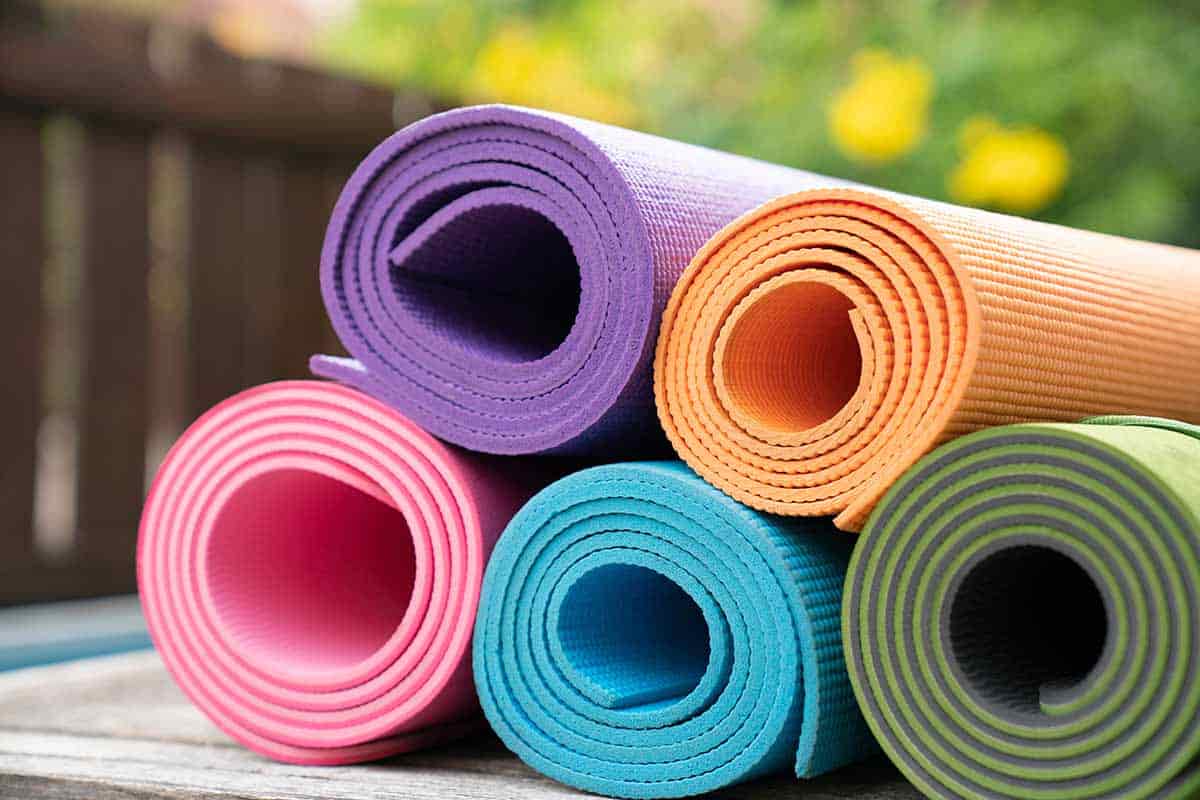 7 Eco-Friendly Yoga Mats You'll Love!
H
ave you ever been in the middle of an intense yoga pose, and all of a sudden, your foot slides out from beneath you? Or ever been face down in a child's pose, and your mat smells like plastic no matter how much cleanser you wipe it down with? If your answer is yes to either of these, then chances are you have a yoga mat that is not eco-friendly.
If you are in the market for a plastic-free mat, there are several to choose from, including:
Just to name a few..
Want to know what makes these mats so amazing other than they are saving the planet one yoga pose at a time? Keep reading to discover the ins, and out of the seven top eco-friendly yoga mats you are sure to love!
What Makes A Yoga Mat Eco-Friendly?
There are a few essential factors on what makes a yoga mat eco-friendly, and those are,
Material made from is all-natural
Contains no PVC or other harmful chemicals
No plastic is used to wrap the mat
An eco-friendly mat is typically made from all-natural materials such as cork, rubber, jute, PET bottles, and recycled wetsuits. Eco-friendly yoga mats are also wrapped and shipped in plastic-free materials as well.
We know when it comes to yoga you might just need more than a mat. So, if you are looking for a yoga block, find eco-friendly and/or affordable yoga blocks here!
What Other Types Of Materials Are Yoga Mats Made From?
You can find a typical yoga mat in any sporting goods or big chain retail store these yoga mats are typically made from a material called PVC-polyvinyl chloride. This petroleum-based substance is why a yoga mat is easy to clean, gives feet and hands a good grip, and makes the mat soft. However, it is also one of the most toxic plastics to the environment and humans.
Other types of materials yoga mats are made from are phthalates, which allows the flexibility and softness in yoga mats possible. There is also PER- polymer environmental resin, which is stated to be a "healthier" substitute for PVC.
The materials to look out for on a yoga mat label that does not make it eco-friendly are:
PVC- polyvinyl chloride
Phthalates
PER- polymer environmental resin
These toxic chemicals can be absorbed through skin contact and inhalation during use. Furthermore, PVC yoga mats cannot be recycled, so once you are done with that yoga mat and throw it in the regular trash, those harmful materials will find their way into the soil and air.
If you want to learn more about yoga check out the best websites for yoga here!
What Is The Most Environmentally Friendly Yoga Mat?
The most environmentally friendly yoga mat is one that can be recycled after use. Although some green-conscious yoga mat companies do use PVC in their products, they ensure customers that the amount is not nearly as much as your typical yoga mat.
These companies have even gone as far as to have programs that allow customers to return yoga mats that require throwing away to be recycled or repurposed.
A great example of the most environmentally friendly yoga mat is Hugger Mugger Earth Elements Yoga Mat which can be found on Amazon for around $60.
Some outstanding aspects of this mat are:
The first company to produce sustainable mats from TPE
Toxin-free, recyclable, and biodegradable
Sweat and odor resistant
Lightweight for travel
When researching an eco-friendly yoga mat brand, it is crucial to ensure the label states it is made from sustainable, all-natural materials and free of any chemically treated toxins.
7 Eco-Friendly Yoga Mats You'll Love!
This company is noted as being the first yoga mat producer to create toxic-free yoga mats. Jade's website claims this mat contains no heavy metals, PVC, phthalates, glues, or ozone-depleting materials.
Their mats are constructed of natural rubber with no PVC and other man-made materials that allow this mat to be not only eco-friendly but also biodegradable.
Customers rave about the mat's ability to maintain a firm grip in wet or dry conditions, supportive and soft padding, and a good amount of bounce.
Jade's Yoga Harmony yoga mat comes in seven colors and three lengths. Upon check-out, customers are made aware that five dollars from every purchase based upon the color of mat purchased will be donated to either ovarian cancer, autism, or breast cancer organizations.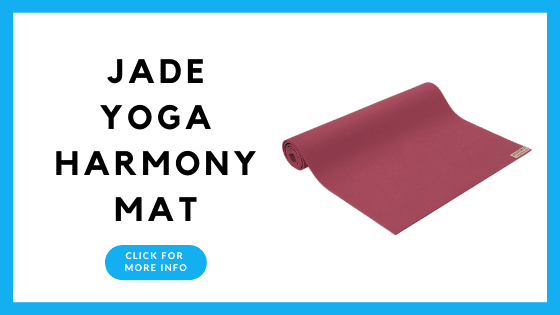 2. Manduka eKO Superlite Travel Mat
Manduka's Superlite Travel mat comprises one hundred percent sustainably harvested tree rubber. It is ninety-nine percent latex, chemical, and PVC-free and made from zero-waste products.
Customers boast about this mat's durability even in the hottest of Hot Yoga classes or humid outdoor days. The material is said to be supportive yet thin and has an excellent grip for hands and feet.
This mat is known for being thin and lightweight, and easy to fold on the go. It comes in seven assorted colors and two lengths.
Manduka donates one percent of all their global sales to communities worldwide to create change and empowerment. They also provide a yoga mat recycling program for ten dollars called LiveOn, and people can send any threadbare mat to the company for recycling regardless of its brand.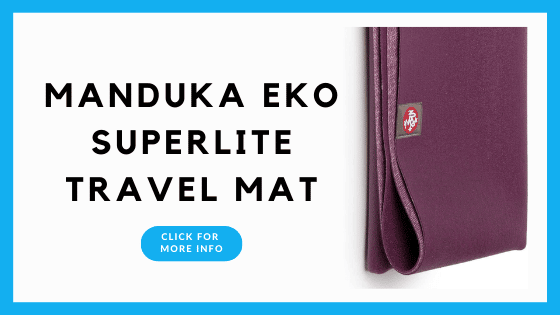 According to Suga's website, their yoga mats are made from over 12,500 wetsuits that have been donated by people all over the world. This company who makes yoga mats from recycled neoprene wetsuits, states that their mission is to reduce the environmental impact they have on this planet.
It takes one wetsuit to produce a Suga yoga mat, and for every one wetsuit donated, Suga offers customers a ten percent discount on their next purchase
Suga yoga mats can be recycled with their Cradle-to-Grave program that allows all customers to return a used mat for a new one at no cost.
Customers love how thick and supportive the material is, and the ratio of cushion to the firmness that allows for inversion poses without pressure on the head and neck.
If these weren't already great reasons to buy a Suga yoga mat, the company also donates one percent of its profit to nonprofit environmental organizations.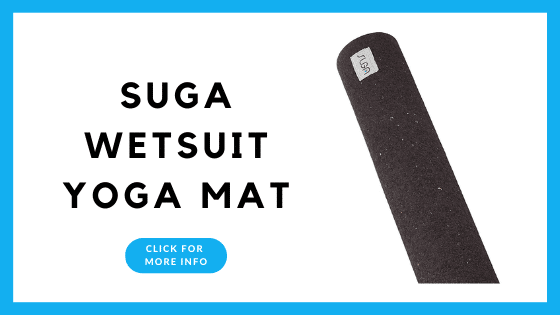 5. Yoloha Unity Cork Yoga Mat
Yoloha is a small family-owned business that prides itself on its sustainable, durable, and eco-friendly yoga mats. These non-toxic, latex, PVC, and chemical-free mats blend recycled cork and rubber materials.
This mat is antibacterial, which makes for easy cleaning, doesn't absorb moisture, and dries instantly for a slip-resistant workout. Two inches were added to the width for yogis who need a bit more space, and the foam backing allows for extra cushion without affecting balance.
Customers gave high reviews for this yoga mat's incredible durability, amazing grip ability, lightweight, and not losing its shape when folded for travel.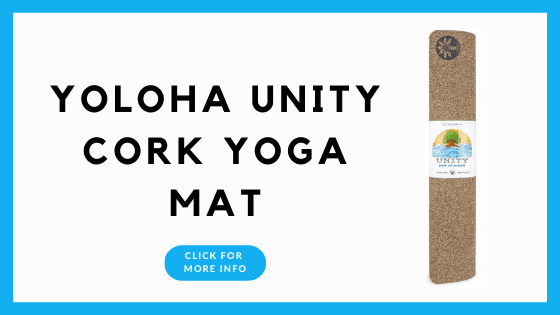 6. Gaiam Performance Jute Yoga Mat
These eco-friendly yoga mats are handcrafted, hand-woven, and handspun by artisans in India on traditional looms. Abhinehkrafts yoga mats are made from homegrown one hundred percent organic cotton, which allows them to be vegan, biodegradable, and sustainable.
Customers enjoy that the yoga mats come in wider and longer versions than a typical yoga mat and allow more room when practicing yoga poses and meditations. They are foldable, machine-washable, and very lightweight. The yoga mat comes with an organic cotton carrying case and a cotton strap for easy travel.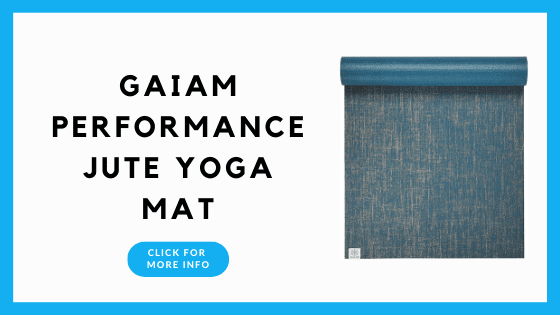 How Can I Reduce My Footprint Overall?
Reducing your footprint on the planet is a lot easier than one may initially believe. When you ask yourself how I can reduce my footprint overall, it takes a few minor changes in your everyday habits to produce long-lasting, significant changes in the environment.
These small changes can include,
Buying less plastic products
Using a reusable water bottle
Preparing food at home in PVC free reusable containers
Walking or riding a bike to work or in general
Make sure to turn off or unplug devices and lights that aren't in use
Buy recyclable products that don't end up in a landfill
Plant a garden and eat your produce
Thrift, re-sell, or donate unwanted and unused or needed items
People often tend to think that their small changes won't affect the planet enough. However, if we imagine everyone making one small change, that adds up to a billion ways we save our world overall.
Reducing the footprint, you leave behind for generations to come can impact the health and longevity of the forests, oceans, skies, and animals. Taking a moment to identify how you are impacting your small piece of the world can be just what our planet needs to flourish.
Find affordable yoga clothing brands here!
When it comes to being eco-friendly, yoga mats are just the tip of the iceberg. Researching products such as yoga clothes, yoga tools, and equipment can also be great ways to broaden your eco-friendly footprint.