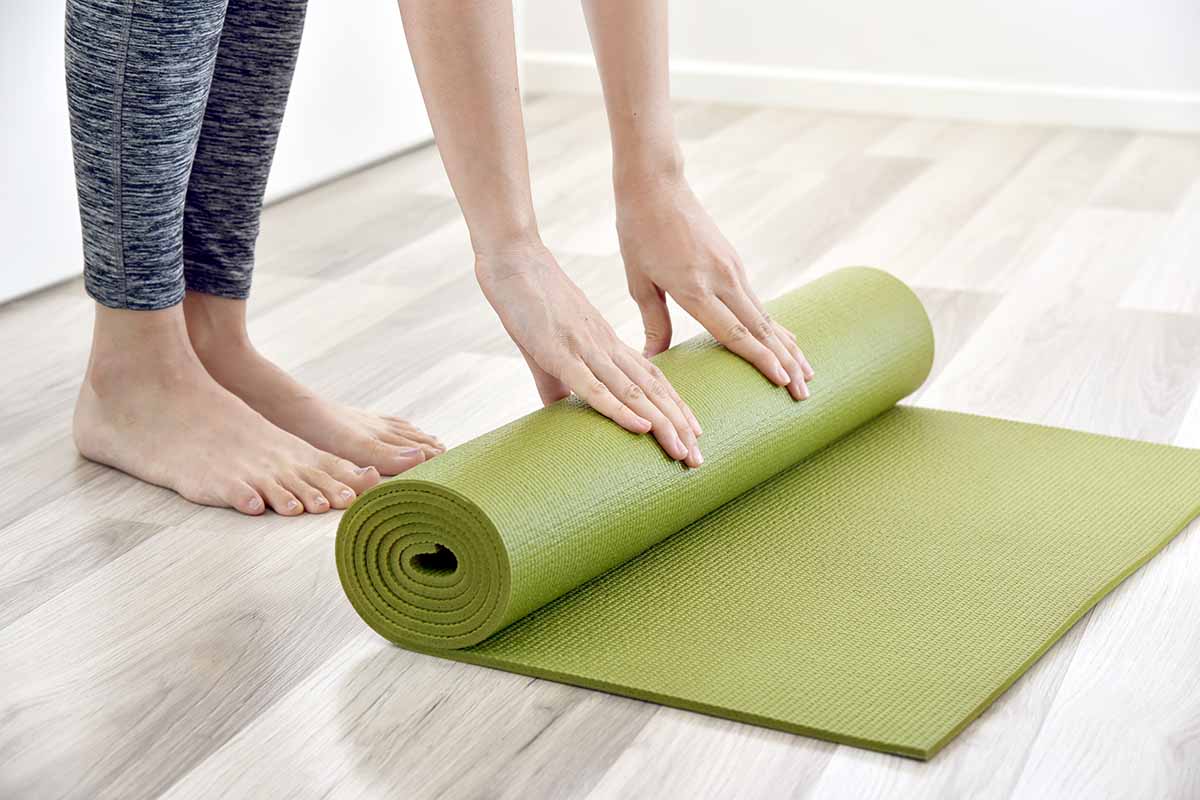 The 5 Best Yoga Mats on Amazon
The top five best-rated yoga mats on Amazon according to users are:
This article will explain how to pick a yoga mat, determine the best thickness level for a yoga mat, and provide you with a list of five of the best yoga mats available for purchase on Amazon so that you can choose the one that is right for you. So, read on to discover more about some of the top mats the industry has to offer.
How Do I Choose a Yoga Mat?
There are many factors you should consider when looking for a yoga mat.
Taking time to attend to these features will help you make the most educated choice for your needs and consist of:
Thickness
Material
Texture and Stickiness
Environmental Friendliness
Price Range
Style and Design
This section will explore each of these factors in detail so that you know why they are important to think about when looking for a yoga mat.
Yoga Mat Thickness Determines Your Comfort Level
It's a beautiful process of personal discovery and connection" says one former student of Santosha's online RYT Yoga Teacher Training.
When you join Santosha Yoga's Online RYT-200 Yoga Teacher Training, you'll learn teachings passed down from authentic yoga lineage, allowing you to build a strong teaching and personal practice foundation. You receive support from Santosha's knowledgeable teachers, you'll improve physically, mentally and spiritually, and you learn to confidently and safely teach yoga. Plus, Santosha will work with you to guide you to discover the joy and fulfillment in life, as you enter this new phase in your life.
Yoga mats are made using a wide variety of materials, and the one yours is made out of determines the:
Texture
Stickiness
How well it withstands pressure
Durability
Environmental impact
Most yoga mats are made of PVC or vinyl, but you can also find some that are made of either natural or synthetic rubber, cork, jute, or even cotton.
Mats made of natural rubber are best avoided for those with a latex allergy but are great for those who prefer their mat to be more pliable. These mats also have texture to them to provide traction to the user and provide optimal comfort. Synthetic rubber mats have even greater durability and pliability than their natural counterparts.
Tried and true PVC yoga mats are durable, spongy for cushioning, and have the most give compared to other mats. PVC mats are also sticky enough to provide grip but will not leave you stuck. Natural rubber and cotton are also more eco-friendly than other materials.
Yoga Mat Texture and Stickiness
Yoga mat texture and stickiness affect the traction provided by the mat and how likely you are to slip on it, as well as how comfortable you will be doing yoga on the mat. As mentioned earlier, PVC is durable, sticky, and strong material, but it is not environmentally friendly. Conversely, natural rubber mats offer the same benefits but are gentler on the environment and last longer.
Yoga mats can vary greatly in texture, from having lots of bumps and grooves to being completely smooth. Choose the texture that best fits your needs and preferences.
Yoga mats are sold at many different price ranges to suit many different budgets. The listed price depends on the material, thickness, and other features that a mat was designed with. Things that can bring up the price include:
Patterns
Special treatments
Logos
Special tactile add-ons
The sustainability of the mat
Basic options with the bare minimum features can run for as little as $15, but if you are really into yoga and want to spend extra on a high-quality mat from a specific brand, you will likely have to pay more than $100 to get your hands on it.
Although they may seem like an unnecessary luxury, a high-quality yoga mat will last longer and is a worthwhile investment if you want to practice yoga for a long time. This way, you won't have to purchase a new mat every time a lower quality one needs to be replaced.
Yoga Mat Style and Design
Choosing a mat that you like style and design-wise will entice you to use your yoga mat more often, so choose the color and pattern you like best. There are many cool-looking yoga mats out there. You're bound to find one that fits your tastes and preferences.
Now that we know all the features to look at when buying a yoga mat let's go back to discussing mat thickness for a moment to determine which one is the best in the next section.
What is the Best Thickness For a Yoga Mat?
Choosing the right yoga mat thickness is important because it:
Helps support your joints
Helps you get better at your poses
Helps you get more benefits from your yoga practice
A mat that is too thin will cause knee pain
A mat that is too thick will not properly support you, slowing you down
Extra thick yoga mats are made from PVC or foam, which are the most common yoga mat materials. They range from 6 mm to 12 cm thick, which is too thick for regular yoga practice and will make it hard for you to be comfortable. However, they would be beneficial if you are feeling particularly sore. One of the negative things about these mats is that they are not sustainable.
The next thickness down, 4 mm, is the happy medium between being too thick or too thin, which will help you stay balanced and avoid slipping. Then there are travel yoga mats, which are the thinnest at 2 mm thick. Because these mats are so thin, they offer little in the way of support but are ideal for folding up to take with you anywhere you may practice yoga.
However, you may have different needs or preferences. Here are some points you should consider when you are not sure what mat thickness to choose:
How much joint support do you need?
What is your skill level in yoga?
What are Your individual needs and health conditions?
Many yoga practitioners will mention that a 6 mm mat is too thick for doing yoga regularly and that it is better to choose a 4-5 mm mat. However, this does not mean that 6 mm mats are bad.
If you are a senior or another person with sensitive joints, the extra cushion of these thick mats will be beneficial. Thicker mats are also more durable and have a longer lifespan.
The 5 Best Yoga Mats on Amazon
Now that you know more about what to look for when purchasing a yoga mat, we can use those criteria to scope out some of the best yoga mats available on Amazon. Here are the top picks we found:
The Manduka X Yoga Mat is five mm thick and can double as both a yoga and general fitness mat. It is just the right thickness to cushion you, but not so soft that you can sink and lose your balance. The mat is lightweight so that it is easy to carry and is made up of several types of elastomers with a dry grip so that you do not slip.
It is also latex and chemical solvent-free, so it is good for the environment.
Are Manduka Yoga Mats Worth It?
Manduka mats are some of the highest quality mats you can find out there. All of their mats are:
Durable
Cushioned
Good for travel
Made of eco-friendly and recyclable materials
Plus, they have been making yoga mats for years and always garner positive reviews from yoga practitioners.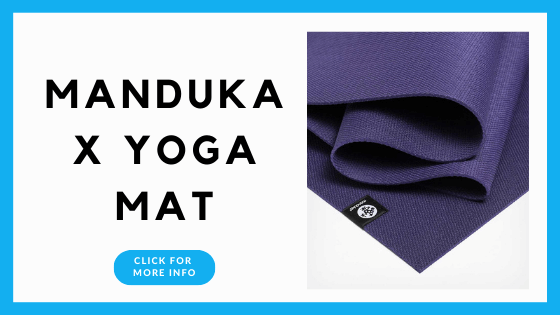 The Anja Organic Yoga mat is made from jute, which is an eco-friendly organic fiber that repels odors and sweat stains. It is also a durable, five mm thick mat that is cushioned enough to support your joints, and the natural grip of the jute will keep you from slipping. The mat is also lightweight and comes with a carrying strap for portability.
Are Ajna Yoga Mats Worth It?
Ajna organic mats have been top-rated in several yoga mat review articles, so you can be assured that you are getting your money's worth when you purchase one. The company is dedicated to making high-quality products to help you reach your fitness goals.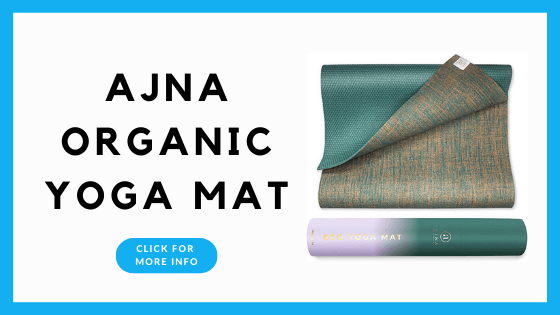 3. Gaiam Premium Yoga Mat
The Gaiam Premium Yoga Mat is six mm thick for maximum support, lightweight, durable, and has a textured surface for grip. It is made of a non-toxic PVC so that it is better for the environment and is reversible so you can choose the side that best fits your mood. Each mat comes with a free downloadable yoga class.
Are Gaiam Yoga Mats Worth It?
Gaiam yoga mats are consistently rated in at least the top 10 in yoga mat ratings, so you can be assured that others have tried their products and love them. They are also more affordable than other yoga mats.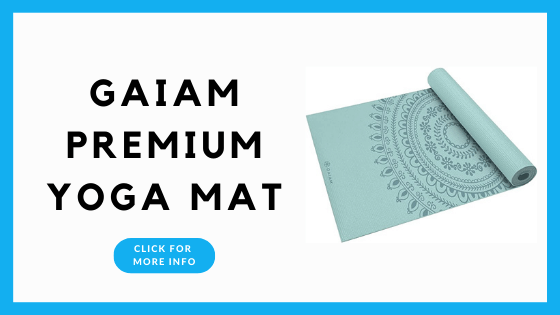 4. IUGA Pro Non-Slip Yoga Mat
The IUGA Pro Non-Slip Mat is five mm thick and is made of natural rubber to repel odors and provide a good grip. It Is also coated with polyurethane to help you stop slipping while you practice. This mat only weighs 2.5 pounds, so it can travel with you, but it is durable and eco-friendly and provides just enough support.
Are IUGA Yoga Mats Worth It?
The IUGA non-slip mat is rated among the best for those that do hot yoga, as well as other high-intensity styles of yoga. So, it can certainly hold up for more relaxing styles. It is also less expensive than other alternatives, so you know you are getting a good deal for your money.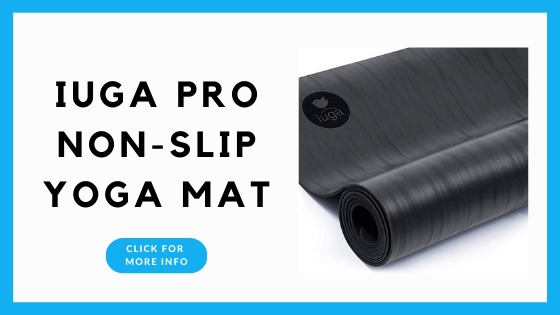 5. Hatha Yoga Extra Thick TPE Yoga Mat
The Hatha Yoga Extra Thick Yoga Mat is the thickest one on this list at 12 mm, which means it provides superior comfort. It is made of thermoplastic elastomers, which are nicer for the environment and have a sticky non-slip texture. The only possible negative for this mat is that the thickness will make it difficult to store and travel with.
Are Hatha Yoga Mats Worth It?
These mats have 5-star reviews on Amazon, so you can be confident that they are definitely worth their price tag. Reviewers say that they are odorless and provide the ideal amount of support and comfort while remaining durable.
The only issues reported were that they could be a bit slippery.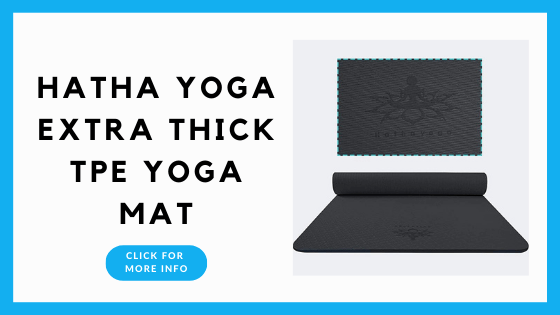 There are many things you should consider when looking for a yoga mat, such as material, texture, and thickness. The ideal thickness for yoga mats to ensure the proper support and portability is 4-5 mm. All yoga mat brands are made with similar features, and there are several styles you can choose from that are worth purchasing.