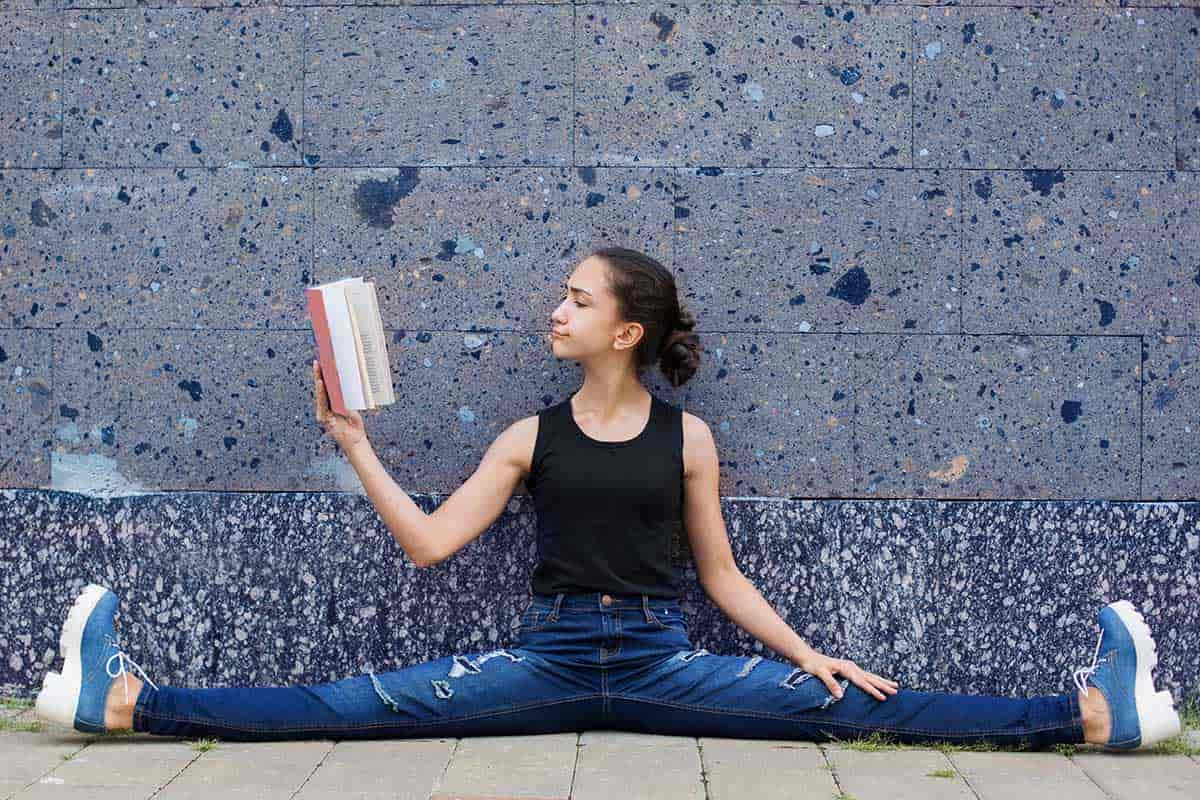 The 7 Best Yoga Books for Kids on Amazon
A
re you interested in introducing yoga to your little ones? Yoga books for kids are a very fun and interactive way to introduce yoga, movement and mindfulness to kids. Storytelling through yoga books has the power to integrate reading with movement and fun, ultimately encouraging creativity, responsibility, and critical thinking in children.
The 7 Best Yoga Books for Kids on Amazon are:
Yoga has so many benefits for the growing and learning part of a kid's life. The intention of these books is to work through different learning styles and abilities of children, helping yoginis build a strong foundation and cultivating globally responsible adults.
WHAT ARE KIDS YOGA BOOKS?
Kids yoga books are intended to be adaptable and open to all kinds of a kid's background, needs, and situations. We know every kid lives a different and unique life, and just from one yoga book, various kids can take away many different benefits from it.
Yoga books for kids also drive children to utilize both the creative (right) and logical (left) parts of their brains due to the interactive reading which activates thinking and movement.
The yoga stories presented in these books take children to imagination journeys in places such as forests, jungles, oceans and even space, allowing them to think outside the box. Children are able to learn effectively because of the inspirational thinking, un factor and the dynamic yoga sessions which help boost and channel their energy levels. Books also incorporate yoga poses in the stories for children to imitate, allowing them to get the benefits of yoga such as respiration, energy and vitality.
We understand that each circumstance is unique. Your children, like you, bring a variety of experiences to the reading of yoga books. It is welcomed for you to change, adapt or modify the yoga stories to fit your needs. The journey is more important than whether or not your kids can maintain perfect posture.
IS YOGA APPROPRIATE FOR CHILDREN?
As a parent, guardian, or teacher you might be wondering if yoga is safe or appropriate for young children. And the greatest news about that is… That it is absolutely appropriate for children. Especially if creativity, mindfulness, wellbeing, self-regulation skills, and developing coping strategies to deal with life's challenges is something you would like your young ones to be familiar with.
Apart from yoga being appropriate for children, there are so many benefits to introducing yoga at an early age through fun yoga books such as:
Critical thinking skills
Cooperation and teamwork
Learning different topics
Focus
Active Learning
Strength and Flexibility
Self-expression
Self-confidence
With all the benefits mentioned, yoga also promotes a healthy kid's lifestyle by easing tension, boosting energy, managing stress and calming the mind. And it doesn't have to be yoga as we know it, it can be incorporated in a lighter more delightful way just like these books do.
THE 7 BEST YOGA BOOKS FOR KIDS ON AMAZON
Now that we have gone over what a kids yoga book is and all the benefits they offer to our little yoginis, we can introduce you to the best ones on Amazon!
These 7 books are the best we have found, each with their different style and stories. Here we have a sneak peak of what each of these books is about, so you can choose according to your style and goals with your little or little ones.
1. I Am Yoga by Susan Verde
This lovely yoga book by Susan Verde (a certified yoga instructor) comes with a complete set of fun illustrations and basic pose descriptions for children. Allowing them to explore the world of yoga and learn about the power of self-expression.
Each page features a different stance, and instead of labeling it or instructing on how to execute it, the book provides a lovely method to visualize the body, mind, and spirit. For instance, in the boat pose, "I can sail on the sea, I go with the flow" the affirmative "I am" declarations and types of metaphors are excellent for children to make real-world connections, visualize and experience how yoga helps them manage life.
2. LLamaste and Friends: Being Kind Through Yoga by Pat-A-Cake
This book by Pat-A-Cake introduces a funny and sweet story of a llama who loves yoga, helping and teaching her friends on how to be calm and brave through kid-friendly yoga poses.
Due to this book's easy to follow text, children are encouraged to develop empathy skills and explore their own emotions. Through adorable illustrations and practical advice for kids, LLamaste's poses are for children and parents who are just learning about yoga and how to utilize it to cope with difficult emotions!
3. Yogi Superhero by Anna Smithers
This amazing yoga book by yoga therapist Anna Smithers is a creative and fun way for children to explore how yoga can help them tackle emotions and become their own superheroes (defenders).
Yogi Superhero is an engaging book that gently guides children on how to cope with negativity with a purposeful and intentional approach by using affirmations, physical movement, and morning/nightly routines. Through the book's easy poses, fun illustrations and mindfulness techniques your little one will be sweetly introduced to the world of yoga and its benefits.
4. Good Morning Yoga: A Pose-by-Pose Wake Up Story by Miriam Gates
This kids yoga book by Miriam Gates is more than just a morning story. With beautifully illustrated pose-by-pose yoga stories this book introduces sun salutations for a pleasant morning and wind-down soothing positions just before bedtime.
The stories in Good Morning Yoga are fun, lively and hands-on, encouraging a habit for both kids and parents to welcome the day with delight and set out their daily goals with purpose and confidence. Turn the page and reach towards the sky, plant your feet firmly on the ground, and prepare for a wonderful day!
5. Breathing is My Superpower by Alicia Ortego
This bedtime story book by Alicia Ortego is definitely a growth mindset book for children. The author aims for kids to be able to regulate their emotions with breathing techniques presented in cheerful illustrations and in an easy to understand story.
Alicia Ortego presents 5 simple and fun breathing techniques to help children manage their own breath, body and emotions. Especially when feeling upset, stressed or angry. This book helps incorporate daily exercises that can improve a kid's life through the basics of yoga.
6. Yoga Bunny: Simple Poses For Little Ones by Sarah Jane Hinder
This fun animal kids yoga book by Sarah Jane Hinder invites children to go through yoga poses to increase body awareness, concentration and self-understanding with their favorite animal friends!
Through this playful narrative, children are able to imitate a pose shown on a page along with a woodland animal friend. Sarah Jane Hinder offers more book series featuring different animals. Allowing you to choose your little one's favorite animal to practice yoga with.
7. Yoga For Little Kids: Simple Poses To Encourage Calm & Wellbeing by Nicole Koleshis
Last but not least, this book by Nicole Koleshis is an easy to follow book for children built on body awareness and connecting to wellness. Encouraging children to develop lifelong skills that will benefit them in physical and mental health.
It is a fun and adorable illustrated book, featuring 20 kid friendly simple yoga poses that are designed to help kids channel their energy and focus. Incorporating yoga into the life of your little one couldn't be more fun and easy.
ANOTHER GREAT YOGA BOOK FOR PRESCHOOLERS
Of course there are many other wonderful yoga books for kids out there, but one more we would love to recommend is: Calm Ninja by Mary Nhin. This wonderful and creative book helps children with valuable life skills such as learning to stay calm and peaceful under hard circumstances and how to relieve stress.
The story of Calm Ninja goes through funny frustrating experiences, and then finally being able to find inner peace through the Ninja Yoga Flow. A very fun and interactive way of teaching kids about 'ninja life hacks'!
As you may have learned, introducing yoga to kids is a wonderful way to teach them valuable lessons about life and themselves through a fun creative way early on. Helping them to learn about the world, the environment, the animals, how to connect and support one another, how to be compassionate, accepting, and kind.
Using kids yoga books as a basis, can help kids to express themselves while having fun! Yoga stories offer a positive focus and aid in relaxation and meditation techniques that can be used on a regular basis for a yogini happy life!
If you are undergoing a yoga teacher training or simply want to amplify your knowledge check out the best books for yoga teacher training in that article!