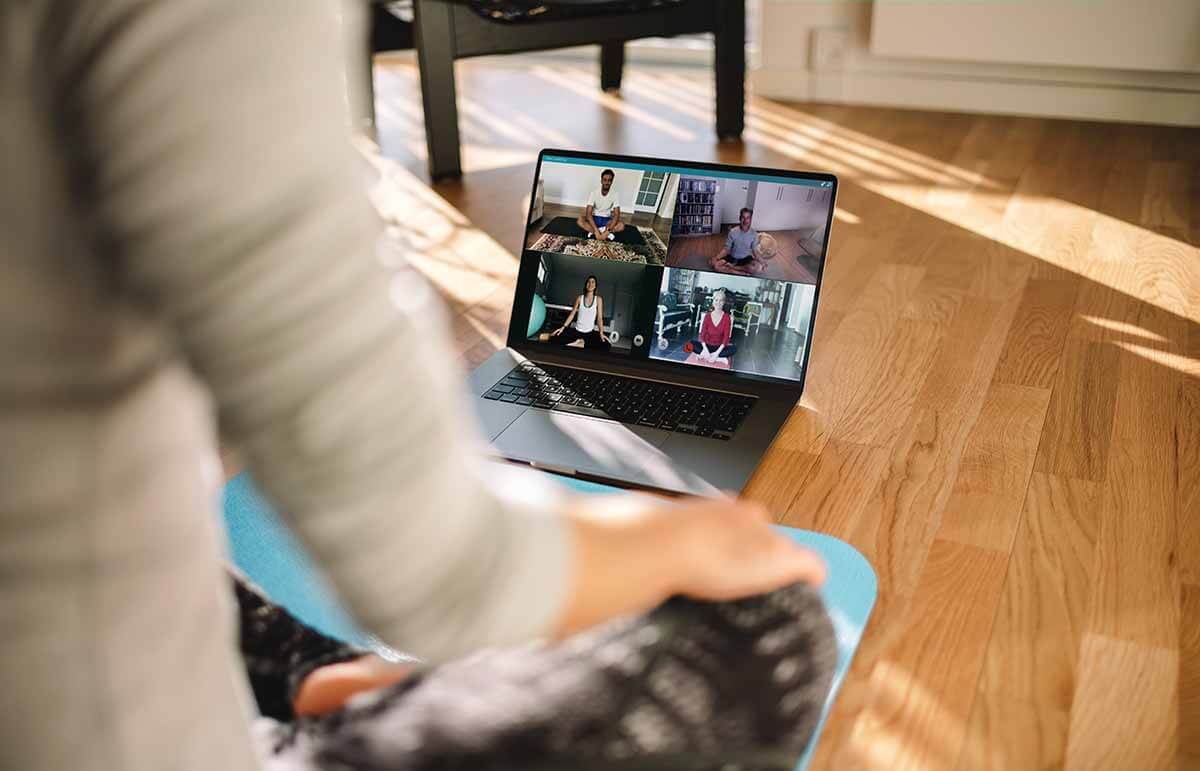 Online Yoga Certification 101
M
any people are inspired yet intimidated by the idea of embarking on the journey to get their yoga teacher certification. The number of hours, the curriculum, and so many other factors often prevent people from taking the leap and signing up for a certification course. If these things are true for you, a yoga teacher training online course might be a fantastic option.
The key to finding a legitimate online yoga teacher training course is confirming that it's certified under Yoga Alliance, a nonprofit organization representing the yoga community. The top 3 online yoga certification courses are:
If you're ready to take an online yoga teacher training (YTT), but you're getting overwhelmed with where to start, you're not alone. In this article, we discuss the basics of getting your YTT certification online and investigate the top three courses you should check out.
Can You Get Yoga Certified Online?
Time is changing, and the way we practice and teach yoga is changing along with it. Getting certified as a yoga teacher has become more and more accessible with online options amidst the pandemic. While many people have been unsure about or cannot practice yoga in a studio, online yoga classes, courses, and certifications have filled this hole for a guided practice at home.
Now, students can get certified as yoga teachers online, giving them the option to take certain sections at a self-paced timeline while still getting the chance to connect with others and feel a sense of community through live webinars and sessions with their instructors. Online training really is a fantastic option for anyone looking to deepen their practice.
If you've aspired to take a yoga teacher training course but the schedule, commute to a studio, or pace of the curriculum has made you hesitate, now is the best time to take advantage of online certification options.
In many ways, the way you would get your yoga teacher certification in person is similar to how you will do it online. You can take a 200, 300, or 500-hour course depending on your yoga experience and what type of yoga you're interested in learning about. Many beginners will start with a 200-hour course to learn the basics and complete another course later as a method of continuing education.
What is the Best Online Yoga Certification?
The best online yoga certification for anyone is going to depend on their goals, schedule, budget, and several other factors.
However, amongst the yoga community, one of the top yoga certification courses for so many is from My Vinyasa Practice. We'll discuss their programs a bit more in-depth later in this article, but it is often reviewed as a top, affordable yoga teacher training option because of their wide variety of trainings and courses.
One of the greatest perks of taking an online yoga teacher course is the ability to choose which teachers and community you want to participate in. This opens up training options like My Vinyasa Practice to an even wider community of students and provides the chance to connect with Yogis across the country in ways they might not have been able to without these online certification options.
What Does the Yoga Alliance Require for Yoga Certification Online?
Given the changing landscape of the yoga community amongst the pandemic, Yoga Alliance has adjusted some of its requirements to accredit online yoga certification programs if they meet certain requirements.
There are two main types of requirements that an online certification course must have to be accredited by YA: participation requirements and curriculum requirements.
Participation requirements include:
Yoga teacher training programs or schools submit surveys from trainees and teachers to Yoga Alliance
Give students access to Yoga Alliance online community forum to communicate with each other
Allow Yoga Alliance to have access to training materials and other training content
Yoga teacher training curriculum requirements:
Must include a combination of live training and pre-recorded or self-paced training.
Must meet certain requirements involving the number of and amount of time guided by lead trainers.
These are only a few of the major requirements that Yoga Alliance has for an online yoga teacher training course. To see the full list in more detail, check out the Yoga Alliance website here.
Many of these requirements are necessary for Yoga Alliance to maintain standards amongst yoga teacher training programs and give them the necessary information to adjust and their standards as the yoga community continues to change.
With this type of accreditation from Yoga Alliance, students that are looking for a legitimate online course now have standards to look out for and can make informed decisions about which courses are going to give them a quality yoga education.
3 Great Online Yoga Certifications
While Yoga Alliance has solid requirements for accredited teacher training courses, it can still be a daunting task to choose which course is right for you. There are so many courses available from so many different legitimate programs available out there.
One of the best places to start is with reviews from former students. Many yoga teacher training courses have thoughts and reviews from previous students available so that prospective students can get a first-hand glimpse into what the course is like. 
Ultimately, each course accredited by Yoga Alliance ensures that the curriculum meets quality standards and students are learning about how to teach yoga in ways that prepare them well.
But there are a top few yoga certification programs that are favorites among the yoga community listed below. Here are the top 3 online yoga certification courses you should check out. Each of them is accredited by Yoga Alliance as well.
As stated earlier, My Vinyasa Practice offers amazing online yoga teacher certification courses.
They provide 200, 300, and 500-hour courses so that no matter your difficulty level, goals, or type of yoga you want to learn, they have options that can meet your needs.
Their courses are also extremely affordable, and they even have certain yoga teacher training courses as well as yoga classes on sale on their website.
Another plus in terms of accessibility is that you can sign up for their teacher training courses on a rolling basis. Many other courses have registration deadlines, but My Vinyasa Practice allows students to sign up for their teacher training course whenever they're ready.
Here are some aspects of their 200-hour teacher training course to look forward to:
Monthly study group
15 hours/week of office hours available
Access to 100s of prepped yoga sequences
Opportunities for practice teaching
There's plenty more content, training opportunities, and life-long access to materials that can help you throughout your future as a registered yoga teacher. You can check more about each of their online yoga teacher training courses and what they include here.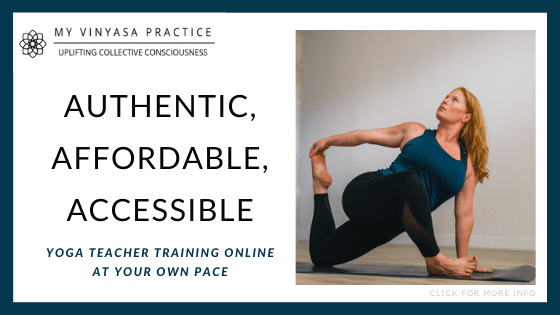 Brett Larkin's Yoga Uplifted online teacher certification has been accepting and teaching students since 2015. This program includes a blend of yoga education and teaching entrepreneurship that is meant to prepare students with the yoga knowledge they need as well as more information about how to strategize for an online or in-person yoga business.
This 200-hour teacher training includes:
High-quality, award-winning video content you can even watch on your mobile device
The 600-page physical manual shipped through the mail to you
Weekly live calls with the same students
Yoga Uplifted's courses are geared towards students that want an extremely personalized experience where they get to interact and communicate with their lead teacher and the other students in the course continuously.
The online training course is highly structured and meant to provide various materials and training content that allows students to learn at their own pace while also having close access to individual attention. This is a great option for anyone looking for a career change, to deepen their yoga experience, and to learn more about teaching yoga in a digital age.
Yoga Uplifted also offers a 300- and 500-hour YTT online course that builds on the basics of both the yoga practice and business aspect of teaching. Check out more about Yoga Uplifted and their different online teacher trainings here.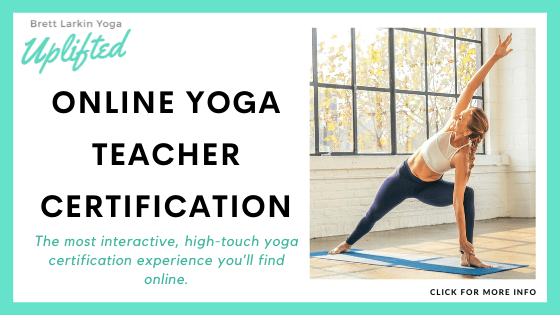 Yoga Farm Ithaca is a nonprofit organization dedicated to educating others about yoga and spreading information about mindfulness and healing. Their mission is to make yoga practice, meditation, and mindfulness as accessible as possible.
Right now, all their courses are taught online, and they're geared towards people in on all different levels in their yoga practice.
Yoga Farm's online teacher training courses are described as the most 'in-person' online courses available. They two main online training courses:
Radiant Warrior Vinyasa and Hatha yoga teacher training
Kundalini Warrior YTT
Both courses include the same core curriculum and are 12 weeks long. Both courses instruct students to teach either vinyasa and hatha yoga or Kundalini yoga either online or in-person. (Learn more about Kundalini yoga teacher training online in that article!)
These are both great courses for aspiring teachers that want to have the tools and skills to teach yoga either virtually or in person. Getting certified from Yoga Farm is also not only certified by Yoga Alliance but a great way to contribute to a nonprofit community centered around yoga.
Yoga Farm also offers a variety of payment plan options for anyone looking to take a training course with them. This helps give many different people access to the course they're ready for without having to put too much of strain on their budget.
You can check out more about Yoga Farm's mission, training courses, and curriculums at their website here. You can also check out this Yoga Farm Ithaca review!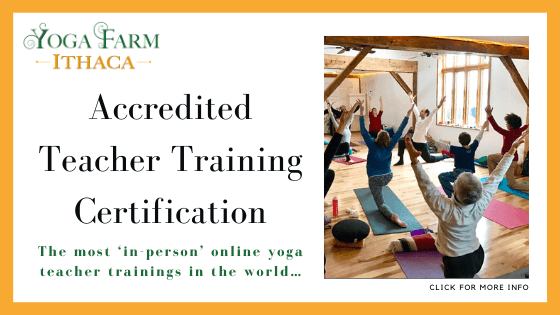 Every yoga institution and educational program is going to have a slightly different way of doing things. It's important to take the time to vet and certify that a YTT online course is legitimate before you put any deposits down, but there are plenty of options that will give you the knowledge and experience needed to become a successful yoga teacher.
You can still find the same sense of community with an online course, and you're able to do it from the comfort of your own home.
Overall, there's plenty of perks to taking an online YTT certification, and it's well worth looking at the options listed in this article if you want to learn more.
Take the leap and get your yoga teacher certification!
(Now if you are looking for the best online yoga classes for you to take, check out that article!)