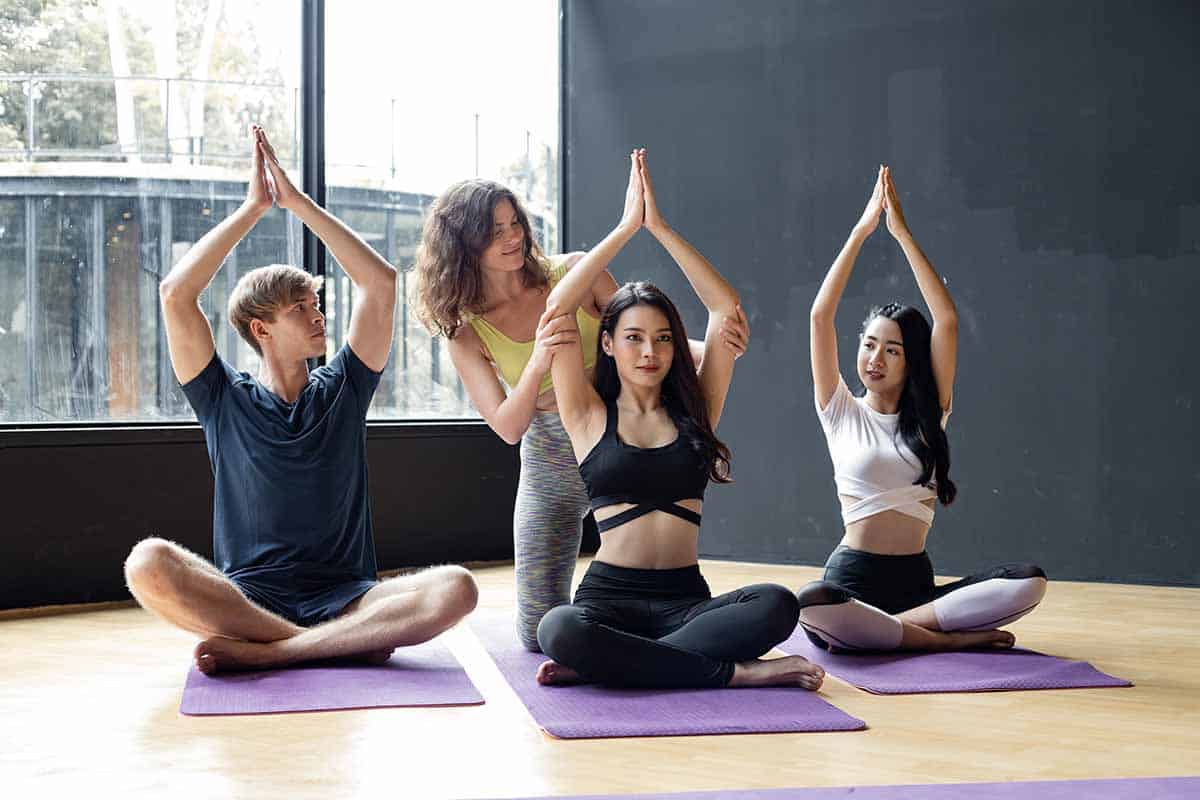 What's in a yoga teacher training course?
I
f you have a passion for yoga and want to start your own business for teaching yoga to others, then you need to take a look at a yoga teacher training course. This course can help you prepare for an exciting new career, but what does it cover?
A yoga teacher training course is a program designed to prepare the individual for teaching yoga to others. It focuses on all parts of yoga, from the anatomy to the right postures along with the basic poses, to make sure they can teach it properly. A course can be the start to an exciting career.
Let's take a closer look at some of the specifics that should be found in a yoga teacher training course to make sure you choose the right one for your needs.
So Much Talk of Yoga Teacher Training. What is It?
A Yoga teacher training course helps deepen the knowledge about yoga and prepares individuals to become yoga instructors. During the course, students will learn:
Yoga techniques
Proper alignment and anatomy
Different techniques to use
How to run their business
How to do meditation, asana, and more
While you can start your own yoga business without this, the training course provides you with the right certification. This ensures you know what you are doing and can help customers trust you more.
Who Is the Yoga Alliance?
Before you choose a class to take for your certificate, you must make sure that it is qualified by the Yoga Alliance. This will help you ensure that the class will teach you everything you need to know about Yoga to teach it.
The Yoga Alliance is the largest association to represent the yoga community. They include more than 7000 Yoga Schools for potential teachers to choose from. The work to foster and support the safe, high quality, accessible, and equitable teaching of yoga.
There is different work that this group can do including:
Celebrating and teaching the different yoga styles
Advocating for self-regulation to keep yoga safe
Providing a worldwide community for those who love yoga.
Encouraging standards to keep yoga safe
Providing tools for yoga teachers to develop professionally
Providing yoga teachers and yoga schools for those who need them.
Always choose a yoga school that is associated with the Yoga Alliance. This will ensure that you are getting the best education and can provide safe and proven methods of yoga to your students.
What Makes Up a Yoga Teacher Training Course?
A yoga training course is a great way for the student to learn more about the art of yoga and how to teach it to others for relief, to feel calmer, and for many other reasons. Taking this course allows the individual to teach yoga in a safe and effective way.
The elements of a yoga teacher training course allows the student to fully understand how yoga works. They include hours in training and practice, ethics and philosophy, anatomy, teaching methods, and hands-on experience so the instructor is ready to teach classes when they are done.
While all yoga classes will be different, for them to meet the standards of the Yoga Alliance, they must breakdown their training the same way:
20 hours of Anatomy and Physiology to help instructors learn about proper alignment.
10 hours of Practicum to allow hands-on practice for all students.
25 hours of Teaching Methodology to allow the student to learn how to teach others the poses.
100 hours of training and practice
30 hours of ethics, lifestyle, and philosophy
The student will need to complete a total of 200 hours before they can become certified. The student or the course can decide how to divide up those hours to ensure the student is ready to take on the new responsibilities in their role.
All students will need to take classes in Anatomy and Physiology before they are able to get their certification, at least 20 hours. The goal of this is to make sure that the instructor not only teaches yoga, but that they make sure their students are doing each pose in the proper alignment at the same time.
This proper alignment is important for several reasons including:
Prevents injury while doing the posses
Promotes progress to providing more strength in the body
Helps with flexibility
It is easy to do these yoga poses the wrong way if the student and the instructor are not careful. With these courses, the instructor will learn what proper posture is for each pose so they can help promote that with their students. There are some great anatomy books for yoga teacher training out there to help guide you through your training.
Philosophy, Lifestyle, and Ethics
Students who wish to get their yoga certificate will also need to take classes in the philosophy, ethics, and lifestyle that comes around the practice of yoga. Yoga is a technique that has been around for a long time, which means that it has a wide and deep span of knowledge you should be familiar.
Before the student is able to properly teach yoga to others, they need to have a full understanding of where yoga began, why the poses are so meaningful, and more about this practice so they can share it with others who would like to learn. Some of the principles taught in these classes include:
A discussion of the history of yoga
The spiritual principles that surround practicing yoga as a religion
How yoga can be useful for secular communities as well
All of these can help deepen the knowledge that a student has about yoga and how it works, allowing them a way to be a better teacher to their student too. The training course they choose for the yoga certification needs to provide 30 hours in this topic.
The next thing that students will need to work with is courses in training and practice. This is a lot of fun because there is so much time that is devoted to this part of the process. With the training and practice, you will be expected to spend 100 hours in class to master it.
These training and practice classes can be pretty intense and will go over a lot of different topics. Some of these topics include:
Meditation
Yoga rituals
Practice of asana
Teaching techniques to help show others how to do the poses.
There are so many different ways to practice yoga and a lot of options when it comes to doing the poses. This section is so long to ensure that the students are able to get as much information as possible and can be prepared to start this new adventure.
Before you can become a yoga instructor, you need to be able to not only learn some of the different poses in yoga, but also gain some experience in how to teach these to other people. That is what this class is all about.
These classes need to take up at least 25 hours of teaching methodology to make sure that you are prepared. You can take more if you need to ensure you are ready to teach your students. Some of the topics that you will learn in this course include:
All the practical aspects of yoga.
How to cue movements
The importance of the right vocal tones
Personal teaching styles that may work for you.
During this time, you can also learn some of the basics that come with running your own yoga business. this can be useful whether you choose to run your own business in the future or you just want to work with another company to teach yoga to others.
To finish out the process, all students will need to complete at least 10 hours of a Practicum. This is a great process that lets you take all of the theory that you learned along the way and put it to good use. This is the hands-on portion of yoga classes.
During this time you will get more of the hands-on practice for:
Leading individuals through yoga
Leading groups
You can learn some of your strengths during this time and figure out what you may need to improve on over time. Sometimes it is hard to know what is going well and what needs some improvement until you actually get a chance to do the work hands-on and this is a great way for the individual to practice.
Students need to go through 200 hours of training and classes before they get their certification. If you count the hours above, you will see that these will put you a little bit short. You will need to divide up the others to get the full hours.
There are different ways that you are able to choose your hours to help complete them. In some yoga certification courses:
The student is able to choose their additional hours, giving them the chance to hone the skills that work the best for you.
The school will pick the additional hours, telling the students which items they will need to pick up.
While many of these hours are going to be included through contact time along with a lead instructor, there will be some that you can complete on your own at home, such as reading or watching instructional videos. It often depends on the type of course that you decide to take.
How Long Does a Yoga Teacher Training Course Take?
There are many types of yoga teacher training programs that you can take, which can add in some variance to the process. Some are all about total immersion so they can take less time to complete, while others fit around your lifestyle more so you can finish them faster.
A full immersion yoga training course will take between 14 to 30 consecutive days to finish. A yoga school or a college program can take between three months to a year to fully complete. There are benefits to both options depending on what you want to learn and how in-depth the classes need to be.
Students in the immersion yoga training must be ready to:
Spend a lot of time in class learning the basics.
Want to start teaching right away rather than learning over a year
Take an in-depth look at yoga and all of its components
The immersion program can be a good option for those who want to jump right into the program and are looking to get their yoga certification as soon as possible. For those who would like to take is slower or who just want this as an add-on to another career choice, the slower college programs can be great options too.
(A few amazing yoga schools to consider checking out are Akasha Yoga School review and Brett Larkin Yoga review!)
A yoga teacher training certificate is a great way to learn more about yoga so you can become properly trained in this type of movement and everything that goes with it. Learning how do all of the techniques and postures will make a difference in how you can teach others to enjoy yoga and all its benefits.