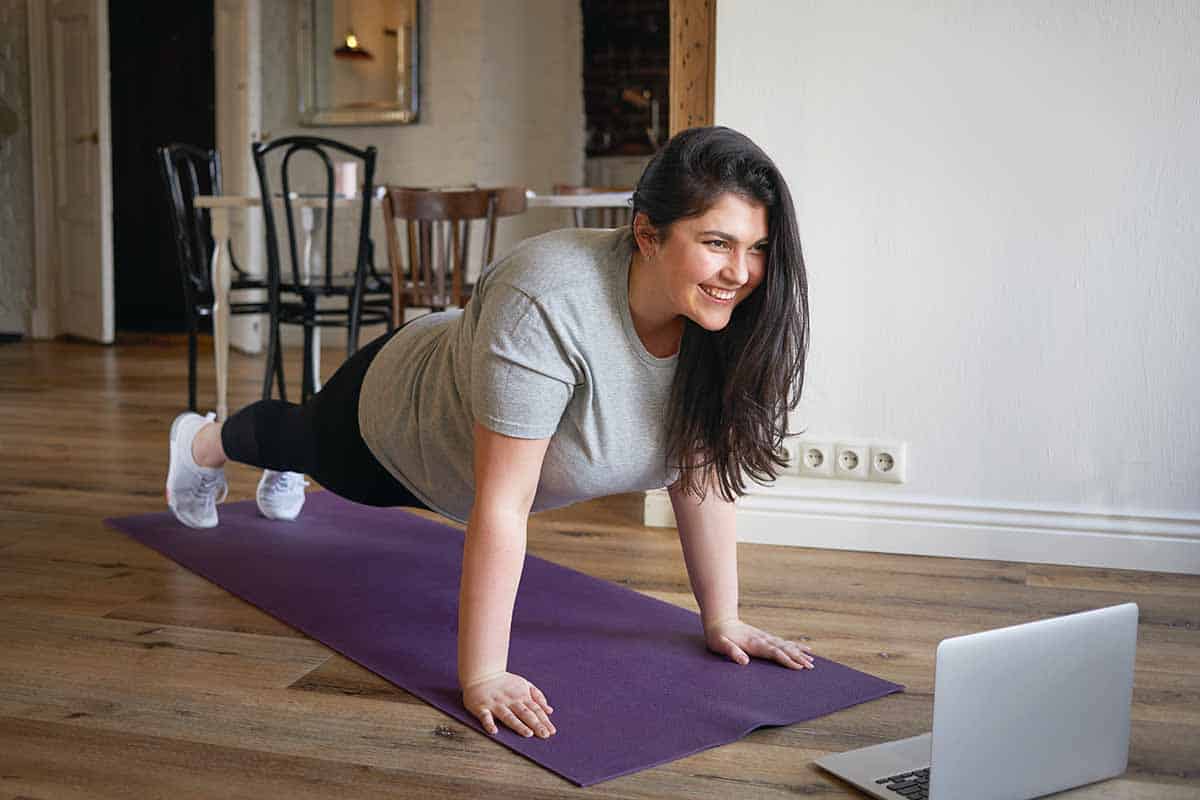 3 Great YouTube Videos to Use for Yoga at Home for Weight Loss
O
ver the past year or so, many people have taken advantage of exercise videos online to lose weight. One of the most popular genres of exercise is yoga. However, it can be tricky to make yoga an effective way to lose weight, especially inside your home. You might wonder if any videos might give you some guidance.
3 Great Youtube Videos to use for yoga at home for weight loss are:
We're here to help you out! There are many yoga YouTube videos out in the world that can help you make your yoga routine an effective weight loss practice every single time. And if you've never done yoga the best part is you can learn yoga at home online! We'll dive into some of the things that come with yoga, as well as the benefits.
Can You Lose Weight by Doing Yoga?
So, can you lose weight by doing yoga? A lot of people seem to think that this exercise regiment is nothing more than a slow, meditative process that lacks any real workout credit. While it does provide meditation in its actions, yoga is difficult enough that it can help you lose weight without a problem.
Yoga can help you lose weight by:
Letting you sleep: Exercise, such as yoga, makes you tired and helps you sleep better. Better sleep means your body can better process food.
Keeping you mindful: Once you start on a yoga routine, you'll find yourself more mindful of the things you eat and do daily.
Burning calories: Yoga involves movement, so you will burn calories depending on the length of time you utilize the exercise.
You have no reason to doubt that yoga is an effective way to lose weight, right along with other exercise styles.
Like any exercise, you lose weight with yoga by being persistent. It takes more than just one workout every three weeks to notice a significant difference in your weight. It also takes a certain style of yoga to effectively lose weight. We'll talk about this next.
Which Yoga is Best for Weight Loss?
If you want to set yoga as your primary weight loss exercise, you need to pick some asanas to help you lose weight the best. Some yoga moves are excellent for stretching your body but not great for losing weight. You want to choose one that will give you the most for the time you put into it.
A few of the most beneficial yoga asanas for weight loss include:
Triangle pose: Triangle pose improves your balance and circulation, which in turn improves the way you digest and process food.
Bridge pose: Bridge pose is a solid way to improve your core. It's also ideal for your glutes.
Plank pose: Plank pose is one of the most effective yoga asanas for weight loss.
All of these are centered around weight loss.
You can always experiment with asanas to see which ones best fit your life. There are a ton of options out there, so you can mix and match to find a routine that works for you. Now, let's dive into some of the best YouTube videos you can watch at home and use for your weight loss journey.
3 Great YouTube Videos to Use for Yoga at Home for Weight Loss
We've talked about yoga and the benefits it has for losing weight. Now, let's five into three of the best Youtube videos that can guide you through a weight loss journey right from the safety and comfort of your home.
The best YouTube videos for yoga weight loss include:
"Yoga for Weight Loss" by Yoga with Adriene
"30-Minute Power Vinyasa Flow" by Alo Yoga
"Total Body Yoga Workout" by Fightmaster Yoga
These have quality instructors, beneficial routines, and tons of effective asanas.
Let's learn about each of these videos together. You can create a yoga routine for yourself, but these YouTube videos will give you a solid guideline that you can follow every day during your weight loss adventure. They're all different in the best ways.
1. Yoga for Weight Loss | Fat Burning Workout | Yoga with Adriene
The first video on our list is by a content creator who operates under the creator name "Yoga with Adriene." She has over ten million subscribers and spends her time creating videos that help people live healthy and satisfying lifestyles through yoga. Her video, "Yoga for Weight Loss," has over 11 million views on YouTube and is one of the best yoga videos out there for weight loss.
In this video, Yoga with Adriene covers techniques such as:
Ab-focused yoga
Endurance
Mindfulness with your core
All of these can help with weight loss in a relaxing manner.
Besides this video, Adriene has many other videos on her channel that you can check out as weight loss options. She makes it easy to take yoga and turn it into something that will make exercising fun and relaxing, all at the same time. Weight loss is simple with this video and the guidance she provides.
What's Great About This Video?
So, what's so great about this video? What makes it stand out from other options available on the internet? There are a few things that make Adriene's video one of the best for yoga weight loss that you can find amongst the hundreds of other options.
Some of the best things about this option include:
Audience support: The comments are all positive, supportive of the workout. It's been proven to work by past viewers.
Reliability: This YouTuber has been around for a long time, so you know they know what they're talking about.
Length: The longer you work out, the more calories you'll burn. This workout is almost forty minutes long.
All of these make "Yoga for Weight Loss" one of the best weight loss yoga videos out there.
This video holds a solid spot in our top three choices for weight-loss yoga videos that exist on the internet. It's been around for a while, but it stands the test of time. Now, let's dive into the next yoga video that we find beneficial for those seeking a simple way to lose weight with this exercise technique.
2. 30-Minute Power Vinyasa Flow with Briohny Smyth | Alo Yoga
Next up is a video by the company Alo Yoga. This workout challenges different parts of your body than the routine by Yoga with Adriene. "30-Minute Power Vinyasa Flow with Briohny Smyth" is a powerful yoga option on YouTube that you can squeeze in during the free moments of your day.
In this video, Briohny Smyth covers techniques such as the following:
Balance
Stamina
Strength
These are sure to kick your body into exercise overdrive.
The Alo Yoga channel is bursting with excellent yoga videos that anyone can take on at home. If you get tired of this particular video, you can try one of the other options that they've posted. But, what makes these videos so great? What makes this video stand out above the rest of the yoga videos on the internet?
What's Great About This Video?
There are a few things that make the "30-Minute Power Vinyasa Flow with Brihony Smyth" stand out above the others. It's a different yoga routine that will make you feel like a powerhouse from the moment you begin the process.
A few of the greatest things about this video include:
Complexity: This routine has an ideal amount of complexity that anyone can handle with a little effort.
Instruction: The instructor gives lots of verbal help during this workout, which can be especially beneficial for beginner yogis.
Difficulty: This routine is one of the more difficult ones out there. It packs a lot into a half-hour.
These all make this video one of the greatest weight loss yoga videos out there.
This video is a little shorter than the Yoga with Adriene option, but it's still powerful nonetheless. You can easily accomplish this complex routine right inside your home, whether it's part of the way you wake up or a way you put yourself to sleep.
3. Total Body Yoga Workout | Fightmaster Yoga
Last but not least is a video by the YouTuber known as Fightmaster Yoga. This quality routine has an excellent flow that will satisfy anyone who loves cohesive workouts. The "Total Body Yoga Workout" routine on YouTube is one of the best they have. There's a lot of good that comes with taking on this routine.
In this video, Fightmaster Yoga takes on techniques such as:
Balance
Stretching
Core strength
These can all benefit your life in so many ways, assisting your weight loss process with ease.
Like the other yoga channels mentioned above, Fightmaster Yoga has lots of options if you want to try something else she offers. There are many excellent ways to lose weight if you decide that this Fightmaster Yoga routine fits the way you like to work out.
What's Great About This Video?
What sets this video apart from all the other yoga videos available on the internet? Is there a reason that Fightmaster Yoga's routine rises above the rest? There are several reasons why this video can help you on your weight loss journey in your home.
A few of the greatest things in this video include:
Constant flow: The exercises flow into each other, making a routine easy to work with no matter where you are inside your house. Your experience level doesn't matter with this routine.
Helpful guidance: There is helpful guidance throughout the video.
Extended time: This workout is long enough to trigger weight loss in your body.
These excellent items make this yoga video rise above the rest in terms of weight loss.
This option is the final choice on this list, and it's distinctly different from the other two we mentioned. Now that you have a better knowledge of the best yoga videos for weight loss at home, you can take action and pick one that will help you the most. The world is your oyster!
There are many yoga videos on youtube you can find depending on what you are looking for such as: easy to follow acro yoga for begginners. Contrary to popular belief, yoga is more than just a stretching technique. You can burn a significant amount of calories with this version of the exercise, along with strengthening your core and improving your balance. The three videos mentioned above are excellent points to start with a yoga routine.
Of course, if none of the options above work for you, there are tons of yoga videos out on the internet that you can filter through and explore. Whatever intensity of exercise you're looking for, there is something out there that might work for you. Yoga is an ideal form of exercise to accomplish right in the comfort of your home at any point in your day.