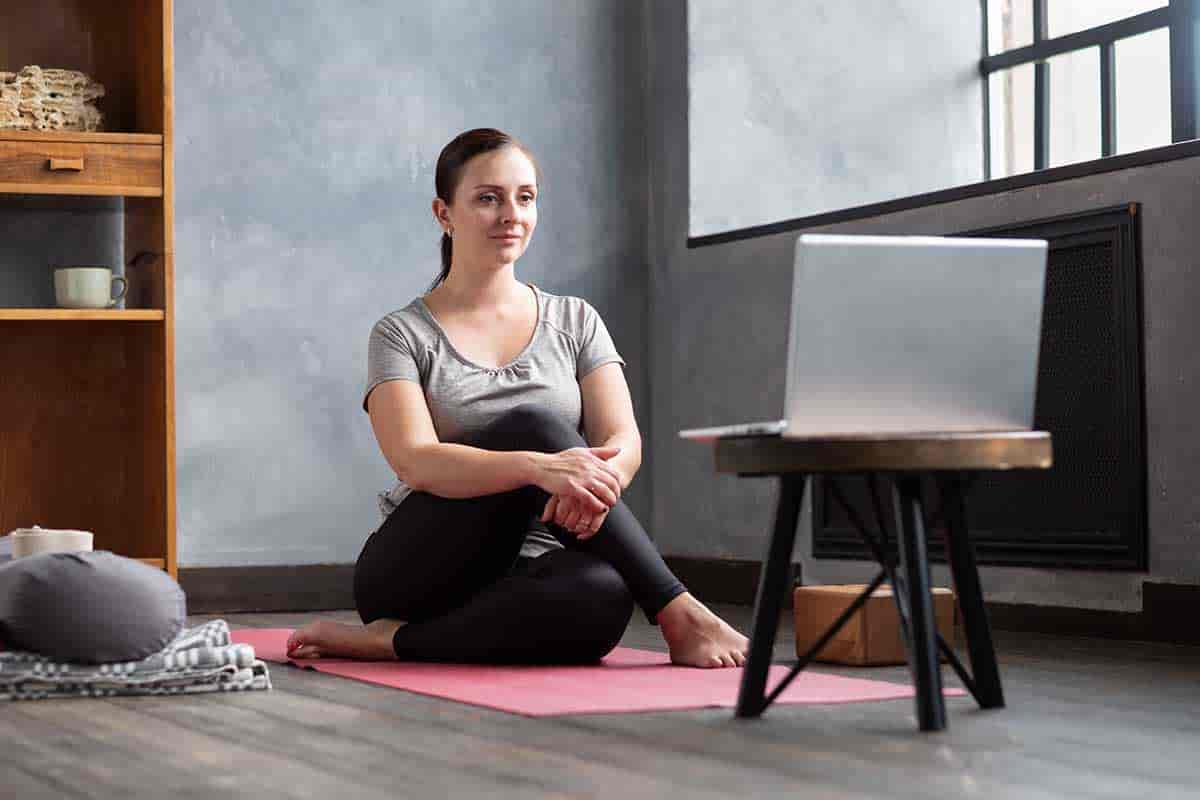 3 Helpful Restorative Yoga YouTube Videos for Beginners
I
f you're looking into starting a restorative yoga practice, studying restorative yoga instructors on YouTube is a good place to start. YouTube tutorials are the best way to get exposure to restorative yoga therapy practices without enrolling in a restorative yoga course.
3 Helpful Restorative Yoga Youtube Videos for Beginners are:
Below you'll find details of the three of the best restorative yoga YouTube instructors along with three of their best yoga tutorials. These gentle yogis can give you a crash course in restorative yoga while also teaching you other sequences and yoga principles that you'll find useful for deepening your practice.
Restorative Yoga is Good for More Than Just Beginners
Restorative yoga is a great yoga choice for beginners. However, this isn't the only demographic of yoga students that can benefit from this subset of yoga. Here are just a few of the other groups who can benefit from restorative yoga other than beginners:
Older adults: Due to decreased flexibility, osteoporosis, and arthritis, seniors may have difficulty with some more advanced yoga types. Restorative yoga focuses more on seated, passive, reclining, and inverted poses. These poses are easier and safer for people with limited mobility to get into comfortably.
Injury recovery: Restorative yoga is a popular exercise used in rehabilitation centers where yoga students are in the process of recovering from physical injury. Restorative yoga poses are easily modified or adapted for people dealing with the aftermath of trauma such as paralysis or other mobility issues.
Addiction recovery: People recovering from substance or alcohol abuse can often feel like their entire physical well-being is thrown off-kilter. Restorative yoga can be a good way for recovering addicts to find balance in their lives again.
Mental health recovery: Restorative yoga can be a positive practice for people who are dealing with the negative effects of mental illness such as chronic stress, anxiety disorders, post-traumatic stress, or clinical depression. Restorative yoga is a good way for mental health patients to develop mental stability and tranquility.
Pain management: People who deal with chronic pain management problems may only receive limited pain relief from medication and other therapies. Regular restorative yoga can help improve circulation and parasympathetic nervous response, which in turn can help alleviate some forms of chronic pain.
Restorative yoga isn't just good for beginners. It's also a good choice for anyone who wants to get into a gentle introduction to the principles of yoga as healing medicine rather than attempting to master advanced poses like headstands.            
How Do I Start Restorative Yoga?
There are several different ways that you can get started with a restorative yoga practice. The Internet has made it easy to introduce yourself to this form of yoga without having access to an in-person yoga school or instructor. Here are a few of the ways that you can get started in a restorative yoga practice:
YouTube videos: Thanks to YouTube, there are tons of free instructional videos that can teach you about all different kinds of yoga, including restorative yoga. While these videos may vary in length and quality, they're a free way you can get some basic information on restorative yoga poses and how to perform them.
Online yoga training: Taking a course through an official yoga school online like the Yoga Alliance can be a good way to get a more in-depth understanding of restorative yoga and how it works. This is the best option if you want to eventually go on to teach yoga to others. Online yoga training can count towards professional yoga certification.
In-person yoga instruction: Attending a yoga school or studio in person is a good way to practice restorative yoga within a yoga community. It's also the best way to deepen your restorative yoga practice by allowing a yoga instructor to correct your form and introduce you to methods you may not run into otherwise.
Yoga is one of the most popular fitness programs that people participate in since it can be easily undertaken at home and with very little equipment.
You'll need to decide how deep you want to get into your yoga studies before you decide to commit to paid lessons in restorative yoga, however. Getting basic information and practice sequences online for free is easy. However, you may need to pay to access more detailed resources and materials.
Can You Teach Yourself Restorative Yoga?
If you don't have access to an in-person yoga instructor, you can easily teach yourself many of the moves used in restorative yoga on your own. There are large numbers of YouTube yoga tutorials and sequences for you to follow along with as you build your yoga practice.
There are some more advanced yoga techniques, such as headstands, that it is safer to perform in a yoga studio with a yoga instructor to help prevent neck and spinal injuries. However, restorative yoga can be performed safely at home on your own since it focuses on gentle seated and reclining yoga poses.
How Much Does It Cost to Learn Restorative Yoga?
By teaching yourself restorative yoga techniques through YouTube videos, you can get a pretty good foundation in restorative yoga for free.
However, if you wish to master restorative yoga to the point you can become certified to teach others, you'll need to invest in a paid yoga course for certification. These courses can be taken either in person as an immersion experience or through non-contact learning in online coursework.
The cost for restorative yoga certification can range from around $150 to $400 or more, depending on the coursework and how many hours of training you commit to.
You also have the option to take yoga classes through a private studio with a yoga instructor. The cost for these classes can vary, but a membership fee to a yoga studio can vary greatly from studio to studio. The average cost for group yoga sessions runs between $10 and $20. Private lessons are more expensive, and can run between $30 and $70. (Source: Lessons)
3 Helpful Restorative Yoga YouTube Videos for Beginners
When you're first getting started with restorative yoga, you might want to stick to free YouTube videos that you can access online.
Luckily, there are plenty of YouTube channels focused on delivering informative, fun yoga lessons directly to your screen at home. Below we'll go through a rundown of the three best yoga resources on YouTube for beginners who want to get into restorative yoga.
Yoga With Adriene with Adriene Mishler is a channel that isn't focused just on restorative yoga, but this yoga instructor and actress has tons of accessible yoga videos available for free that are appropriate for yoga students of all experience levels and abilities.
This yoga channel has hundreds of videos on offer that you can go through at your leisure, so it's a fantastic resource for beginner yoga students who want to get a broad overview of everything that yoga has to offer.
If you're looking specifically for restorative yoga sessions on offer by Yoga with Adriene, there are several videos you can use from this channel to dip your toe in on the subject. Here are a few to check out:
Want an instructor with a calm, easy-to-understand voice and over 500 hours of yoga instruction to draw from? Jessica Richburg is a smart choice. Richburg focuses on holistic approaches to yoga instruction and the mental health principles behind yoga. This holistic focus makes her a great touchstone for a restorative yoga education online.
While Richburg covers yoga sequences for people of all experience levels, she puts extra emphasis on "gentle" yoga that is suitable for beginners.
Here are a few of the best beginner yoga YouTube videos from Jessica Richburg for getting started with restorative yoga:
For a variety of yoga sessions with a concentration on vinyasa and restorative yoga, Richburg is an excellent YouTube resource.
Jessamyn Stanley isn't just a yoga teacher – she's also an Instagram celebrity and an author of the yoga book Every Body Yoga. (Source)
Her focus on body-positive yoga practice has made her a runaway success on YouTube and elsewhere on the Net. Since restorative yoga is a yoga type that is geared towards people of all sizes and abilities, it's a great match for body-positive yoga practices like Stanley's.
Here are a few of Stanley's best yoga videos for beginners to help ease you into a restorative yoga practice:
Jessica Stanley went from knowing nothing about yoga and practicing it in the corner of a 750-square-foot apartment to becoming a master yoga instructor. She's the perfect mascot for beginner yoga students who may be doubting their ability to jump into restorative yoga due to their level of fitness or body shape.
Restorative Yoga is a Healthy Practice for All Students
No matter what your level of yoga experience is, restorative yoga is gentle enough that anyone can join in immediately regardless of their abilities.
Since this yoga type is geared specifically towards those who may be unable to participate in more strenuous forms of yoga, it's one of the most accessible styles to try. Check out some of these restorative yoga YouTube videos and see for yourself!