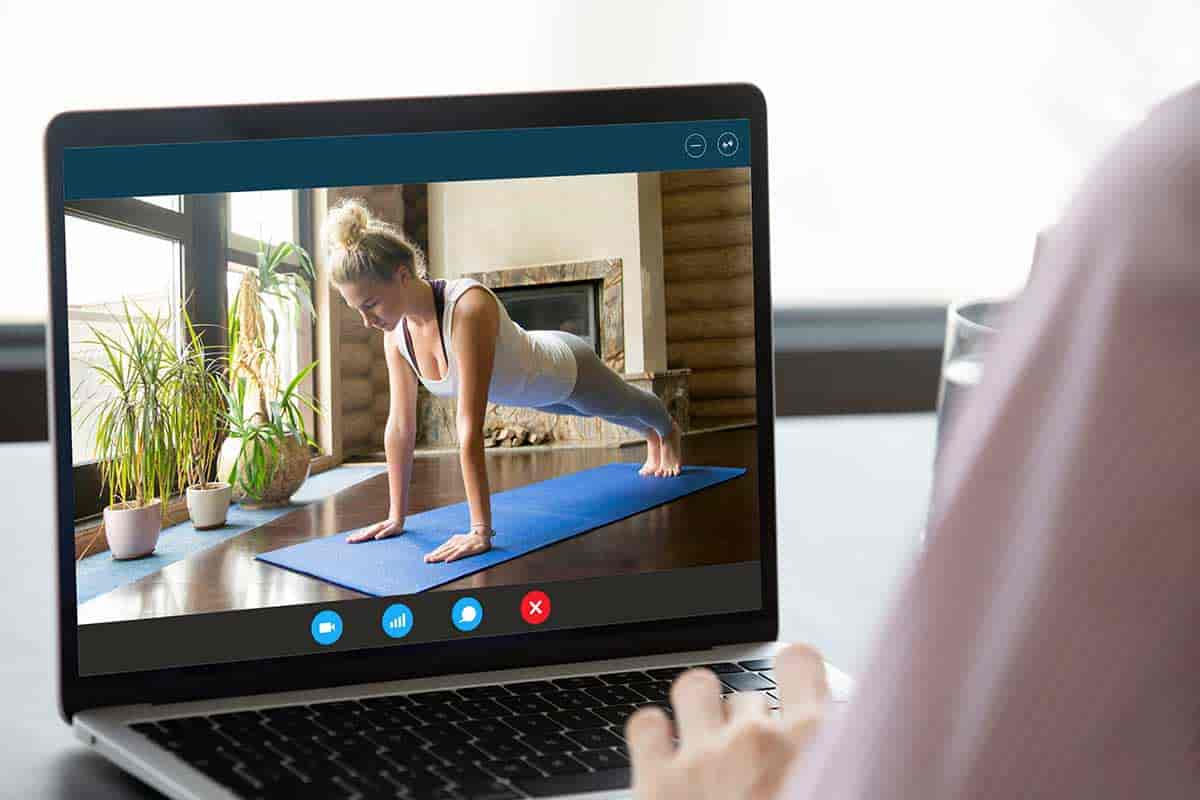 Is online yoga teacher training worth it?
O
ne common question amongst yogis is whether or not to pursue a yoga teacher online training program. Although many people find that online yoga courses are suitable for their needs, taking an instructor course can be very beneficial.
Online yoga teacher training is definitely worth it. Most courses are incredibly affordable and offer indefinite access to materials. Online Yoga teacher training also works with busier schedules.
Read on to discover some of the reasons that make online Yoga training worth it. We will discuss some of the advantages of online yoga teacher training and some of the disadvantages of in-person workshops. These online courses offer plenty of conveniences, but the cost of these programs can vary, so it is essential to do your research before you decide which one is right for you!
5 Reasons Why Online Yoga Teacher Training Is Worth It
Yoga is a great way to relieve stress and get in shape, but it can be challenging to find the time or money for classes. One option is online yoga teacher training courses that offer both convenience and affordability. These online Yoga Teacher training courses offer various benefits to students.
Online yoga instructor courses have many benefits:
They're usually less expensive than traditional: teaching workshops there's no need for travel.
They allow personal access: to expert instruction on demand through the convenience of one's laptop or mobile device 24/hours every day without worrying about time zones and distance limitations.
There are even videos for people: who have trouble reading written instructions or just prefer to soak in yoga knowledge.
Online yoga teacher training is worth it because you can save money and time, get feedback from experts online at your convenience, learn yoga techniques right away without having to wait for a workshop date that may not work with your schedule.
Some of the biggest reasons that make online yoga training worth it include the convenience and accessibility of the courses and what they offer for people with busier than normal schedules.
The Convenience of Online Yoga Training
One of the best parts about online yoga training is that you can do it from the comfort of your own home. Many people enjoy their time at work and don't necessarily feel like they want to go through a rigorous workout right before or after work hours. With an online program, you can study on your schedule so that no matter what else has been going in your day, you have the options to work at your own pace.
You can get certified online, at your own pace, and in the comfort of your home.  This means that you don't have to miss out on any training opportunities or take time off from work during your course. You're also able to develop a personal practice outside of yoga classes if it's not available near where you live.
Online Yoga Teacher Training Is More Interactive and Accessible
The online format gives you personal wellness materials available 24/7, is interactive and engaging and makes learning much more accessible. Online Yoga teacher training can be challenging for some students that rely on in-person techniques but is more likely to provide clarifty in-depth explanations and interactive videos of real-world applications.
Yoga teacher training is more accessible than ever before. This is a wonderful thing for many people because they can now learn to become yoga instructors and teach others about the benefits of this ancient practice.
The accessibility of online yoga teacher training programs has changed the landscape of this career. More and more people are looking into these programs to become certified as yoga instructors. The steps needed for certification in any online program cover more than just how to teach poses on your mat – there is also an emphasis on:
Anatomy
Sequencing principles
Philosophy
Psychology
More people are doing this type of training, which means that competition is not as fierce in getting into one of these programs or finding work after completing them. More students mean higher demand for teachers with different skill sets. It is important that there are teachers for every kind of yoga. Whether it is hatha yoga vs vinyasa or kundalini or any kind of yoga, it is important to have teachers for all of it. This gives those who complete an online program a much better chance at making their way toward fulfilling personal goals.
Online Yoga Training Works with Busy Schedules
If your schedule is super busy, then this may be a good option for you because it offers flexibility in many ways. Studying from anywhere when you are not working is convenient and taking online courses from the comfort of your own home instead of commuting back-and-forth between work and school can help relieve the pressure of a busy schedule.
Online courses offer personalized attention, meaning instructors can give:
One-on-one feedback
Critique videos
Online courses with real-time interactions.
It is possible for a student who works full-time during the day and needs childcare at night to pursue this type of education still if there is online availability – which most online programs do provide! You're also able to develop a personal practice outside of yoga classes if it's not available near where you live.
Online Yoga Teacher Training Gives You Indefinite Access to Materials
Online Yoga teacher training offers access to materials indefinitely, meaning that you can go back and review any online yoga training content you want. Indefinite access to the course materials is a massive benefit for those considering becoming certified as a yoga instructor. The materials that you will gain access to with yoga teacher training include:
Videos
PDFs
Audio Files
If this were not available online, someone would have had to purchase textbooks that can be expensive. Interactive videos help students study their yoga instruction and yogic postures sessions at home. All of your course materials will be accessible anytime, anywhere – just as long as you have an internet connection!
The industry offers a great variety of online courses and specific teachers that can help guide students through their journey and get them on the right track with yoga training. When it comes time for a refresher, you will have all of the materials at your disposal to study all over again.
Online Training Is Provided By Worldly And Knowledgeable Instructors
There are many benefits to doing an online yoga class rather than learning it from a book or attending a traditional center. Online training gives you access to some of the most amazing instructors who are usually available for your every need. These instructors are available to teach from anywhere in the world and often have more experience and knowledge than local instructors.
Yoga instructors can be found through an online yoga teacher training program and are available any time of day or night. This is ideal for a beginner interested in a yoga teaching certification. If you're considering traveling abroad, Yoga instruction may be different in other countries. Online Yoga teacher training will give you an insight into what type of instruction will be expected abroad.
Online yoga teacher courses give you access to different styles and types of classes that might not ever be offered at an individual studio location due to budget constraints. It's excellent because yoga teacher training programs are constantly updating their content with new information and techniques.
Online yoga teacher training offers more than just certificates – it can also provide you with access to forums where you can ask questions and get support from other students, instructors, and experts alike. The instructors are excellent, and they have a lot of knowledge that they pass down to you during the course.
On top of that, most online yoga classes come with videos that you can pause and replay, so it is easier to replay if you miss something when taking notes. Online yoga training works with many different learning styles when compared to traditional in-person learning.
Is Online Yoga Teacher Training Worth The Money
The low cost of online yoga training is one of the most significant upsides, and online training can help you become a better online yoga teacher. The price of online yoga training is much lower than a brick-and-mortar school, which is perfect for those who have tight budgets or limited time to commit.
The Yoga Alliance membership fee of $150 allows for credentialing, giving you the certification to teach yoga outside of this program. The Yoga Alliance provides resources such as insurance coverage, liability protection, and discounts with suppliers like Manduka.
Online courses give students the flexibility they need when balancing family life or other responsibilities while working towards their goals through education. They also allow them to become certified quickly without having to relocate or take time off from work or if you are worried about availability.
If this sounds like something helpful to you, we recommend checking out Yoga Renew's 200-hour certification program. This comprehensive training covers just about every aspect of becoming an instructor. It has everything from anatomy and alignment instructions to teaching techniques for different populations such as children and seniors. To learn all you need for the ryt 200 yoga alliance course, check out that link!
Some Disadvantages of n-Person Yoga Teacher Workshops
Spending money and time booking trips to workshops come as a considerable disadvantage. Yoga instructors or workshops may not be available in your area, so you would have to travel hours or even days for the course. Yoga studios and yoga facilities are often expensive, even if you do live near them.
There is no need to go into debt to attend an expensive workshop when you can take advantage of distance learning yoga training classes. These classes typically include video tutorials covering teaching tips and tricks and meditation techniques. They also come with access to quizzes on each lesson.
Online Yoga training classes and modules are self-paced so that you can work at your own speed. You get feedback on assignments from teachers in the online course community and a mentor who can answer any questions that may come up. There are many benefits to taking an online yoga teacher training course, including:
Learning how to work: with different populations such as children and seniors.
Acquiring knowledge about anatomy: alignment, and sequencing.
Gaining experience: teaching in various settings.
The online format is interactive: and engaging, making learning much more engaging than reading the information in a book by yourself.
The content of these courses is delivered over time so that you can work at your own pace. You will also have access to all the course materials for life-long use. The cost of these programs can vary greatly, so you must do your research before deciding which one is right for you!
(When you are ready to take your yoga teacher training to the next level, make sure you check out 500-hour yoga teacher training online!)