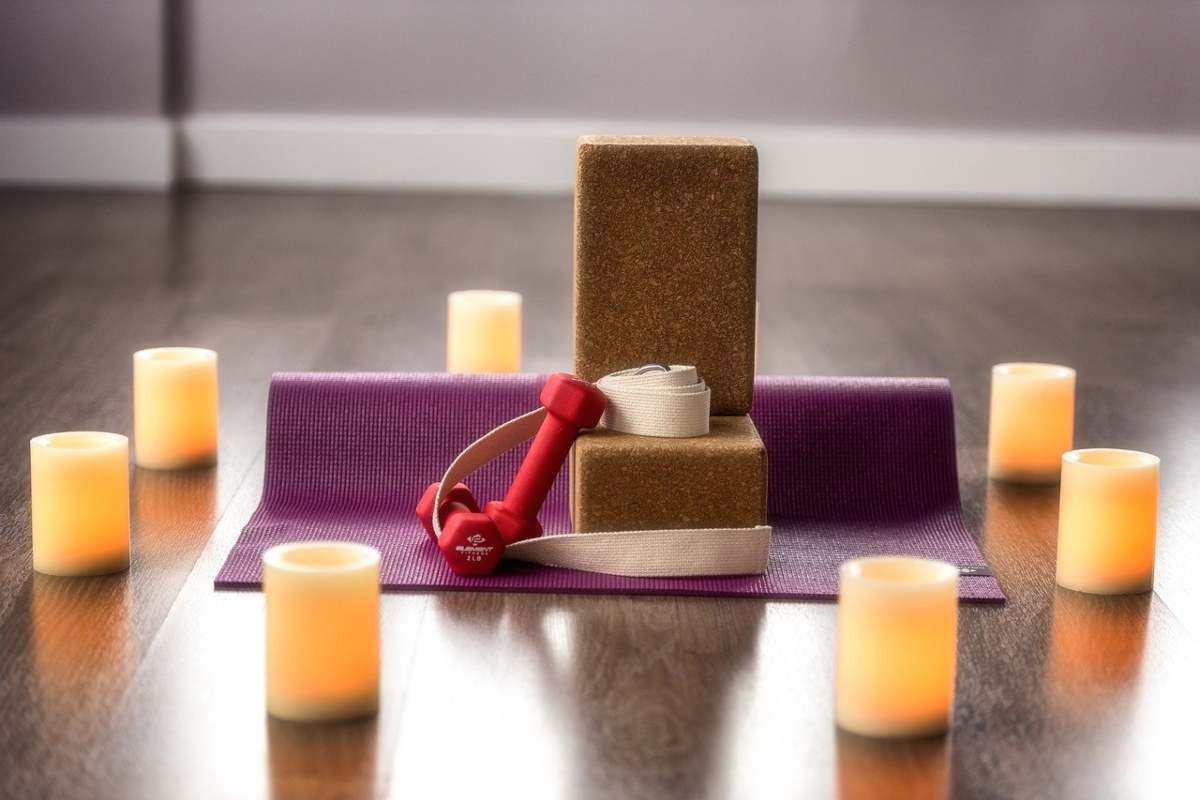 The 5 Best Yoga Blocks on Amazon
Yoga can be an extremely beneficial exercise for people who are seeking some type of mental clarity, attempting to increase their physical level of fitness, or trying to perform injury rehabilitation. To perform these positions better, it can be beneficial to use a yoga block or brick.
Yoga blocks are used to facilitate yoga poses by assisting with alignment and release tension. Many products are currently on the market however, the top-rated corked yoga blocks are:
With many different blocks on the market, it is important to look at the different factors that make up the yoga block and determine what is most important to you. Like most products, yoga block is built for different purposes and thus designed for their specific purpose. A cork block may offer just what you need.
How do I choose a Yoga Block?
There are a few different ways that you should consider when you are looking at a yoga block to find the right one for you. The first thing you might want to learn is what are yoga blocks. Then you can move on to these other things you need to consider:
Stability
Weight
Sustainability
Size
Price
Because uses for a yoga block can vary, you need to look at each category and determine what is best for you.
Take a look at the materials that are used to construct the bock. You want to choose a block that's offering you adequate stability, as you do not end up losing your balance while using the block. Foam blocks are a little flimsier when compared to cork or wooden blocks as such, they may not support your body weight if you intend to stand on the block.
Are you expecting to be traveling from home to a studio for your classes? In this case, you may find that having a lighter weight block is more important to you than if you will be using the block inside. However, blocks that weigh more can make people feel a little bit more secure based on that sturdier feeling.
Is the Block Sustainable?
The next question is, is the block going to be made out of sustainable materials. There are a few different types of blocks that are on the market. These types include two different types of foam blocks, non-toxic foam and recycled foam. Then there is a bamboo block, woodblock, and cork blocks.
Bamboo Block: Bamboo is a fast-growing, easy to be replenished type of wood. It is also hard and sturdy.
Wood Block: Can be made from recycled wood, which makes them typically harder and heavier. Because of the wooden material, they do last longer when looking at the life cycle of the product.
Cork Block: Cork is solid, impermeable, and stable. The cork is stable because it has a surface with natural friction. It is also recyclable. These types of trees can continue to grow, even after the bark has been harvested. In addition, they can also live to be up to 200 years old.
Choosing your material is one of the most important decisions when it comes down to picking a block that is right for you.
What is the Size of the Block?
The most common signs of a yoga block are a 4″ x 6″ x 9″ and 3″ x 6″ x 9″. However, some of the newer blocks are offering four different height settings. The new companies and product lines are offering different heights in hopes that they will match more people's needs and body types. The goal of the varying heights is to fit the person's size and flexibility level to allow for more adjustments on the user's side.
These blocks are handy when you are doing restorative yoga because this particular type of yoga, height, plays a major role.
Designed with people with smaller frames.
Can be used for poses that require space between your thighs.
Can come in handy for restorative yoga to increase height.
Because of their size, these blocks can also be more economical than some of the larger blocks on the market.
(Interested in learning more about Restorative Yoga?  Check out our recommendations for the Best Restorative Yoga Certifications Online)
Four-inch blocks are used for the typical-sized user:
Standard size
Comes in all materials
Most universally used size of a yoga block.
In addition to being the most universally used size, they can be found in basically every yoga studio.
The five-inch blocks can promote more of the deep breathing poses as they encourage you to have a more neutral spine.
Oversized blocks that are good for taller people.
Not restricted to the size of the person. People with a high level of flexibility can be good for them.
These blocks are very stable and normally do not slip when in use.
Why are Cork Yoga Blocks Better?
A cork yoga block may be a little more expensive than a foam block, but it is also a lot eco-friendlier. However, it is more of a natural material and is less expensive when compared to wood. When compared to wood, a cork block is not as smooth and has a flakey type of texture on it. This texture allows for it to be more nonslip, even if the block is wet.
It is common to sweat when you are working out or during a yoga session, but if you are the type of person that sweats more often, then having a cork yoga block could be better for you. The cork material will absorb sweat more effectively than a form yoga block would. This will make it, so it is not slippery while you are trying to use it. On the other side, cork blocks can be a little more difficult to clean.
Cork Blocks Come in One Color
There is no worry about having to match your outfit or mat a cork block is neutral in appearance. Due to only have one neutral option, it makes it so it will match all of your other yoga gear and wardrobe.
Benefits of a Cork Yoga Block
Cork blocks can help a student increase their strength by improving their alignment. This also:
Prevents injury
Alleviates strain
Get the most out of every pose.
Yoga blocks do not need to be used for every pose or flexibility level, but depending on your level, they can have more benefits than someone else.
The 5 Best Yoga Blocks on Amazon
With so many options of different blocks, made out of different materials, sizes, colors, the options are endless. Here is a list of the five best yoga blocks on Amazon right now.
2. JBM Yoga Block Plus Strap with Metal D-Ring Yoga Brick - Best for Beginners
This yoga block is currently rated on Amazon with five stars, with over 1,600 reviews. It is also listed as on Amazon's choices.
This block is a great aid for both beginners and people who need a little help with perfecting their yoga poses.
Durable Quality: Made from eco-friendly cork that provides a soft grip and is slip-resistant.
Clean and Safe: These blocks are non-absorbent.
Big size and Light Weight: Each block weighs 0.38 pounds and is 9″ x 6″ x 4″ in size.
Convenient 2-pack: 2 cork yoga blocks plus a yoga strap is included in this set.
To learn more about yoga blocks for beginners, check out that article!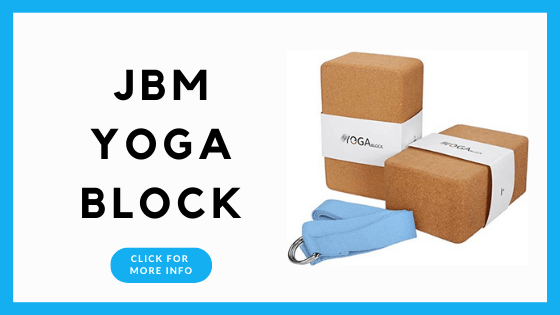 3. Lotuscrafts Yoga Block Cork Supra Grip – Best Quality
This yoga block is currently rated on Amazon with four and a half stars, with over 3,300 reviews. This item is made in Portugal in sustainable and environmentally friendly manufacturing compared to most foam blocks that are made in China.
Non-slip and Easy-Grip Surface: This brick has a soft surface making it easy to grip. The surface can withstand sweat, making it non-slip even during long workouts.
Supports Your Practice: Supports you during your entire workout, even if you need a lift.
Perfect Sizing: This block is a 9″ x 5″ x 3″ brick
Proven Brand Quality: Lotuscrafts is an innovative yoga and meditations brand that supports yoga practices with premium products.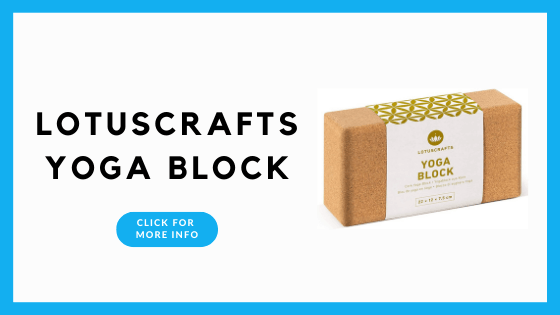 4. Arltb Yoga Block 2 Pack with Yoga Strap- Best for Advanced Users
This yoga block is currently rated on Amazon with four and a half stars and is one of the recommended products by Amazon editors for more advanced users.
This yoga brick is made out of natural wood chips that are recycled into an eco-friendly material through a squeezing, drying, and smoothing process.
Offer Optimal Comfort and Extra Lift: If you have trouble executing a certain pose, this can help provide you with the lift you need and keep you comfortable at the same time.
Extra Yoga Strap: Provides additional comfort and increases the flexibility of your body.
Suitable for Multi Yoga Types: This brickworks with all different types of yoga, such as power, medication, hot, and many more!
Dimensions: This block is a 9″ x 6″ x 4″ brick.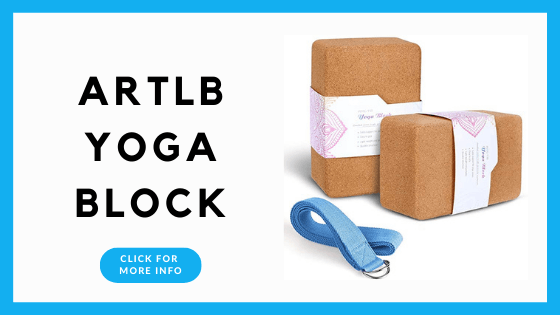 5. Hugger Mugger Cork Yoga Block-Editor's Choice
This yoga block is rated on Amazon with five stars. It is also listed as one of Amazon's choices.
This yoga block is made with a lighter coarse grain than most other blocks making it a little more unique in the material being used.
Design and fit: Made with a no-slip surface with contoured edges to create a sturdier design.
Natural Textures: Using the natural texture of the lighter than coarse-grain cork provides more texture while creating a comfortable surface.
Sustainable production: Natural fibers that have no off-gassing. They use a completely sustainable harvesting process during the manufacturing of this product.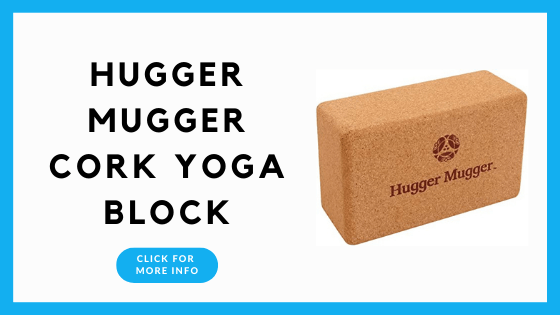 With so many items coming on the market daily, and yoga becoming more and more popular, we are seeing a lot of new products that enter the market. Because of the increase in products, remember to look at your needs and compare the value in which the products themselves have to offer. Be sure to check out more sustainable product lines to get more use out of a single product!
(If you want to learn more about the wonderful art of yoga, you may want to read some literature about it. We even have some of the best yoga books for beginners in that link!)