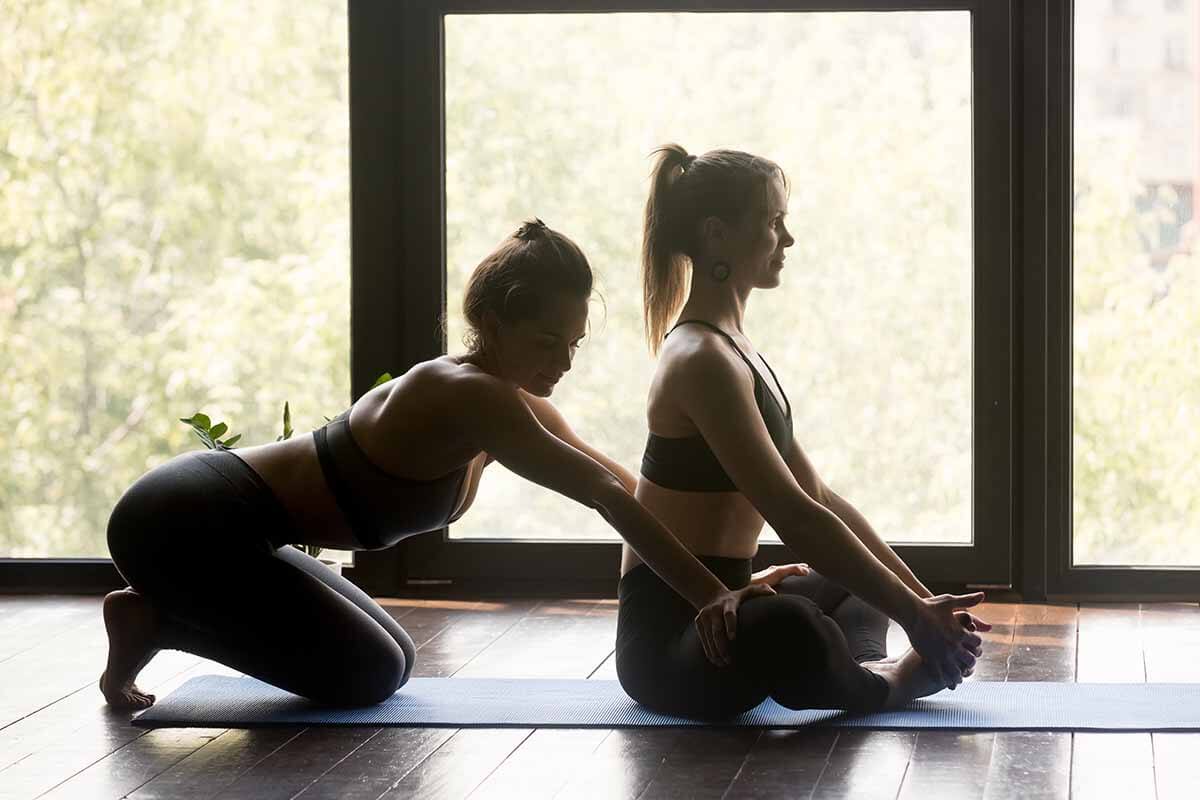 3 Tips for Your Journey Towards Becoming a Certified Yoga Therapist
Y
oga is well known for being an ancient practice which seeks to unify the mind, body and soul. It focuses on deep breathing, meditation and physical exercises which build strength and flexibility. The teachings and benefits of yoga can be very beneficial and therapeutic. You can improve your fitness level and also achieve wellbeing from learning the principles and philosophies of yoga. Many people seek yoga practice for various reasons from weight loss to stress management. But, for those you can't practice regular forms of yoga, yoga therapy is an option to consider.
Yoga therapy uses specific aspects, techniques and practices of yoga to treat a particular ailment or health condition that a person may be facing. It's a holistic approach to helping patients manage chronic pain, recover from injuries and assist in mental therapy. Instead of teaching a client how to do yoga poses and progress to advanced postures, yoga therapy combines the poses that are most beneficial to the client in addition to other holistic methods for treatment. Yoga therapy requires knowledge of the symptoms, side effects and other discomforts due to illness or medical procedures. With this knowledge, a certified yoga therapist will know what type of yoga therapy a patient will need according to their ailment.
How do I Become A Certified Yoga Therapist?
If you want to start your journey towards becoming you must qualify to enroll into an accredited course or program in Yoga Therapy.
The typical application requirements include the following:
Yoga teaching certification (at least 200 hours and upwards of yoga teacher training)
At least one year of experience in teaching yoga
A minimum of one year of regular personal practice
In other words, you should have a solid foundation in yoga before aspiring to become a certified yoga therapist. This means that you need to train in yoga at an advanced level, complete yoga teacher training and be well versed in all aspects of yoga. (Check out these things to know before yoga teacher training!)
Yoga therapy is also a broad field. For instance, you can find a yoga therapist in a hospital. Yoga therapists are qualified to work with cancer patients to help them cope with side effects of treatment. Some may also be specialized to work with elderly patients to treat chronic pain or mobility issues. Before signing up to study, you can think about the setting in which you would like to practice. You can also pursue a private practice and help others with making healthy lifestyle changes and introduce holistic methods and remedies to treat ailments.
How Long Does It Take to Become a Yoga Therapist?
The duration of yoga therapy training certification may vary, depending on the program you intend to choose. Keep in mind that you also need to factor in how long it takes to become a yoga instructor (minimum 200 hours) and that you must complete this stage before pursuing yoga therapy certification.
Basic certification courses may require at least 800 hours of yoga therapy study. Yoga Therapy diploma courses usually span a year and a half to two years of study and training. You can also seek more in-depth study by completing a Bachelors or Masters in yoga therapy. You may also have to complete practical training or internships to improve your mastery and knowledge in the field while building and expanding your qualifications. Once you have a lot of experience under your belt with teaching yoga professionally, you may even be eligible to fast track some of your advanced study programs.
Because yoga therapy is intertwined with conventional medicine and an understanding of human anatomy and health conditions, there is plenty of material to cover. Some yoga therapists also become certified in Ayurveda and other holistic medicine philosophies and methods. If yoga and yoga therapy is a passion of yours, you can expect to dedicate several years to practice and study to achieve the necessary certifications.
One of the many benefits of yoga therapy training online is that you can work at your own pace. It works great for those with a busy schedule or even those that just want to take it slowly!
Can You Get Certified as a Yoga Therapist Online?
You can effectively become certified online to become a yoga therapist. In the past, yoga therapy classes would have been face to face, like any regular academic program. Students would have experienced in person tutoring, practical exercises and assessments. However, with the ongoing Covid- 19 pandemic, studying online also provides a safe option in addition to be convenient. Instead of traveling out of the country, you can access a yoga therapy online program from your home, anywhere in the world.
With this in mind, many yoga teachers and yoga therapists can operate via online platforms to reach clients, teach and treat patients. Online access has essentially opened a world of possibilities despite the current pandemic. You can expand your services to potential clients across the country or even abroad.
Before you click "add to cart", make sure that the online courses are fully accredited. This means that they must be recognized and approved by an upstanding and established institute of yoga and education such as IAYT (The International Association of Yoga Therapists). They should also be recognized globally because this is important for legitimate practice and licensing. Avoid being scammed by doing your research to find a well-established online program from a reliable source. 
3 Tips for Your Journey Towards Becoming a Certified Yoga Therapist
Tip 1: Make Sure It's Something You Love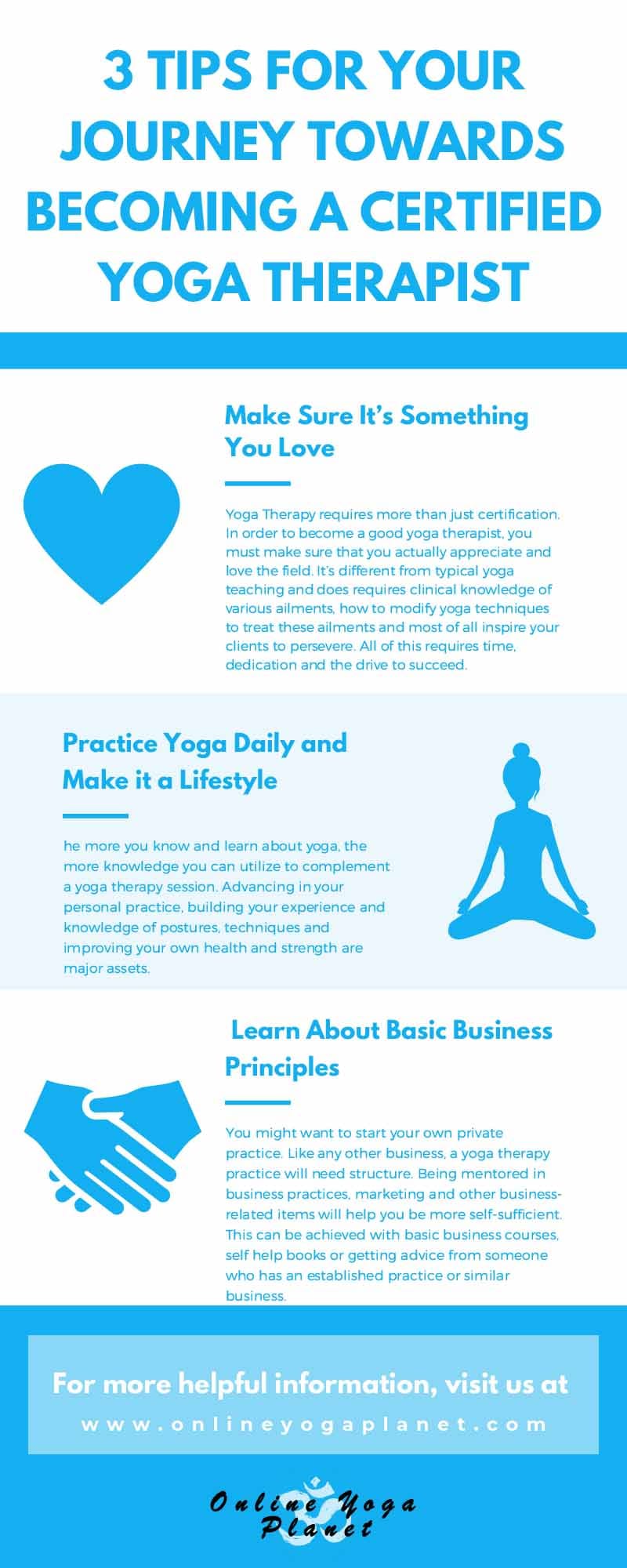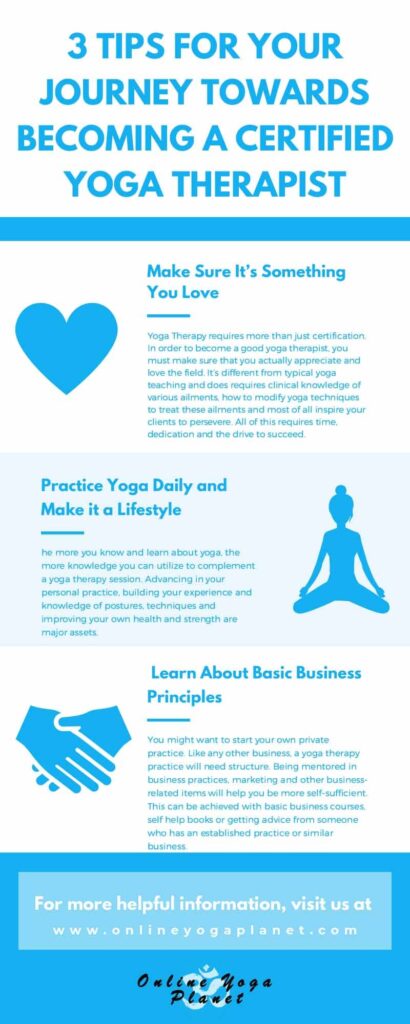 Yoga Therapy requires more than just certification. In order to become a good yoga therapist, you must make sure that you actually appreciate and love the field. It's different from typical yoga teaching and does requires clinical knowledge of various ailments, how to modify yoga techniques to treat these ailments and most of all inspire your clients to persevere. All of this requires time, dedication and the drive to succeed. These things are more fulfilling when you have an inert passion and ambition to help others with your skills and talents in the field. There is also a level of empathy and compassion involved towards others, especially people who are ill and the elderly. You must be patient, understanding and willing to try your best to help your clients, even when they feel hopeless and helpless.
If you aren't already a yoga teacher, make sure that you actually enjoy yoga before taking the necessary steps to become certified as teacher first. Then, you can look into moving on to yoga therapy. Most yoga therapists started off as students in a yoga class, curious to see what the fuss was about. For many, it resonated with them and therefore inspired them to want to teach yoga and help others unlock the harmony and self-discovery that yoga can bring. If you fall into this category and have a dream to use yoga to help others heal and enjoy a better quality of life, then yoga therapy can be a career pathway to embark on.
Tip 2: Practice Yoga Daily and Make it a Lifestyle
The more you know and learn about yoga, the more knowledge you can utilize to complement a yoga therapy session. Advancing in your personal practice, building your experience and knowledge of postures, techniques and improving your own health and strength are major assets. This is especially important if you are new to whole experience and still finding your footing in your yoga practice. It will help to gain a deeper understanding of what yoga means to you, how it affects your lifestyle, the benefits and the joy of sharing your love for yoga with other like-minded people. Keep up a regular routine by frequently attending yoga sessions or practice at home.
You also want to be a pillar of knowledge, confidence and strength for your clients to know that they are in good hands. Broadening your experience, living a healthy lifestyle and expanding your expertise in medical conditions will help you to be a well-grounded and reliable yoga therapist. This will also help you to maintain a drive to learn new things which will help you grow as a professional and become an expert in your field as time progresses.
Tip 3: Learn About Basic Business Principles
You may start off your yoga therapy career working or interning in a health care environment, rehab center or gym. However, as you progress, you may eventually want to start your own private practice. Like any other business, a yoga therapy practice will need structure. Learning or being mentored in business practices, marketing and other business-related items will help you be more self-sufficient. This can be achieved with basic business courses, self help books or getting advice from someone who has an established practice or similar business.
There are many protocols and steps in starting a business such as:
Registration
Licensing
Finding an appropriate location for a studio
Setting up and purchasing relevant equipment
Balancing and managing your client base
Managing your finances
Advertising
For someone diving into the deep end and going out on their own to start a private practice, it can be a little intimidating and confusing. It can even cause some anxiety. To avoid feeling too overwhelmed, prepare yourself by learning as much as you can on the business front. This will help to be better equipped to start up and manage your own business. Start with the basics first and work your way up to acquiring more expertise. As your business grows, you can aspire to hire help so that you can focus solely on your clients and their needs.
There are many yoga instructors but only a few yoga therapists at any given location. Yoga therapy is a growing field which involves collaboration with the medical faculty. For this reason, it is a lot more intensive and requires a lot of focus and study. However, if you are truly passionate about helping others it is certainly worth the time and effort it takes to complete certification. Not only will you learn more about your own body and health but you also garner enough knowledge to effectively alleviate someone else's pain, discomfort, physical and mental struggles. This in itself can bring a sense of fulfillment and satisfaction knowing that you have impacted someone's life, for the better. Therapy in all its forms is beneficial for both body and mind. Yoga therapy combines all the aspects of yoga with healing and restoration. If you are a yoga teacher who feels inspired to do more for people around you, yoga therapy certification is definitely the next step to take to advance your practice!