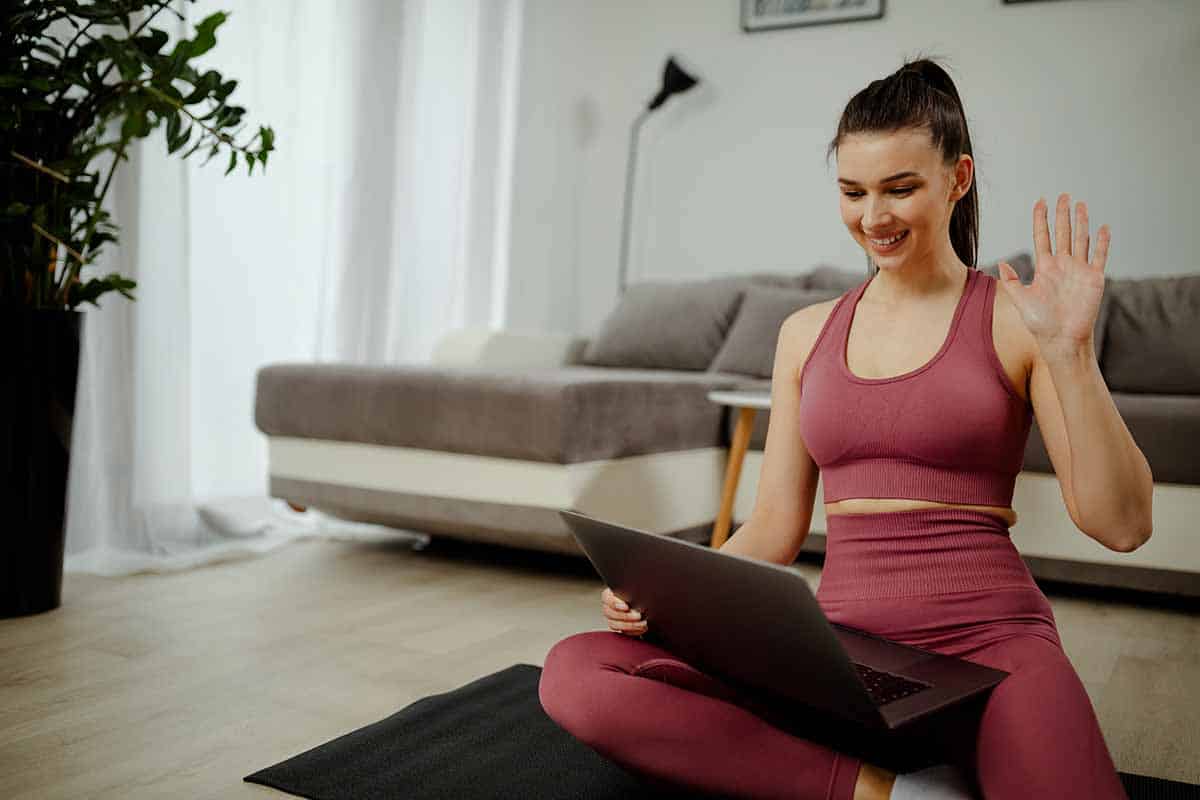 10 Tips to Stick with Yoga Teacher Training Online
B
eing a yoga teacher is a rewarding and fun job, but learning how to be one can be frustrating. Learning in an online setting can be even more of a let-down, and it is all too easy to give up. It can be tricky to find tips online that will help you stick with your training.
Yoga teacher training takes a lot of time and energy, making it hard to stick with for many. However, there are a few tricks to making it work, like finding an accountability partner or setting goals, just to name a few.
Keep on reading to learn a few of the tips we think will help you stick with your yoga teacher training. You can use these if you are in the middle of learning or preparing to start. You can even use it to motivate yourself to start over again.
How Can You Do Yoga Teacher Training Online?
Before we can get into the tips, you should know how you can receive training to become a yoga instructor online. You may not have even heard of this method of education before.
There are many ways to get certified online. Courses that are available to you will:
Provide flexible hours as you learn
Give you quality information that will help you become a great instructor
Demonstrate exercises that you should know
Leave you with certification at the end of the class, which you can use to start your own class and make a business for yourself
These courses often charge a small fee, which will pay for itself if you can turn the certification into a job. They all vary in cost, so you must find one that will work for you.
The best thing about yoga teacher training online is that you can do it from anywhere. You can even work a side job while you are becoming certified. There is no right way to go about getting your certificate.
What's the Best Yoga Teacher Training Online?
There are a ton of yoga teacher training courses to choose from. It can be hard to decipher which ones are good. You don't want to waste your money on one that will leave you frustrated and confused.
The best yoga teacher training courses online include:
Brett Larkin Uplifted
We will talk about these a little bit more to know what they offer and how much they cost.
If you don't want to stress yourself out with research, rest assured that picking one of these will give you exactly what you need. They are quality training courses that produce yoga instructors who know what they are doing.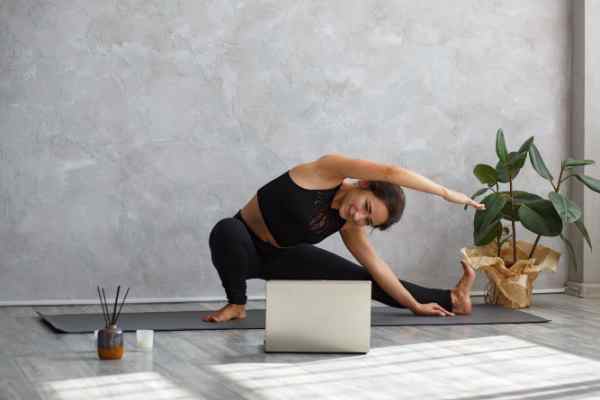 My Vinyasa Practice is a yoga studio that offers online yoga teacher training courses. Besides offering various discounts on their training, this studio also gives you a choice on the length that you want for your training. You can pick from 200 hours, 300 hours, and 500 hours.
This studio's course also offers:
Self-paced learning
Training that will serve you well as a yoga instructor
Recorded practices
Worksheets
Guided meditation
This isn't even everything that comes with this course. It's incredibly extensive, and you don't need to rush through it like many other varieties.
The 200-hour course will run you around $750, but My Vinyasa Practice has discounts that can get it down closer to $400. That's a great deal for so much information and kind people. They're easily the best yoga instructor course available online.
Brett Larkin Uplifted also offers three-time variations of yoga teacher training. They even provide training for those who want to learn Kundalini. This Kundalini yoga teacher training focuses on the individual. It doesn't matter if you are a beginner or experienced. They will work with you to give you the most for your money.
This studio's course offers:
Training from an award-winning yoga instructor
Quality video content
Weekly calls
A 600-page paper manual
An intimate, live experience
Access to the content forever, from anywhere
Brett Larkin Uplifted is neat because it provides a personal experience. The goal is to tailor the class to you rather than forcing you to conform to the class. This is a rare experience for a yoga instructor course in an online setting.
The 200-hour course will cost you about $2850. This might seem like a steep price, but it is relatively reasonable for the personal commitment they have to you. Everything is in-person and personal. This is not a self-guided class. If you're seeking a teacher who cares, pick Brett Larkin Uplifted for your training.
Sticking with Your Plan to Pursue Certification Online
It may seem easy to stick with your yoga teacher training initially, but many find that it gets harder and harder over time. Life can get in the way of your goal to achieve higher learning.
Items that might prevent you from completing your certification include:
Stressful moments that distract you from the class
Sudden changes that can alter the course of your life
General distractions, such as the internet and other forms of digital entertainment
Quitting is all too easy, which is bad if you would like to become a yoga instructor. Persistence is key, but how are you supposed to be persistent when there are so many things that can get in your way? Many students will stop before they have ever really started their journey. We'll talk about some solutions for this problem that might help you in your studies.
10 Tips to Help Stick with Yoga Teacher Training Online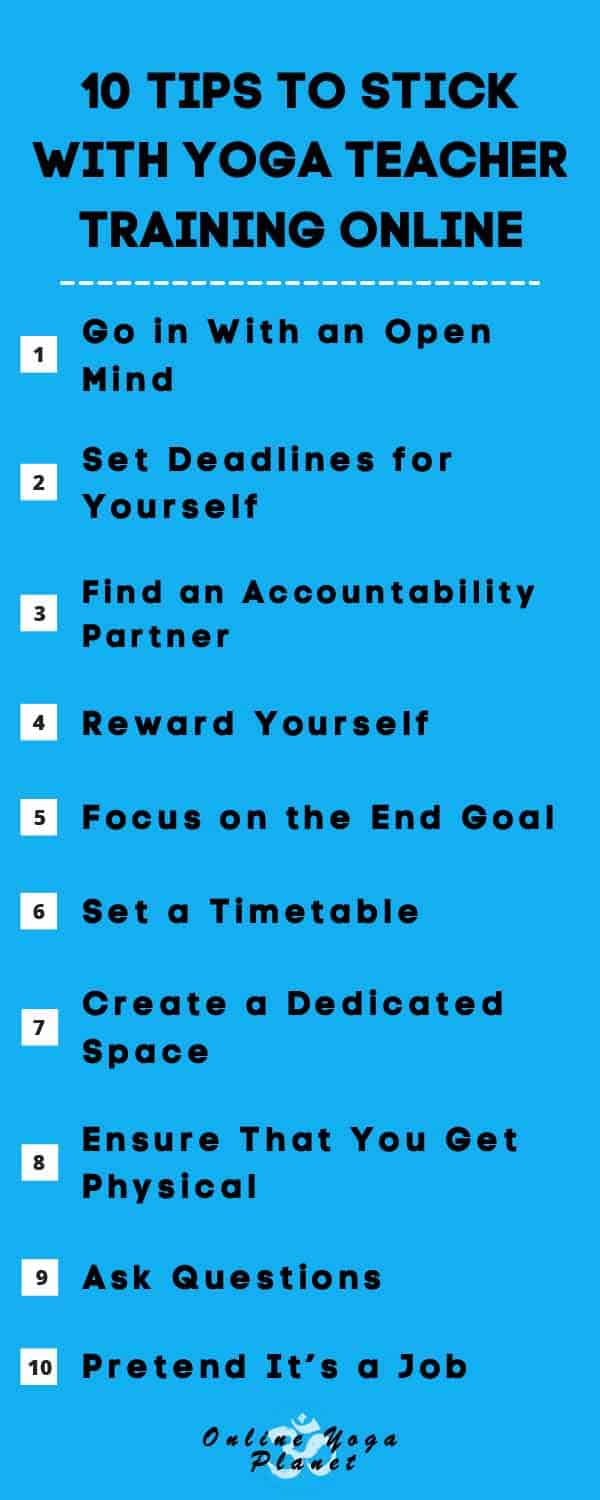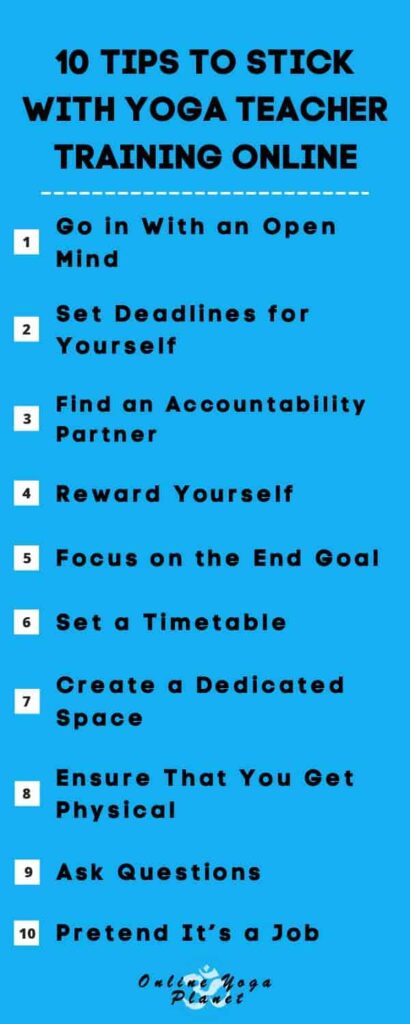 There are some actions that you can take to boost your commitment to yoga teacher training. It may seem tricky at times, but it is not impossible.
We will go over ten tips that can assist you in sticking with your plan. By using these, you will have your certification in no time at all. Hopefully, these will carry you far as you begin this new adventure in your life.
Go in With an Open Mind
With an online course, you must go in with an open mind. Don't set any expectations, and be prepared to experience things that you might not be ready for. Be open to any online yoga business ideas that come your way.
Having an open mind means that you:
Will be able to adapt to changes
Will not be let down
Will be able to learn better
An open mind will keep you motivated and excited to learn. Be ready for anything when you begin your course, and you will be more likely to stick to it.
Set Deadlines for Yourself
If you are taking a self-paced course, you will need to set deadlines for yourself. They will keep you on track and ensure that you do not miss out on anything critical.
You can set deadlines in terms of:
A date that you want your work done by
A time that you want your work done
Make sure that your deadlines are reasonable. An unreasonable deadline is sure to drive you away from finishing the course. There's no point in pushing yourself past what is necessary.
Find an Accountability Partner
If you can find someone who will hold you accountable, you are more likely to finish your course. They will keep you on track and make sure that you don't give up. In turn, you should do the same for them.
An accountability partner can be someone from your class or someone you know who likes yoga. A person from your class is best because you have similar timelines. They understand what you are doing and will work through it with you.
Rewards have a positive effect on the brain. They will drive you through your course, no matter how tough it becomes. You can reward yourself as you move through the class.
Some rewards could include:
A coffee after a hard day of class
A day at the beach on your weekend off
A piece of chocolate during a break
You're working hard. Give yourself rewards so that you have positive associations with the course.
You are trying to be a yoga instructor. You must focus on that so that you don't get discouraged by what it takes to get there.
You can even write your goal on paper and stick it on your wall. That way, you can see it every single day when you get up in the morning.
As with deadlines, a timetable will help you to plan out what you need to do. Being organized will keep you from getting overwhelmed and quitting due to stress.
A timetable can be created on your computer or a calendar. Keep it where you can see it and add to it as necessary.
Having a dedicated space where you take your course will allow you to prepare a mindset for the class. Association is critical. You should not combine the space where you relax with the space where you learn.
You can make this space:
In a corner of your living room
Inside a walk-in closet
In your garage
Make it yours. Not only will it make the space special, but hopefully, it will make you excited to move to your space every single day.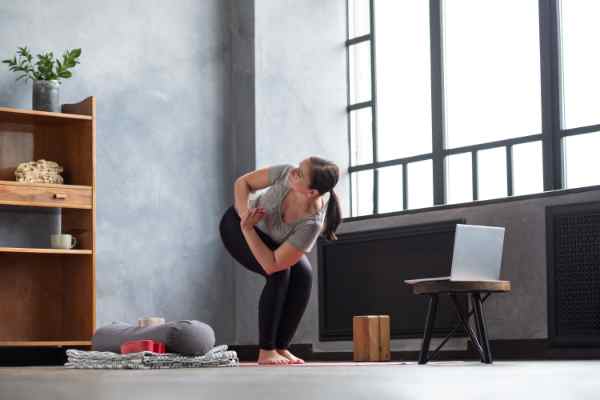 Ensure That You Get Physical
You are going to be a yoga instructor. You shouldn't spend all your time reading books or studying pamphlets. Daily, you should put the yoga skills that you learn into action.
By using physicality to learn, your body will become more comfortable with the course. You will gain a better understanding of what you are learning.
Many stop a course because they get confused. If this is you, there is a solution. You can ask questions. While this might seem terrifying, it's necessary if you want to succeed.
Asking questions can:
Give you a better understanding of the material
Make you more confident
Ease frustration
You need to do this if you don't know what's going on. Quitting something with an easy solution because you're afraid it should not happen. It can be hard to be confident, but the future of your career as a yoga instructor depends on it.
One tip that might help you become serious about your class is pretending that it is a job. You can't abandon a job without losing benefits and a source of income. If you treat your course like it is a job, you might be more motivated to stick with it.
This tip depends on your mindset. You need to be driven enough to treat an unpaid training like a job that pays you well. It might work for you, and it might not. It is worth a shot if you need advice.
Yoga teacher training online can be a hard thing to do. It might seem simple to stick with, especially since it can be done from anywhere. This is not always the case with the distractions we face in our lives.
These ten tips should help you stick with your course no matter what is going on. You will be able to become a certified yoga instructor without stopping your education for any reason.