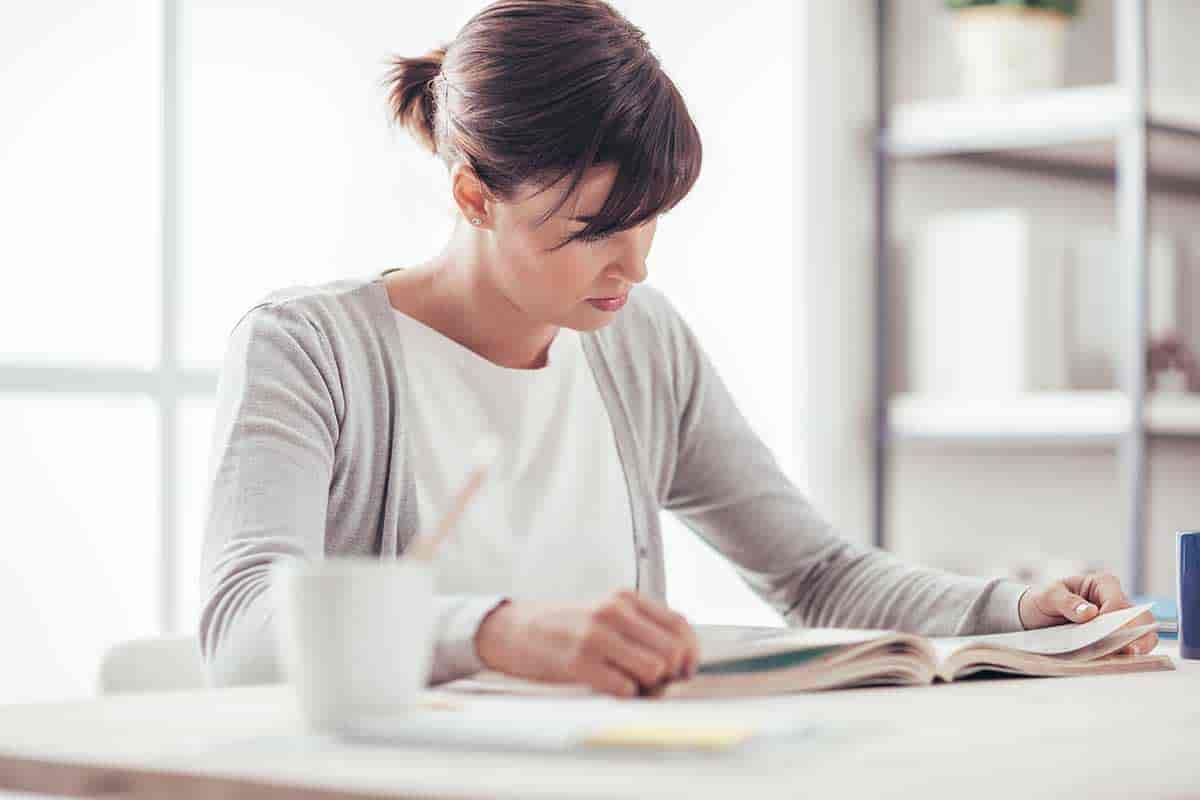 The 3 Best Anatomy Books for Yoga Teacher Training
T
raining to be a certified yogi or yoga teacher is a daunting task that is equally physically demanding as it is mentally. Not only must you perfect your skills on the mat, but you also have to study rigorous course content.
One significant component of yoga teacher training is having a firm grasp of human anatomy so your sessions are safe and effective. Anatomy books are vital in any yoga instructor's library as they discuss the relationship between yoga and anatomy.
The 3 Best Anatomy Books for Yoga Teacher Training are:
This article will discuss three of the best anatomy books for yoga teacher training. Of course, we'll also explain why these are the most renowned and reliable sources for understanding the relationship between anatomy and yoga. If you read to the end, we'll throw in a surprise fourth yoga anatomy book that will take learning to a new and more interactive level.
Examples of Things Learned About Yoga Anatomy for YTT
Yoga and anatomy are both vast studies to learn in their own right, let alone understanding how these fields are interconnected. Before receiving their official yoga teacher certification, students must have extensive knowledge of the human anatomy, what body parts are affected during a yoga session, and what this means for the user, all discussed in yoga anatomy books and classes.
However, most yoga anatomy resources will delve much deeper into this topic and teach lessons such as:
Major movements of the body
Major movements of bones, muscles, and joints (ex. hips, shoulders, spine, wrist, elbow, hand)
Muscles in action in essential yoga asanas
Safe and risky alignments
Loose & Dense Connective Tissue
Cells, Fibroblasts, and Myofiberblasts
Hydraulics
The nervous system
The digestive system
The endocrine system
The cardiovascular system
The respiratory system
While this list might seem extensive, it is far from all-encompassing. Every yoga anatomy class and book will find its niches to focus on, but, for the most part, yoga teachers in training can expect the topics above to be discussed to at least some degree.
Essentially, they are expected to learn about the body's most significant functions and how these functions and their natural mobility relate to yoga. This will allow them to create sessions that safely push their students without exceeding their physical limits and risking injury. It can also help them extend their learning to other areas, such as yoga medicine (ex., how to use yoga to heal or manage chronic pain).
If you want to learn more about anatomy and a great course you can take… You should check out the David Keil Yoga Anatomy Review!
Why These Are the Best Yoga Anatomy Books
In the vast selection of yoga anatomy books, it might seem near impossible that we were able to pick three that we claim with confidence are some of the best options available for any yoga teacher's training. While the task wasn't impossible, it certainly wasn't easy.
We could choose the three books listed below by comparing a wide range of similar works and selecting those that best suited our criteria. The main components these books had to have were:
High ratings from readers
Praise-worthy reviews from legitimate experts in both fields of yoga and anatomy
Comprehensive coverage of yoga anatomy with a significant number of topics
Appearances in yoga anatomy class curriculums
Accurate and up-to-date content
Of the books we researched and considered, the listed below met and exceeded these criteria, rendering them optimal resources for yogi students.
If you are not a reader, that's completely fine. Many other options exist, like the best yoga YouTube videos or online yoga and meditation classes.
The 3 Best Anatomy Books for Yoga Teacher Training
Whether you're studying to be a yoga teacher on your own and want a few books to get started, or you're looking into an online or in-person yoga teacher training certification course, we guarantee these three books will teach you everything you need to know about yoga anatomy and will very likely make an appearance in your course curriculum.
While each of these books will approach teaching yoga anatomy slightly differently, they are of equal standing in terms of their content quality, readability, and relevance. However, if you have a specific yoga-related interest while learning about anatomy (e.g., yoga therapy or medical yoga), one of these books might relate to your ambition more than the others.
Below, we've described each book briefly so you know exactly what to expect, how the contents will benefit you, and where to go from here. This can also help you decide which books align with your training best if you had to choose just one.  
1. Functional Anatomy of Yoga: A Guide for Practitioners and Teachers by David Keil
One of the best ways to get your feet wet with the immensely dense topic of yoga anatomy is through David Keil's Functional Anatomy of Yoga: A Guide for Practitioners and Teachers.
We wouldn't blame you for being wary about getting into the sciences of yoga anatomy, considering a vast majority of science books are written in dry tones using excessively advanced language that leaves people reading the dictionary as much as the book.
Thankfully, this book is a breath of fresh air as it provides all the essential lessons of the functional anatomy of yoga in a conversational tone that is interesting, easy to follow, and paired with stunningly helpful visuals.
Readers will learn exactly how everything in the body is connected and what this means for your body when performing all yoga movements, poses, and asanas, from Bakasana to Prasarita to Baddha Konasana and beyond.
If you're curious why the author's name rings a bell, you might have heard of a little website he founded called Yoga Anatomy. This website is dedicated to teaching yoga anatomy courses online for students worldwide, so Keil is undoubtedly an expert now at educating and inspiring yoga teachers in training about the topic.
He was also a kinesiology instructor at Miami's Educating Hands School of Massage from 1999 to 2003, which provided ample experience that served him well when writing this book that students will no doubt read cover to cover more than once.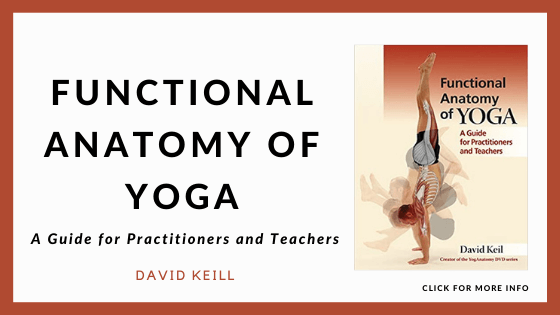 2. Science of Yoga: Understand the Anatomy and Physiology to Perfect Your Practice by Ann Swanson
Our next highly recommended yoga anatomy book for yoga teachers in training is Science of Yoga: Understand the Anatomy and Physiology to Perfect Your Practice by Ann Swanson.
Swanson is a certified yoga therapist and founder of Ann Swanson Wellness, where she mentors students of all levels in yoga therapy, paying particular attention to using yoga for pain relief and wellness for arthritis. These values carry over into her book, where Swanson discusses why understanding anatomy is vital for keeping students safe, preventing injuries, and even reducing pain.
In Science of Yoga, students will learn valuable lessons, such as how the spine, breathing, and body position are all fundamentally linked and how specific muscles respond to the movements of the joints. They'll also learn how pose alterations can enhance or reduce effectiveness and how to gauge a person's limits during a session as indicated by their anatomy.
Accessibility is one of the most significant benefits of this book, as it is written so that yogis of all levels can understand without the language inhibiting content. Many annotated artworks easily depict the body's anatomical mechanics and angles and how your blood flow and respiration are affected.
Overall, Swanson's work is a colorful and easy way to start your yoga anatomy journey and will likely be a book yogis in training refer to repeatedly throughout their careers.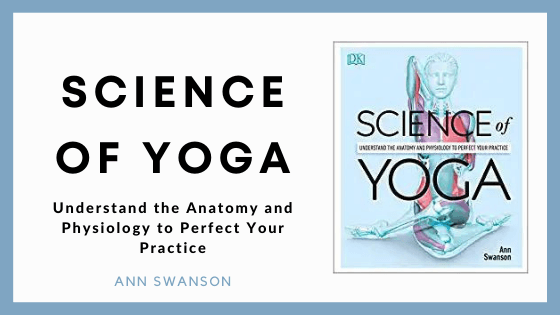 3. Yoga Anatomy by Leslie Kaminoff and Amy Matthews
We will finish our list strong with Leslie Kaminoff and Amy Matthews' updated and expanded best-seller, Yoga Anatomy.
Initially published in 2007, this dynamic duo refined and revised their appraised work for its second edition released in 2001, and soon, at some point in 2021, avid students can purchase their even more improved third edition that has sold over a million copies and contains new and updated chapters along with improved illustrations.
Until the third edition is more accessible, you can always opt for the second edition listed here. It covers all the essentials of yoga anatomy, its structures and principles, and how they are the foundation of movement and yoga itself.
Students can expect to learn about essential topics such as:
Breathing to inversions to standing poses
How specific muscles respond to the movements of the joints
How alterations of a pose can enhance or reduce the effectiveness
How the spine, breathing, and body position are all fundamentally linked
Like the other books on this list, you'll also find several illustrations throughout the book that provide clear visuals of everything the contents describe.
As far as the authors are concerned, both Leslie Kaminoff and Amy Matthews are renowned figures in their field. Leslie founded The Breathing Project and is an internationally recognized specialist in yoga and breath anatomy.
Amy, on the other hand, is a certified Laban movement analyst, a Body-Mind Centering teacher, and an infant developmental movement educator who is registered with the ISMETA (International Somatic Movement Education and Therapy Association) as a somatic movement therapist and educator and with IAYT (International Association of Yoga Therapists), so do not doubt that you are in good hands and learning from the best.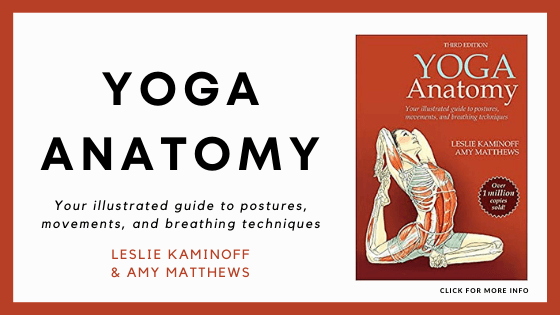 One of the Newest Yoga Anatomy Books to Color Your Way Into Learning!
While the three books listed above will undoubtedly broaden your knowledge of yoga in general and set you on the path of being a yoga anatomy expert, some students prefer a more interactive teaching method. With adult coloring books becoming so popular nowadays, it's no surprise that this fun, hands-on activity is utilized more in educational literature.
One of the newest yoga anatomy books to color your way into learning is The Yoga Anatomy Coloring Book:  A Visual Guide to Form, Function, and Movement, written by Kelly Solloway and illustrated by Samantha Stutzman.
This book is a yoga teaching revelation, the likes of which few students have seen but hopefully has set an example for teaching books of the future. If you've never heard of this fantastic literature, here's what it's all about and what to expect for your yoga teaching training.
The Yoga Anatomy Coloring Book: A Visual Guide to Form, Function, and Movement Written By Kelly Solloway and Illustrated By Samantha Stutzman
This book, written by Kelly Solloway and illustrated by Samantha Stutzman, is a powerhouse of learning for any student interested in learning about yoga anatomy as they become certified teachers but want something a bit more brief and interactive.
The mere 136 pages of this book are jam-packed with relevant information on yoga anatomy, paying particular attention to:
The skeletal system
Joints and connective tissue
The muscular system
While it might leave out more extensive and detailed topics the other books cover, it's a great crash course for students who want to quickly cover the basics of what's moving in your body while performing yoga.
Additionally, the highly detailed illustrations provided by Stutzman are blank for students to color in themselves and map out where different systems are in the body and when they are being affected by various positions and asanas. The book even includes 32 perforated flashcards students can use to quiz their knowledge anywhere.
Yoga anatomy can be an incredibly dense topic, but it is essential knowledge for any yoga teacher in training to have. The best way to obtain this knowledge comprehensively and comprehendible is to invest in one of the four books we've listed above. We recommend reading at least one of the three anatomy books we discussed and supplementing them with The Yoga Anatomy Coloring Book for a fun but highly informative education on yoga anatomy.